Professor Green may not have been in Millie Mackintosh's good books this morning as he confessed to waking her up very noisily at 7AM!
Uh-oh!
The rapper had an early start this morning and making sure his wife did too, Professor Green woke up Millie as he set off the house alarm... but luckily for him Mils still had a smile on her face.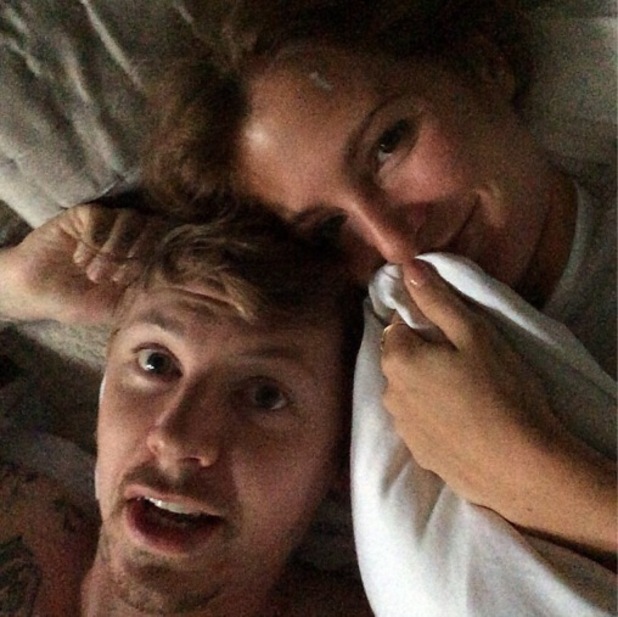 Creating their own 'I woke up like this' selfie, Pro Green hopped back into bed with Millie to take a photo with the reality star who quite clearly had just woken up.
And she still looks amazing... No fair!
Rocking bed hair and no make-up Millie can be seen covering her face with the duvet, but rather than wanting to kick her husband out of the bed for disturbing her beauty sleep, Mils was all smiles as she grabbed a quick snuggle from her beau.
Captioning his photo, Pro Green revealed his early morning antics: "just woke her up with my phone alarm, the door bell going and setting off house alarms. #MORNING" and after reading that, we're not so sure we could be as forgiving!
Although he admitted to waking up his missus, Professor Green didn't reveal whether it was accidental or not and known for being quite the prankster... we can't be too sure.
The 30-year-old is always catching Millie out and his ol' favourite
is filming Mils as she falls asleep in the car
, but going to the extreme to wake her up... surely, he can't be that cruel?!
Happy to give as good as she gets though, Millie is always getting her revenge and it seems like the couple do enjoy winding each other up now and again.
So much so that
Millie has said she'd even consider a return to reality TV
if it meant she and Professor Green could play pranks on each other.
Talking to MTV News, she said: "I think it would be quite funny to do one where we play pranks on each other… but he'd probably win."
Just think...
Punk'd
Millie Mack and Pro Green style.
We're in!
Reveal is now on Google Plus! Join us here for the latest pictures, fashion and celebrity news!