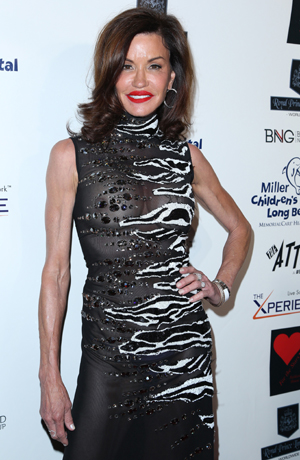 Janice Dickinson's quest to have the "ridges" on her breast implants fixed will be shown on tonight's E! reality show Botched.
The world's first supermodel was 32 when she had her first boob job – nearly thirty years ago – so perhaps it's no surprise she recently decided she needed an upgrade.
But also no surprise is the fact Janice isn't exactly an easy patient…
On tonight's episode of
Botched
, she seeks the help of surgery specialist Dr. Terry Dubrow who ends up lamenting: "In my 25 years of being a board-certified plastic surgeon, Janice is by far the most difficult patient I've ever had.
"She's her breasts' worst enemy."
Oh dear.
Janice, 59, explains in the episode that she's "no stranger to plastic surgery" having undergone procedures in the past including a facelift, brow lift, tummy tuck, fillers and, of course, breast augmentation.
"I'm perfect!" she jokes. "Except for my (boobs). When I was reigning as a supermodel, I had very small As, and designers love that."
Janice went on to have her first implants at the age of 32 but says: "They didn't feel like breasts. They felt wooden. One went in one direction, and one went in the other direction. But I was happy because my breasts finally fit into a brassiere.
"I wanted to have softer breasts, so I went from saline to silicone. Sylvester Stallone paid for those, so I figured, why not? Free (boobs). I'm in. After the second surgery, they started to get ridges. It was like canyon ripples. I did
American Idol
, and I wore something extremely low-cut, and I got dogged the next day globally because they zoomed in on my breasts, and you saw the ridges and the ripples."
She adds: "I have tricky breasts. When I stand in front of the mirror naked, I always see the ridges."
Janice also describes her chest as a "uniboob".
Having had her implants done nearly thirty years ago, she's told by Dr. Dubrow that they need removed immediately for both aesthetic and health reasons.
But will she be happy with the results?
Botched airs tonight at 10pm on E!
Reveal is now on Google Plus! Join us here for the latest pictures, fashion and celebrity news!