Emmy Rossum has admitted she won't give guys her number because she's afraid she'll start indulging in a bit of flirty texting.
The
Phantom of The Opera
star opened up about her flirtatiousness in the new issue of
Cosmopolitan America,
where she sizzles as the October issue cover star in a cute LBD.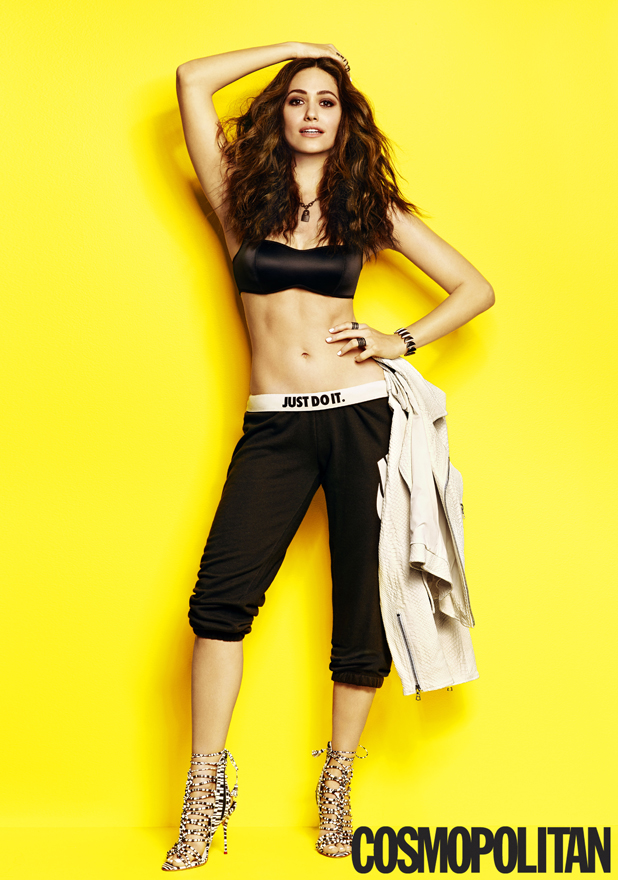 Emmy tells the mag: "I once found a guy I was dating dirty-texting another woman and I completely lost my sh*t. Texting is so dangerous! I won't even give guys my number, because I know me. We'll start texting and he'll start emoticon-ing and I'll start emoticon-ing, and soon we have a big mess. I'm a very flirty person in general."
Yikes!
Gorgeous Emmy went on to admit that any guys she meet can easily confuse her with
Shameless
character Fiona, which isn't exactly what she wants.
"I feel like on the first date with a guy he'll think I'm easy (like Fiona), and that's so disconcerting. It's not like I haven't had sex on the first date, but usually that ended up in a two year relationship."
Emmy, who is now dating writer-director Sam Esmail, added: "I don't gravitate to the jock; it's the nerdy guy in the corner. I'm dating a writer now. Writers are sexy."
As for whether she'll ever marry again, she admitted: "I hope so."
Emmy – who starred opposite Jake Gyllenhaal in
The Day After Tomorrow
- was only 22 when she married music exec Justin Siegel. They split less than two years later.
"Honestly, I was so young, I don't think I knew what marriage meant. My parents were never married, and I was teased in school and called a bastard. So the idea of marriage as safety forever was idealized in my head, and we rushed into it
Emmy's issue of Cosmpolitan is available from 9 September.
Reveal is now on Google Plus! Join us here for the latest pictures, fashion and celebrity news!