Reese Witherspoon dressed as her famous Legally Blonde character Elle Woods this week to inject some cheer into the life of a four-year-old cancer patient.
The actress channelled fabulous Elle a cute pink dress and chunky necklace with blonde curls and a pink pout for an Instagram picture dedicated to a young boy named Will who is currently undergoing cancer treatment in hospital.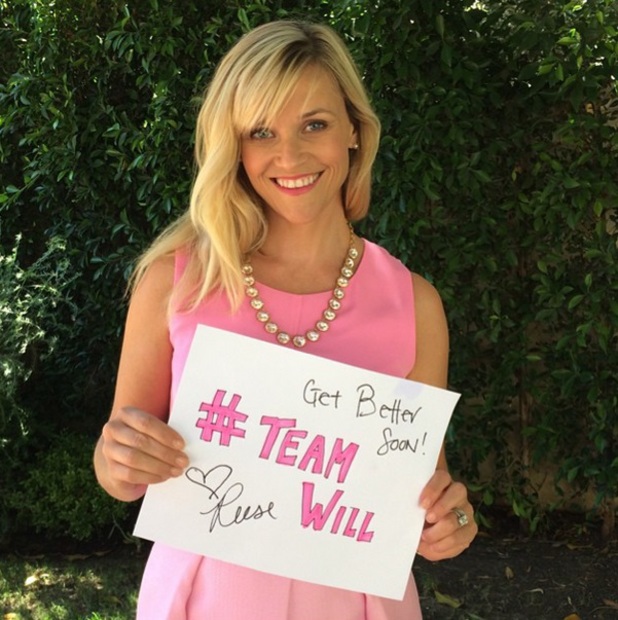 Sending well-wishes from herself and Bruiser - Elle's pet dog - the star says: "This is for one of the strongest little four-year-olds I can imagine.
"Will - I hear that you're fighting so hard and strong against cancer and that in the hospital you've been watching a lot of
Legally Blonde
and loving it. I hope it makes you laugh!"
Holding about a #TeamWill sign, the star adds: "I wanted you to know that I made this sign in your honour - and I'm sending a big big hug and my hope and prayers. Just know - I'm a really big fan of YOURS! PS anyone else - feel free to make your own sign for Will and post it with the hashtag #TeamWill so he can see it....I'm sure he'd love that!"
According to Reese's accompanying video on YouTube, she was forwarded an email last week by Will's mum, explaining that's he battling cancer and has been watching
Legally Blonde
to keep his spirits up.
In the video, Reese introduces herself as the 'Pink Lady' as Will's mum told her in the email that's how he refers to Elle, who loves dressing in pink clothes.
Watch Reese's message for Will: