Jennifer Aniston has again spoken out about those constant baby rumours, pointing out perhaps there are reasons that some couples choose not to have children and they shouldn't be questioned about it.
The former
Friends
star has been asked about her plans to start a family ever since she rose to fame in the 1990s sitcom and now she's been with fiancé Justin Theroux for two years, the speculation has only increased.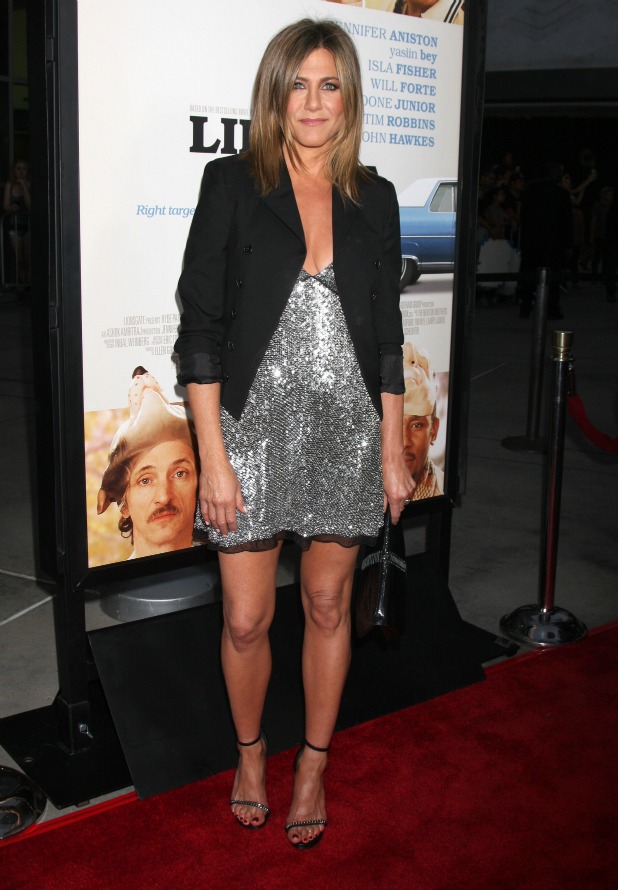 And Jen has had enough.
"I just find it to be energy that is unnecessary and not really fair for those who may or may not [have children]. Who knows what the reason is, why people aren't having kids," she told
People
.
"There's a lot of reasons that could be, and maybe it's something that no one wants to discuss. It's everyone's personal prerogative, that's all."
Jennifer, 45, added that she and Justin, 43, don't concern themselves with talking about children in their everyday lives, it's only ever when she's being interviewed that the subject comes up.
The actress has been engaged to Justin since 2012, when he popped the question on his birthday. They're constantly asked about when they will be walking down the aisle but both have said they're in no rush.
Jen is busy at the minute promoting her new movie
Life of Crime
. It's about the wife of a wealthy man who is kidnapped for ransom by two criminals who then discover her hubby isn't that fussed about getting her back.
She walked the red carpet at the movie's
LA premiere earlier this week looking gorgeous in a sparkly silver dress
, before heading over to
Jimmy Kimmel Live
where she embarked on a
mini-Friends reunion with former co-stars Courteney Cox and Lisa Kudrow
.
Earlier this week, Jen admitted that although she and best friend Courteney are both engaged, neither of them actually talk about their wedding plans when they're hanging out.
"We honestly don't talk about it," she told
E! News
. "Her's just happened. Minutes ago. There's something to enjoying the engagement period, I have to say. Whether it's three months, one year, two, three, four, or five years. Who knows? Whatever it is, enjoy it!"
Courteney is engaged to Snow Patrol rocker Johnny McDaid.
Watch a trailer for
Life Of Crime
below: