Kim Kardashian West showed off her famous hourglass figure yesterday after stepping out in tight black Lycra.
Kim, 33, was spotted grabbing a soft drink drink in Los Angeles, presumably after a session in the gym, and was flaunting her curves in all their glory.
The US reality star, who is mum to one-year-old daughter North, was wearing a lowcut black vest top, which she teamed with a comfy sports bra and leggings.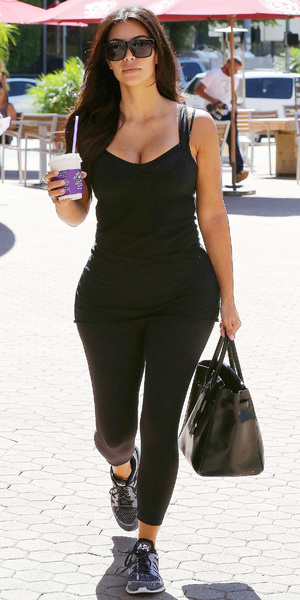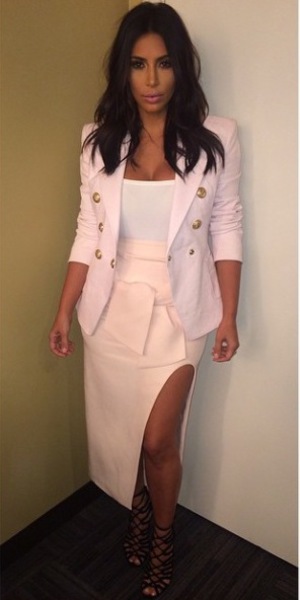 Although Kim usually prefers to wear a sky-high pair of Louboutins, she was dressed for a workout in a pair of sensible trainers.
It was all change by the evening, however, as Kim had a hot date with two of her girlfriends!
Taking to Instagram after having a shower, the glamourpuss was sporting a much more sophisticated ensemble and had blow dried her hair into sleek waves.
Alongside a full-length photograph of herself, Kim told her fans: "Today's look- Balmain blazer, Maticevski skirt, Alaia bodysuit, Hermes heels." You can get her look too, if you have a few thousand pounds to spare!
Kim also shared a short clip of the girls primping and preening themselves before heading out (below). Commenting, she said: "Getting glam!"
Meanwhile, this weekend fans in America will be treated to a two-part
Keeping Up With The Kardashians
special focusing on Kim's wedding to Kanye West.
As the Kardashian and Jenner clan land in Florence, Khloe will be seen battling a monster hangover while Kim turns to stepdad Bruce for advice. Stepbrother Brody is miffed his girlfriend wasn't invited to the nuptials and she wants to know how best to deal with it.
Watch Kim's short 'Getting Glam' clip here: