Friends fans had a MASSIVE treat last night when Jennifer Aniston, Courteney Cox and Lisa Kudrow reunited for a pretty fantastic skit on live TV.
Seriously, this is great!!
Watch the whole skit:
Jennifer was being interviewed by good friend Jimmy Kimmel when he asked if she'd like to run some lines with him as part of a fanfiction he'd written where he was Ross and she was (obvs!) Rachel.
He even had a replica of Monica and Chandler's apartment kitchen built that apparently set him back $80,000!
A hesitant Jen agreed... and then seemed to regret it!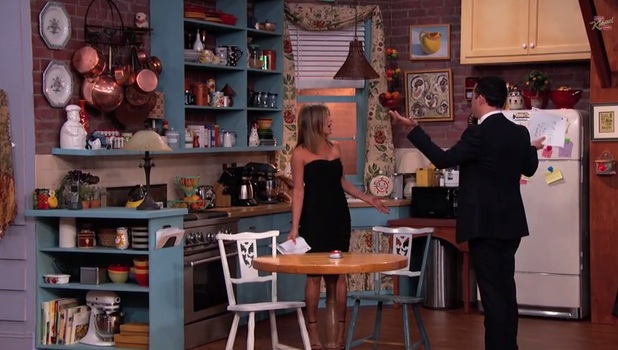 After refusing to don the famous Rachel wig ("No! I'm not doing that, I have boundaries!") she settled in to read her first line which was, um, "Ross, you look sad today, what's the matter?"
Jimmy - aka Ross - replied: "We haven't made love in months. How about we make love right now?"
You can see where this skit is going, right?!
After Jennifer - aka Rachel - remarked how dumb that was, Jimmy hit back with: "Dumber than living in a huge apartment in New York City for eight years even though you worked at a coffee shop?"
Jimmy - aka Ross - then decided he wanted to have breakfast with all his friends around the kitchen table because, obvs, that's what all normal people do before work. right?! We detect sarcasm here...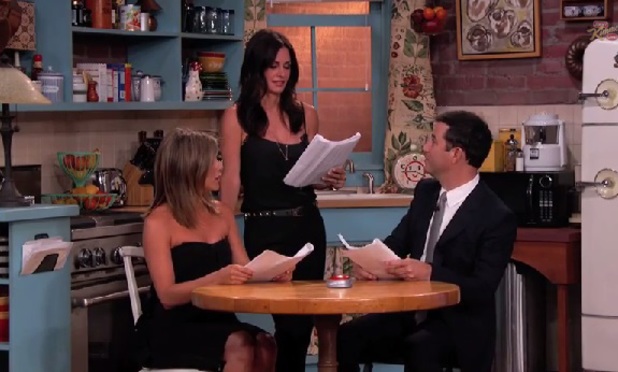 Cue the entrance of Courteney Cox, playing Monica, and Lisa Kudrow, playing Phoebe!
The whole gist of the fanfiction was how amazing Ross is in bed. So much so that the whole of Central Perk talks of nothing else, according to Pheebs, and even Monica wants to give it a go but can't because she's his sister. Ew.
We even got a reminder of that famous
Friends
catchphrase, "How you doin?" but spoken by Phoebe, not Joey.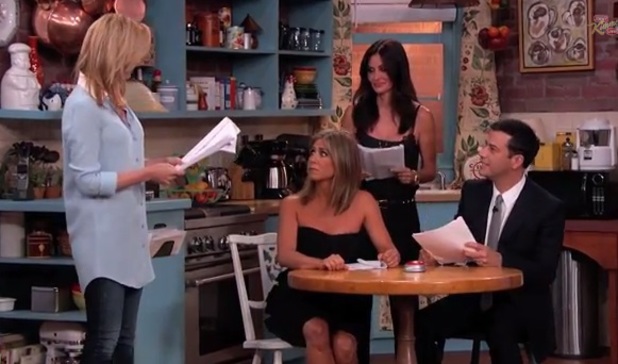 Huh?! When Lisa asked where Joey was and Courteney quizzed about onscreen hubby Chandler's whereabouts, the answer from Jimmy was blunt. "They're dead. Marcel the Monkey bit them and gave them monkey rabies and they died."
Nice.
Maybe they just weren't available?! Come on Jimmy, next time you go this let's get the whole set!