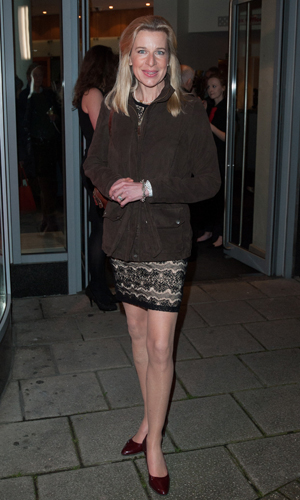 Katie Hopkins is deliberately gaining nearly four stone for a new TV show about obesity.
The outspoken commentator is consuming 6,500 calories every day – including up to 13 ready meals washed down with fizzy drink - and has so far gone from 8st 8lbs to 11st 8lbs.
Katie has more than doubled the amount of fat on her body thanks to a diet packed full of fast food, curries, chips, chocolate, cake and cream.
The aim of her weight gain is to experience what life is like for the obese of the nation as part of new TLC documentary
Katie Hopkins' Journey To Fat and Back
.
Katie wants to show how easy it is to gain weight by sitting around and doing nothing – and that weight can be lost by eating healthily and exercising.
"Britain is eating its way to obesity and struggling to do anything about it. But in the vast majority of cases, the solution is simple. Overweight people should eat less and move more and stop blaming everyone else for problems they can control," she said.
"To prove that losing weight is not as hard as some people make out, I'm going from underweight to overweight and back".
However, former
Apprentice
candidate Katie, 39, has admitted she "seriously underestimated the emotional fallout" of gaining weight, saying: "The person I see in the mirror is a complete stranger to me".
Episode one of the series will follow her weight gain and how she copes with her changing body size, while episode two will chart her attempts to lose the weight.
She'll speak with people struggling with their own weight and body image along the way.
Katie famously said she'd never employ someone who is overweight because she'd be concerned about whether they would be an effective worker. Will this experience change that opinion?
A spokesperson for TLC added: "Katie has been very outspoken about her prejudices towards overweight people. This documentary will confront her attitudes and put her beliefs to the test, by following her own physical and emotional journey as she gains and loses weight, whilst exploring the broader issues of body image in our society."
Katie Hopkins' Journey To Fat and Back
will air on TLC in January 2015.
Reveal is now on Google Plus! Join us here for the latest pictures, fashion and celebrity news!