Jeff Brazier has had to learn how to juggle going back to school while being a full time dad and boyfriend and doing his job as a TV presenter, but how exactly does he manage it?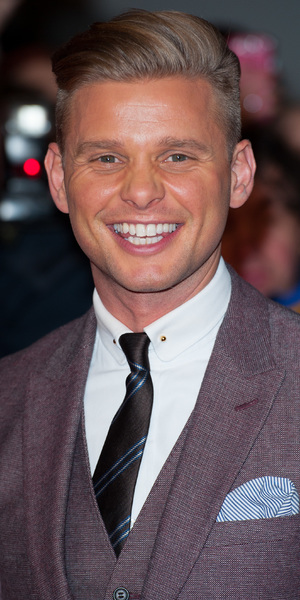 The
This Morning
presenter believes that organisation is the key and thanks to his very busy schedule of late - Jeff is studying for a diploma in life coaching while presenting and looking after his two children - he needs to now, more than ever, be able to manage his time.
Proud dad of his two boys, Freddie and Bobby, and currently loved up with his new girlfriend Kate, Jeff tells
Reveal
just how exactly he copes with his daddy duties, why the new lady in his life gets top marks from him and how learning how to be a life coach has been a lot more useful than he first thought.
Hi Jeff! You seem to be a man on a mission at the moment with so much on the go.
"I'm good thanks. Yeah I know, I've been very busy!"
But you did manage to fit in a nice holiday with your boys, Freddie and Bobby. Did you enjoy your family holiday?
"I love going away. We love holidays – I think why work really hard until you're 60 or 70 and then start playing golf, why not do it while you work! Holidays don't have to be expensive, even caravan holidays or camping, they all help me to feel like I'm in a semi state of retirement!"
Nice! And we noticed you brought along Kate your new girlfriend with you, how are things going with you both?
"I had to bring her, really! Yeah it's going really well, it's a really lovely, effortless, straight forward relationship that we've got. It all feels really nice, so long may it continue!"
Where did you two actually meet?
"Mauritius – not a bad place to meet! She was looking after the
This Morning
competition team which I was a part of, I got to see how incredibly good she was at her job – don't get me wrong that's obviously not the first thing you look for in a person! – but she was incredibly attractive and was great company, I was impressed with the whole package."
Good, do the boys like her?
"She has a gift – she's put them both under a spell. It's incredible."
Did you find it difficult to introduce Kate to them for the first time?
"Not at all, I've had a bit of experience in that area. If you wait 6 months generally you know if you're going in a good direction with a girl and that validates the boys meeting her and when they met Kate we did some really cool things and it was all exciting. The boys had heard a lot about her, so they were excited to meet her and everything she says and does concerning the kids is perfect."
We heard about your little holiday mishap [Freddie was sick at the airport over Jeff and Kate!], what did you make of Kate's reaction?
"If you had told me that was going to happen and asked me to say the perfect possible way she would react, I wouldn't have expected her to – most people would be like urghh it's sick – but she rolled up her sleeves and got involved. Ultimately it's not her kid so she doesn't have to do that, but she did and I appreciated it."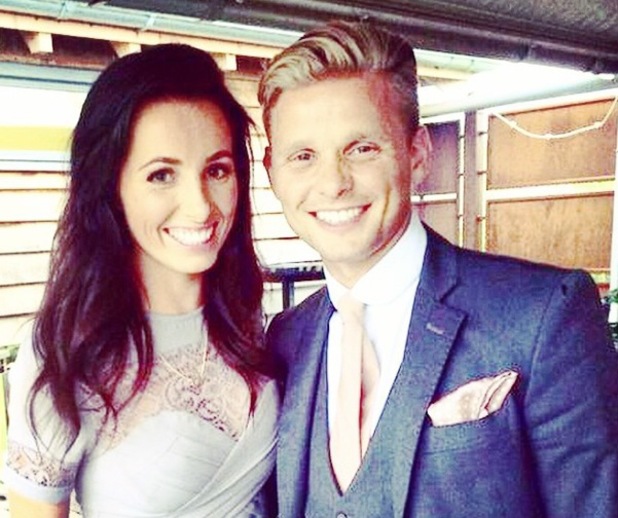 She sounds like a winner. Is it nice to have a woman's influence again in a house full of boys?
"Definitely. A house of boys isn't always so natural is it? All that testosterone bouncing off each other. When you have a woman in the equation, it feels a little more like how it's meant to be."
And we couldn't help but notice from your holiday snaps that you're starting to share a few more photos of your children after shielding them from the press before, was that a conscious decision?
"I'll be honest, I've always wanted to share their progress and as much as you can write in 140 characters sometimes it's nice to share a photo. Years ago I put a privacy ban in place on publishing photos of the children and that's given them a normal childhood. I don't want to keep them a secret, but I don't want magazines and newspapers to publish pictures of them. The photos I share aren't from the front or exposing their face – they tell you where we are, what we're doing and how big they're getting without giving it away completely. I'm taking a tentative step forward... but what do you do when they have Twitter and Instagram themselves? I'm avoiding that at the moment!"
Your eldest Bobby is off to secondary school soon, are you prepared to have a teenager on your hands?
"I feel like I'm getting a bit of the pre-teens already and I do at times feel like I'm getting a taste of what's to come, but both boys have been incredible this summer holidays. Usually they have friends come over and they want to separate, but lately they're happy to mix in. I think that's partly to do with where I'm at at the moment as I'm doing my Life Coaching diploma. As a parent I don't judge anymore, I don't stand and wave a finger at them saying 'you shouldn't have done this' – a coach's approach is to ask questions, 'should you have done that?', they always know the answers and when they offer it themselves it makes them feel more valued and grown up."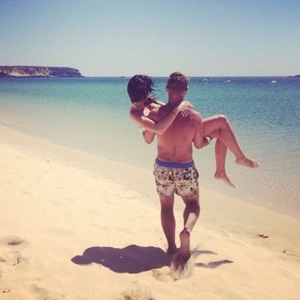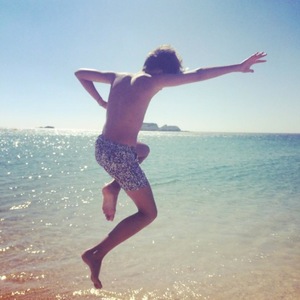 Is it scary to see them growing up?
"Some parents struggle knowing they have to let go a little bit, but I feel like I've made the most of them being young, I've had all the cuddles and now I'm really excited to see them starting to become far more independent. They're already doing it and it makes me feel like I've put a good head on their shoulders as they're making good decisions."
Like you said it's the summer holidays so no doubt you have a full house. How do you juggle looking after the boys with your work and studying?
"It can be difficult, it's all a bit manic at the minute. When you're a coach, people come to see you about time management and fitting everything in and the first realisation anyone makes is if you get up two hours earlier for five days that's 10 hours extra in a week. I get up early and it means life is at a much more manageable place. Being organised is probably why we had such a good summer holidays. I asked the boys a really important question… 'If dad lost his wallet – because they wanted to go Alton Towers and bowling – what would you want to do then?' Then they said bike rides, camping in the garden, having friends over, having a BBQ – all things that cost very little, if anything, and it's gone really well."
And as well as studying, you're writing blogs on your life coaching too. Are you enjoying writing?
"I feel like I'm being quite clever with it because I'm doing my coursework and when I'm coaching people about certain subjects, I can write about it generally. I just did one on separation and it was really interesting because that was an issue for me not some time ago, it got a really great response and people seem really interested."
You use a lot of your own experiences, do you find it therapeutic?
"I love writing just for that reason. If you have a problem, by the end of writing you've kind of solved it. I just feel like I'm really in the flow at the moment, I'm enjoying it, I've really enjoyed going back to school!"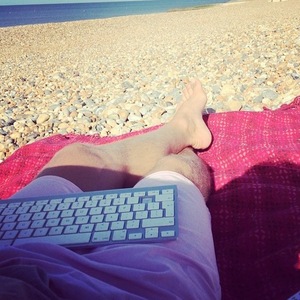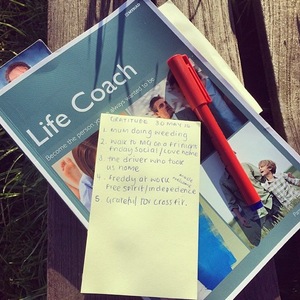 What made you want to start studying for your life coaching diploma?
"I've been seeing bereaved parents for the last 18 months. I thought if I can come from a position of qualification as well as experience it will help me in the future to help them more. As the weeks went on, I saw the potential of where I can go with it and how I can use it. The techniques have improved so much in so many areas of my life, so why would I stop there?"
Have you got a lot more out of it then than you first thought?
"Definitely, 100 percent. Life coaching was something I personally benefited from a couple of years ago and so I tried coaching myself and it's just proven to be something much more useful than I intended it to be. I can't wait to be qualified now and start using it in different areas - I think I'm going to do a lot of good with it."
How do you plan on using it once you've qualified?
"I want to do one-on-one sessions. I've set up a website and will go from there, but I think because of the day job of being a presenter, to be able to give talks – whether it's motivational, in schools talking to kids about confidence or eating better and their diets – I can do that and I can do a good job of it."
You're a supporter of the free school meals initiative [children aged between four and seven now eligible for free school lunches]. Is children's diet something that is important to you?
"Yeah, it is important. At home with the kids I cook and I really enjoy making dinners from scratch and getting the kids to help me. If you put things in front of them that are healthy, yes, they're going to find things they don't like, but the majority of things they do like. I think in terms of tackling child obesity, the free school meal initiative is a really positive step forward and I think children aged four to seven is the right end to start with."
So, full time daddy, boyfriend, life coach, presenter, blogger, campaign supporter... is there anything else you'd like to give a go?
"Of course. Even little things like the fact I was a pro footballer but I didn't quite make it. I know the reasons for that so I'd like to go into clubs and speak to the youth players so they can avoid the mistakes that I made. There's a lot of therapy in that for me, putting a positive to a negative!"
Phew! Sounds like it's all go, go, go!
Jeff Brazier is a supporter of the free school meals initiative. With all children in England aged between four and seven now eligible for healthy and nutritionally-balanced free schools lunches, the changes will help parents save up to £400 per year, per child.
Reveal is now on Google Plus! Join us here for the latest pictures, fashion and celebrity news!