One Direction's Liam Payne (or should we say Mrs Horan?) is just fantastic. Fact.
The heartthrob singer has made us chuckle buckets by turning from cool, casual, nonchalant pop star to world's biggest Niall Horan fan overnight.
Yes. Really!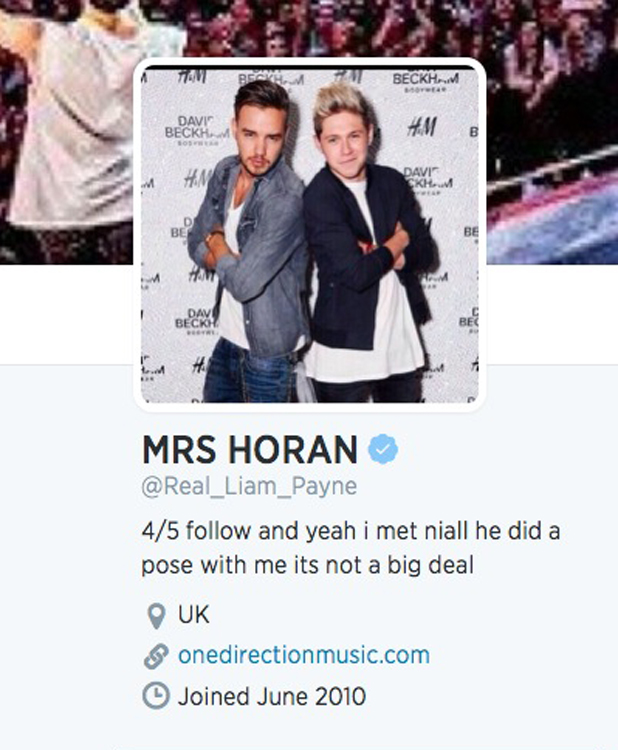 Last night, fun-loving Liam decided to turn his Twitter account into a Niall shrine, sharing with his 17.6 million followers just how much he LOVES the Irish star.
It was bye bye normal profile name and hello Mrs Horan. Goodbye profile picture of Liam and hello new picture of Liam and Niall together. His bio was even changed to read: "4/5 follow and yeah i met niall he did a pose with me its not a big deal."
(As one fan pointed out, not even Liam can get 5/5 of One Direction to follow him...)
In hour of #BeAFanDay, he tweeted a collage of photos of himself and Niall seemingly engaged in a little onstage flirtation. "Oooo I'm such a Niall girl OHH MYFFF GOWDDD IM CRUIYING #BeAFanDay," he tweeted.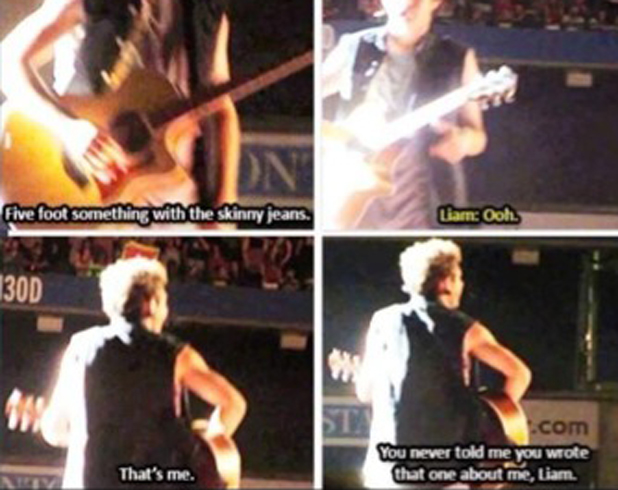 And then he was off!
Another photo of Niall was accompanied by the message: "His arms his eyes ... Is he biting his lip I just DIED! #BeAFanDay." A third photo declared: "Niall is suchhhh a baeee."
A collage of pictures of Niall's eyes prompted lovestruck Liam to tweeted: "Imagine niall looking at you with those eyes like your the only woman in the world I CAHNT BREAUTHEE #BeAFanDay."
Oh Liam.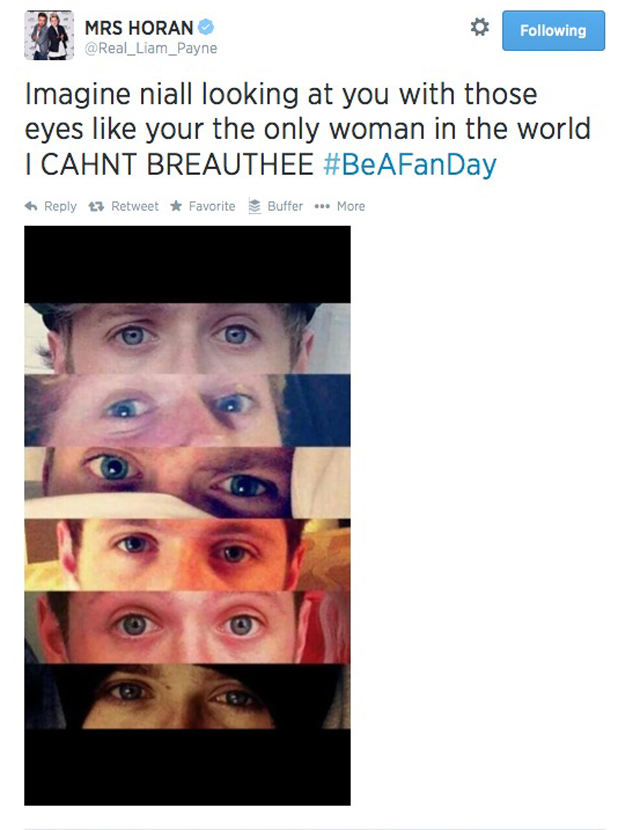 Then, devoted Liam plucked up the courage to message his idol directly with a declaration of love. "Hi @NiallOfficial I made this for you I love you so much it hurts I even love your toes I'm coming to see you tonight."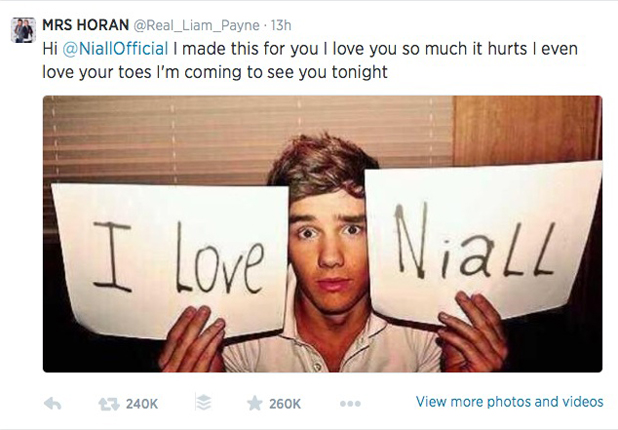 Clearly the excitement of getting face to face with Niall in concert was getting to him as the extra message urged Niall to "smash it in my faceeee." Naughty, naughty! It was in response to a tweet from Niall saying he'd smashed his phone on the floor, so perhaps our minds are just wandering slightly… (As you'd expect.)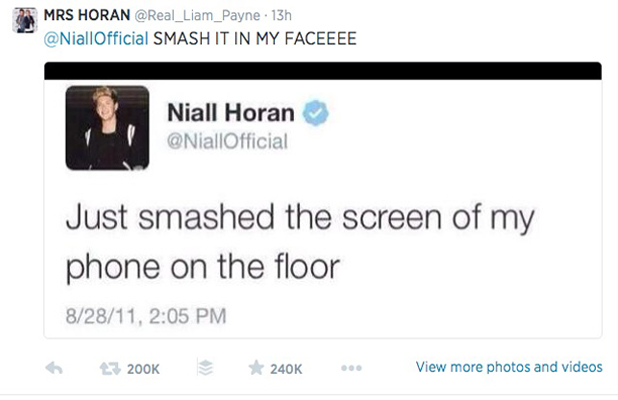 Finally, at the end of the night Liam got his wish. TO MEET THE GORGEOUS NIALL IN PERSON!!! *SCREAMMMMMMING*
Looking utterly shocked / excited / overwhelmed and the rest, Liam posed alongside a rather 'whatevs get away from me weirdo' looking Niall.
Run, Niall, run!!
"OHHHH MY GODDDD I GOT A SELFIEEEEEEEE!" exclaimed Liam.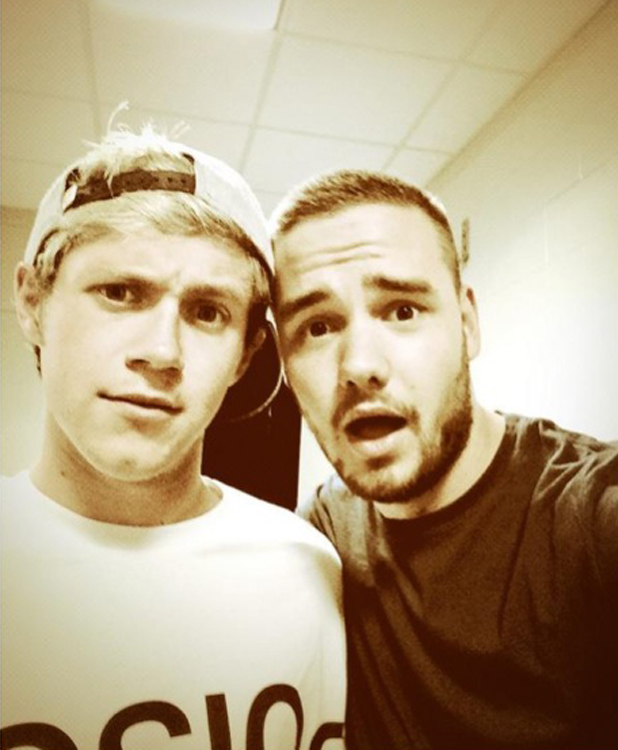 Now, we guess people could wonder if he's poking fun at the zillions of besotted One Direction fans but, knowing how much Liam adores his fans, we think he's just having a bit of fun and it's all in good humour.
Now, how can we meet Niall ourselves?! Any tips, Liam?
Reveal is now on Google Plus! Join us here for the latest pictures, fashion and celebrity news!