Tulisa has confirmed she's had her lips done and she's happy with the results.
The former
X Factor
judge's enhanced pout has been much discussed in recent days and now, for the first time, she's admitted to having them done in the past year,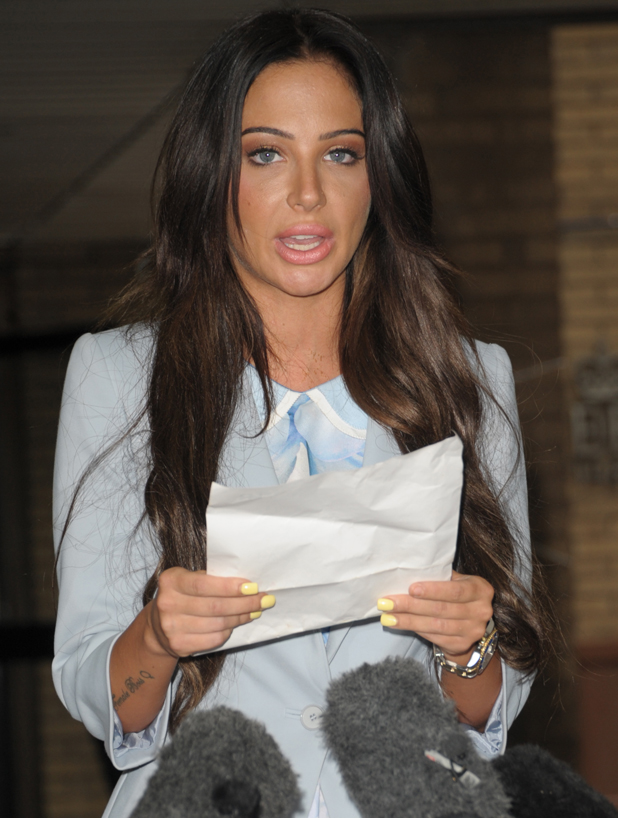 In an interview with
The Guardian
, she openly says she's had work on both her lips and cheeks after losing a lot of weight during her difficult year, and she's never kept that a secret.
"Look, the papers have always said I've denied it, but I haven't given an interview in a year, so where have I had the chance to deny it? I just haven't spoken about it. Yes, I've had my lips done, and I'm happy with my lips," she says.
"And I also had a tiny bit of filler in my cheeks. Pictures of me where my face was swelling, I had water retention – where you have filler your face draws up a load of water. So my face began to swell like a balloon. And this is when people thought I'd had surgery and said, what's she done? She's ruined her face."
When it's said that she has always been naturally pretty, she responds: "Thank you, I hear you. It was a choice I made."
Tulisa
, 26, explains that she lost a lot of weight over the past year which contributed to her decision.
"It really bugs me when people say I've had a nose job. That's just makeup. Can you see the shading there? So losing a stone, filler in my cheeks, my lips done and the contouring – and people do think, oh gosh, you look so different. But I'm happy with it."
It's been a tough year for Tulisa.
Last year, she found herself at the centre of a newspaper sting operation that resulted in her being charged with being concerned in the supply of drugs - a charge that she very strongly denied.
Then, last week, she walked free from court after a judge dismissed the charge.
Now, she's able to defend herself.
In a statement outside court, Tulisa said: "Let me be perfectly clear. I have never dealt drugs and never been involved in taking or dealing cocaine. This whole case was a horrific and disgusting entrapment."
"I have not been able to work for a year, and I am now looking forward to resuming my career," she added. "I will use these experiences to make me stronger. I would like to thank all the people who have supported me through this terrible ordeal, including my fans and, of course, my legal team."
Now, she's looking to getting back to work. She posted a photo yesterday showing herself at the recording studio working on new music, much to the delight of her fans.