We've watched the boys grow from awkward school boys to well...awkward school boys but could this be the end of their journey?
It's lucky these boys don't age! It's one thing to laugh at their teenage pranks, but it would definitely be another to laugh at their adult pranks.
The Inbetweeners
themselves admit the hilarious concept of the film wouldn't work if their characters had reached adulthood.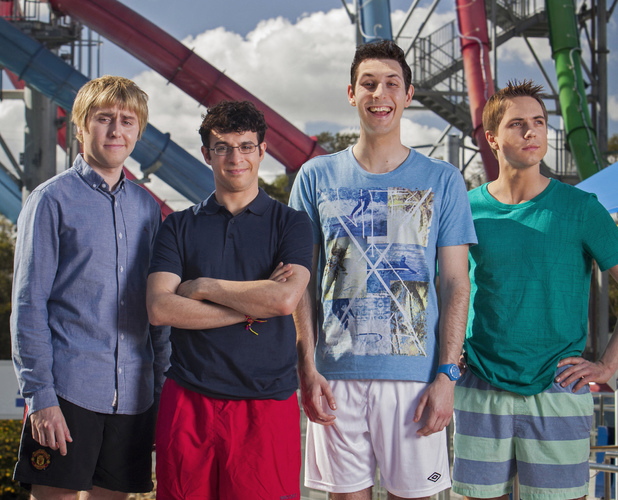 Simon Bird
, who plays Will McKenzie, says: 'As you'd expect, it wouldn't be The Inbetweeners if they were happy and settled and not embarrassing!'
'There was speculation that the characters were in their mid twenties but it would be a different show. A totally different beast if that was the case. Their behaviour is only excusable because they're teenagers.'
James, 26, agrees: 'The characters would become unlikeable if they were older. It would be a bit tragic.'
And if we can't quite imagine what the boys would be like as grown ups, it's no surprise that they can't either.
Simon, 29, adds: 'We're so used to them that I don't think we can imagine them growing up. Neil is now working in a bank and doing quite well, which is a bit ridiculous really. Will, I'm not sure, maybe become a Lib Dem?'
And it looks like the character Simon (not the real one), played by Joe Thomas, could also heading to the public sector.
He tell us: 'My character is going to university and that's a very transformative time so you never really know how you're to emerge. I feel like Simon is headed for something in that sector. Like a teacher or something, he's a nice guy.'
After his right testicle fell out on the catwalk in one funny episode, we reminded him that his career in modelling is probably over.
'I forgot about that. I think my mind erased it,' Joe, 30, cringes.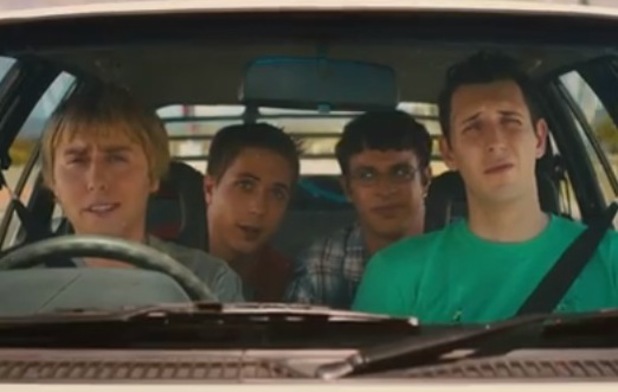 Out of the socially awkward four, it's tricky to think of who would hire Jay as an adult. But when we suggest an estate agent, James who plays the loudmouthed teen, lights up at the idea.
But Blake Harrison, 29, who plays Neil Sutherland, is struggling to see a future for his dim-witted character. We ask him what advice he would give his fictional character.
'Neil is beyond advice,' he laughs, 'with someone of Neil's intelligence or lack of, he's probably just got the best attitude- have a laugh and live in the now. Because someone with Neil's intelligence, what's he going to do really?'
So with all this talk of grown ups, does that mean we won't be expecting another film seeing as the boys have reached the end of their teenage years in this latest film.
'You can't say no but in a way you can,' says James, 'I'm not sure how you're going to top Australia. It's such an epic film.'
'When you see it, it's really a goodbye. You might possibly cry,' adds Simon.
Are you excited for what could be the last ever Inbetweeners film? Let us know!
The Inbetweeners 2 is in cinemas nationwide from 6th August.
Reveal is now on Google Plus! Join us here for the latest pictures, fashion and celebrity news!