Tulisa has admitted that she felt her life was "ruined" last year when she was accused of being involved in the supply of drugs.
The
former X Factor star walked free from court
last week after a judge dismissed the charge and case against her and now, for the first time, the star is opening up about how she felt her life was "ruined" – and how she now wants to move forward.
"I have never been involved with drugs," she told BBC.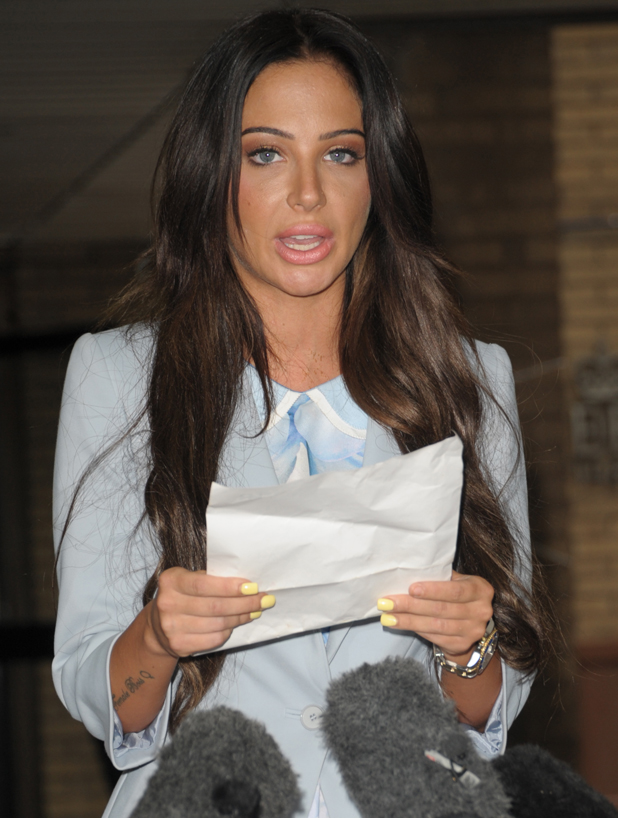 In tonight's BBC3 documentary,
Tulisa: The Price of Fame
, the N-Dubz singer will be seen breaking down on camera as she recounts the difficulties of the past year.
Tulisa
was charged following a newspaper sting operation accusing her of offering to introduce an undercover reporter to a drug dealer. She strongly denied this at the time.
According to
The Mirror,
which obtained a preview of tonight's BBC3 show, she is seen on camera just before going to the police station to be charged.
She tearfully says: "There is no emotion to describe how I feel. My life is ruined. It is over. I feel like my whole world has fallen apart. I am going to lose everything I have built. I just want to be the person who made music, lived and loved and be loved. Now it has gone. I just want my life back."
Tulisa, 26, also speaks about a late night incident where she mixed alcohol and painkillers.
"I'd had a drink so everything felt more intensified. So, like an idiot, I picked up eleven co-codamol and necked them with a bottle of vodka. I didn't know what I was thinking or what I was planning to do."
Tulisa said that her PA found her and called an ambulance and although she declined to go to hospital, paramedics sat with her for a couple of hours.
She told
BBC Newsbeat
: "There was a really low point. I was so low, so far away from where I am now, that I felt like I was possessed by someone else. I was so weak that I didn't have an ounce of strength left in me."
"I just think I lost it for a bit. I'd been broken down, grated. I was just drained. Everything's been a lesson, a journey, an experience. I'm lucky to be here now and have a second chance at what I do and get my livelihood back."
The star says that she's looking forward to moving on with her life, and from now on she won't be presenting a front to the public.
"They've made me out to be some kind of monster for the past year so I can't really say what's going to happen," she says of the future. "I can only hope after the year I've had - you can't be sure on anything."
Tulisa: The Price of Fame
airs tonight at 10pm on BBC3.
Tulisa's statement about court case in full:
"Let me be perfectly clear. I have never dealt drugs and never been involved in taking or dealing cocaine. This whole case was a horrific and disgusting entrapment by Mazher Mahmood and the Sun on Sunday newspaper.
"Mahmood has now been exposed by my lawyers openly lying to the judge and jury. These lies were told to stop crucial evidence going before the jury. This evidence shows that I told Mahmood's long-standing driver that I disapproved of drugs, which is the truth.
"It is clear that the driver was pressured to change his statement to strengthen Mahmood's evidence and to damage mine. Thankfully the lies have been uncovered and justice has been done.
"This case only happened because Mahmood and his team tricked me into believing I was auditioning for a major movie role. They targeted me at a time when things were going badly for me and they had no mercy. Mahmood got me and my team completely intoxicated and persuaded me to act the part of a bad, rough, ghetto girl. They recorded this and produced this as evidence when I thought it was an audition. It was a terrible thing to do.
"As my lawyer said at the outset, we have now succeeded in exposing the real culprits and, most importantly, the real liar. As someone who has had my life ruined for the last year I strongly believe that this type of entrapment should not be allowed to happen to anyone.
"I urge both the police and News UK to investigate Mazher Mahmood and his team and to put an end to his deceit in pursuit of sensational stories for commercial gain. I have not been able to work for a year, and I am now looking forward to resuming my career.
"I will use these experiences to make me stronger. I would like to thank all the people who have supported me through this terrible ordeal, including my fans and, of course, my legal team."
Got an iPad or iPhone? Reveal Mag is specially designed to fit!