Katie Price has controversially claimed she doesn't think Kelly Brook's relationship with fiance David McIntosh will last.
Yikes.
Outspoken Katie shared her brief thoughts on Kelly and David's romance during today's Fubar Radio, bolding stating: "I don't think they will last. Prove me wrong. I hope they do."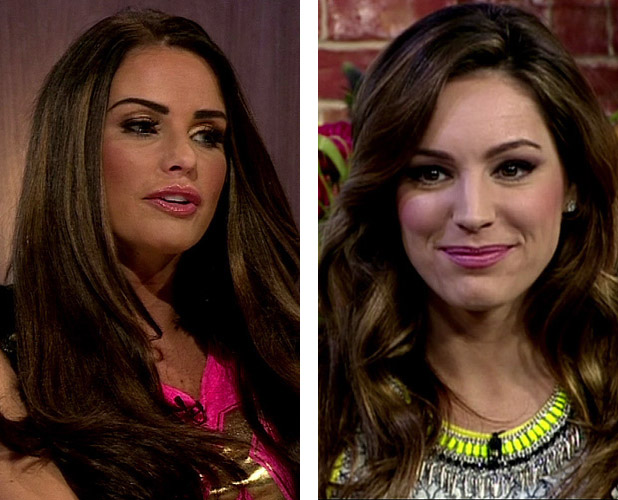 Kelly didn't share her reasons as to why she doubts Kelly's engagement longevity, only saying: "I've met him once or a couple of times. I don't really know him well but if she thinks it's right..."
Although Katie wasn't so complimentary about Kelly's romance, she was full of praise for the model and actress's famous curves and gorgeous looks, which she thinks Kelly should flaunt to their fullest.
Katie said Kelly's figure is so fab she shouldn't bow to industry pressure and have any photos airbrushed. Katie said she didn't know if Kelly's latest swimwear campaign images had been airbrushed, but if they had, they didn't need it.
"Kelly Brook is a curvy girl if you look at her pictures now, but when you see her swimwear campaign, I think her body seems completely different," she said.
"Surely the public isn't fooled by airbrushing? I'm not having a pop at Kelly as I think she's one of the most beautiful women out there, but if you look at recent press pictures, she does look quite curvy. She's always in the gym and I don't understand why she looks bigger than she normally did."
"She's stunning. A beautiful girl and she has curves so don't hide them. Show them."
Katie and Kelly have a bit of a history together. Not only have they feuded over Kelly's ex Danny Cipriani, but they hit headlines last year when Katie branded Kelly a heffer following pictures of her on the beach.
It descended into a bit of a back and forth Twitter row, culminating in Kelly poking fun at Katie on
Celebrity Juice
and Katie tweeting a photo of Kelly's boob before apologising and clearing the air.
We wonder what Kelly will think of Jordan's latest remarks?
Got an iPad or iPhone? Reveal Mag is specially designed to fit!