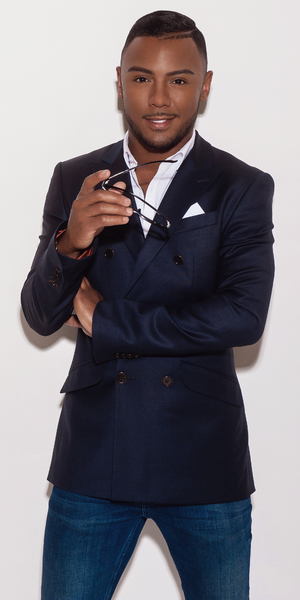 Marcus Collins may have been off the radar for a little while, but the X Factor star is bursting back onto our scenes with a brand new look.
After finishing in second place to Little Mix on
The X Factor
back in 2011, Marcus, 23, has gone on to add both a top 10 single and album to his name.
Now back with a new look, a brand new sound and a lovely boyfriend in the form of
Strictly Come Dancing's
Robin Windsor, Marcus has his sights set on bigger and better things, just as long as he still manages to get some sleep!
First stop, he's hitting the road for his first ever tour.
Reveal
caught up with the loveable Liverpudlian to find out all about his new music, exactly what he thinks of this year's
X Factor
line up and just how smitten he is with his other half.
Hi Marcus! So you're back with new music?
"Yes, we've gone with something a little bit different. My new single is a dance cover called 'Sweet Thang'. We re-made it and switched it up. It's a great track and I fell in love with it as soon as I heard it."
Your second album is on its way too, what can we expect from that?
"I like to experiment and mix things up. The new music that is coming is going to have so many different sides to it. It's a body of work I am proud of. I'm really excited to get it out there and for people to hear it."
And you're off on tour, excited?
"I'm very excited, I can't wait to get out there, do some music and just make people happy. It's a Motown tour, a collection of some of the songs that I've been listening to since I was a baby and just the music that makes me happy inside when I listen to it. There's a couple of mash-ups of some different things. There's some Chaka Khan, Stevie Wonder, Luther Vandross. All the ones that come on at parties and make you want to get up. That's the feel I want."
Why have you chosen a Motown inspired show?
"It's real honest music. It's soulful and from the heart and that's why I wanted to do it. You'll get to see my interpretation of it with a live band and the atmosphere is just so electric when we do it."
Who is your favourite Motown artist?
"Stevie Wonder, I grew up listening to him. He's incredible, my favourite by far. He's so inspirational to me."
How do you find being away on the road?
"It's a bit challenging, I like to sleep as much as possible, the more I sleep, the stronger I feel. Sleep is good for me, so it's a little daunting travelling up and down. I'm sure it's going to be nonstop but I can't wait."
Do you bring any home comforts with you while you're away?
"I have to have my Jo Malone linen spray so my bed smells like it does at home wherever I am. So sad, but I do. It really helps me sleep. And I've got a picture of Robin."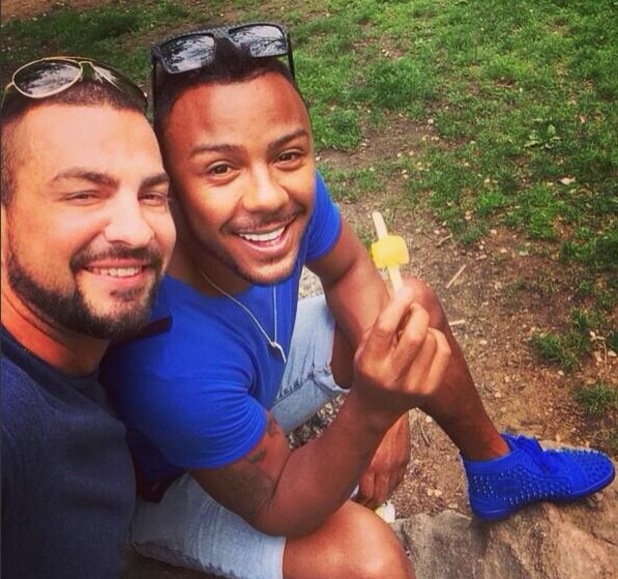 Marcus has been dating boyfriend Robin since November last year and, after a whirlwind romance, the pair have been very open about their plans to settle down.
Are you going to miss Robin when you're away
?
"Absolutely. I'm going to be on tour just as he starts
Strictly
so we're going to clash."
You seem very loved-up, we take it things between you both are still very good?
"Absolutely great, I'm so happy! We've both found in each other exactly what we've been looking for. It makes us very excited to see what's going to happen."
Do you think this is it for the long-term?
"Absolutely! We've been living together for about 4 months now and it's brilliant. I make him his breakfast and then he does the dishes. So I cook and he cleans, it's a nice little set up."
Good team work. Does Robin have any bad living habits?
"Not really, he's quite clean, quite tidy and very organised."
Sounds like the perfect housemate!
But has he managed to get you dancing yet?
"Yes! He's doing my choreography for me. That's what he's good at isn't he, so he can help me out, see if he can get me moving properly!"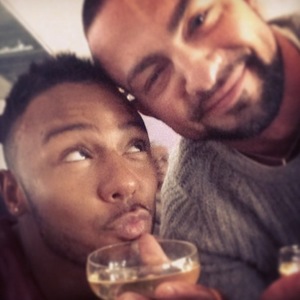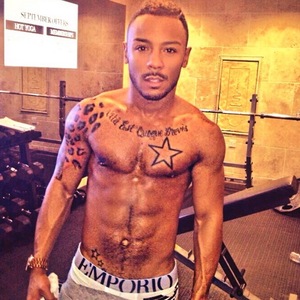 Would you ever consider doing Strictly Come Dancing?
"I would love to. I'd love to be the first gay couple dancing but I don't think that would happen. Can you imagine? It would be so cool!"
You never know, never say never.
And we can't help but notice, you're looking particularly good at the moment, especially in the muscle department?
"Thank you! I'm not trying to compete with Robin, he's got a body like a Greek God! But I've always taken care of myself. It got to a point where I felt like I was wasting away so I decided to get to the gym, put some muscle on and start getting in shape again. It makes me feel good when I look in the mirror and see results that I've worked hard for."
Well it definitely seems to be paying off!
The show that started it all for you was The X Factor, did you ever think that two years after auditioning you'd be setting out on your debut tour, with two albums under your belt?
"Never in my life, I feel so, so lucky. I've got to do some amazing things that I never dreamt I'd get to do. I've performed in front of Royalty, my album went top ten and now all of these things that I've dreamt about doing and I never thought would happen are happening."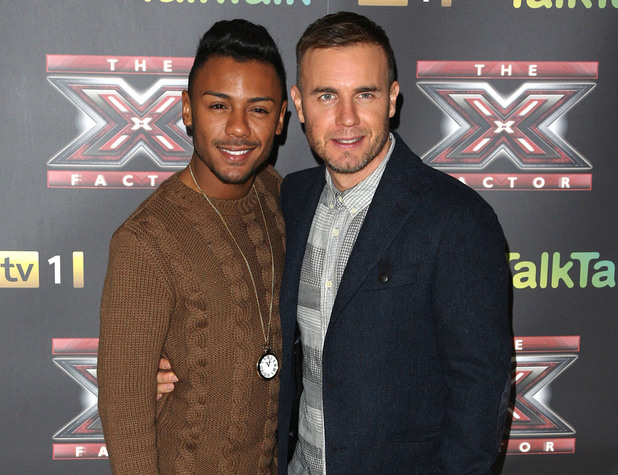 Looking back, how would you describe your time on the show?
"It challenged me and pushed me further than anything that I've ever done in my life. If it wasn't the sleep deprivation...
"It was having to learn 8 songs in a week. I've learnt a lot from the show it was life changing. Gary Barlow's still my mentor, he supports everything I'm doing, he gets the first say about stuff."
What is it like to work with Gary?
"Amazing. He's so inspirational and he pushes me and reminds me of things that are possible if I want to acheive them. I couldn't ask for more from him. He's a friend for life."
Will you be watching the new series when it starts?
"Absolutely. I can't wait to see what Mel B brings to the table. It's Scary Spice, I want lots of attitude! She's going to have lots to say."
What do you make of Cheryl's return?
"I'm glad Cheryl's back, there's always a fashion contest when she's there so I wonder how Mel and her are going to be trying to outdo each other... It's one of the best decisions Simon has made. It's what the show needed."
If you had to give one piece of advice to this year's contestants what would you say to them?
"Sleep! (We knew that was coming) Sleep as much as possible. Sleep is good for your voice you know, Gary told me that and it really helped me. Also be confident, don't be afraid, don't be scared, go ahead and do as much as you can and just enjoy it. Live every second of it, it's your moment."
This sounds like great advice to us!
Marcus heads on his debut solo tour this September. For more information visit the Marcus Collins Official Facebook page
Listen to Marcus' new single 'Sweet Thang' here: