Sam Faiers has a lot to look forward to this year and, with her pregnant sister Billie Faiers about to pop any day soon, becoming an auntie is right around the corner - and she's very excited!
Despite a bumpy start to 2014 for Sam (she fell ill with Crohn's Disease whilst taking part in
Celebrity Big Brother
), the Essex babe has certainly bounced back with a bang.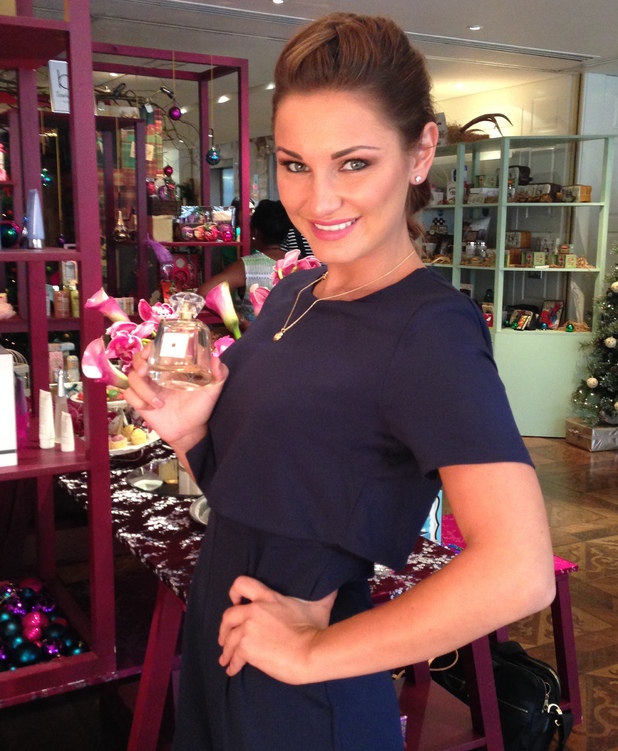 Sam has smelt success with her debut fragrance, La Bella, hitting the number one spot and topping the charts for best celebrity fragrance with a record number of sales. She has also signed a modelling contract with top modelling agency, Elite Models, reunited with her
TOWIE
beau Joey Essex and now, thanks to sister Billie, she is set to become an auntie!
With a glamorous mummy and a super-stylish auntie, baby Faiers is bound to be a little fashionista!
Reveal
caught up with Sam yesterday at the 'Tesco Christmas In July' event (where she was looking gorgeous in a navy Lavish Alice jumpsuit and Charlotte Olympia shoes) to chat her debut fragrance success and to find out how exactly the Faiers' sisters are getting ready for the arrival of Billie's mini me.
Billie must be due any day, isn't she?
"Yes any day! It's just like a waiting game now, I think all mums will say that. When it gets to the last few weeks, they just want to meet the baby. I just want to be an auntie! I literally cannot wait!"
Are you all getting impatient now? Has Billie done anything to bring on the birth?
"She's been alright. She has a pregnancy ball and she's got raspberry leaf tea and had some spicy food, but it's all old wives' tales really, isn't it? Nothing has brought the baby on yet so we're still waiting!"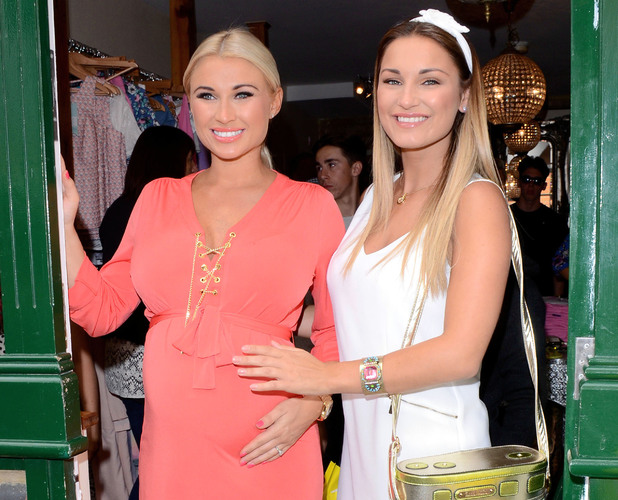 Will you be offering up babysitting duties at all?
"Of course, I think while she's still a 'baby-baby' I'll be a little bit scared myself, but my mum is going to stay at Billie's for a couple of weeks at first just to ease her in. Once the baby's about six months old I'll probably babysit a lot more."
Congrats on your La Bella success, are you pleased?
"I'm over the moon! I started getting into beauty and fragrances when I was 11 or 12 and, if someone had told me that I would own my own top selling fragrance in my 20s I would have gone, 'No! Don't be daft!'
"For it to go to number one as a celebrity fragrance alone, is incredible. Against One Direction and Britney Spears… I was like, 'Oh my God!' I am literally so proud and thankful for everything."
Why do you think it's been so successful?
"It's something you can wear from day to night, nothing that's too sickly. It's sweet, but it's not that sweet. That's what I wanted it to be. I had a lot of faith and trust in it, but it's always daunting because you just don't know what everyone's going to say. I've been really lucky and everyone likes it."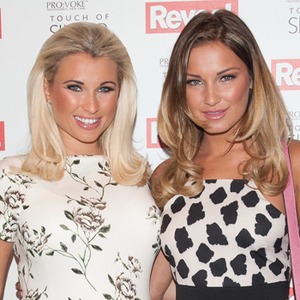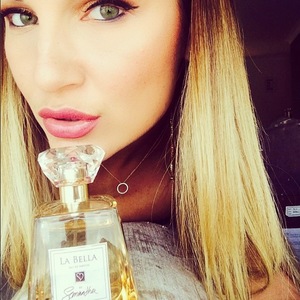 Did you have a lof of fun making it?
"Yeah I did, but I was such a perfectionist -right down to the colouring. From all the different shades for the inside of the box, I was on it. We wanted to make sure it was perfect!"
What do your family and friends make of it?
"They all love it! They've all got their own bottle – I was like, 'So that will be your Christmas present as well, just so you all know!' But no, they all absolutely love it and they're all really proud. I was bombarded with messages today as they all saw that it had gone to number one!"
You're starting to build up quite the empire, what's next for you now?
"I have other products coming out later this year under the brand 'By Samantha', which is really exciting. There's been a few TV and production companies that want to do stuff, but I'm not going to rush into that just yet. Fashion, underwear…it's all coming in and it's all going to be this year, so it's going to be very busy!"
Phew, that is one full on schedule!
La Bella By Samantha is now available to buy at Tesco stores.