They were stars of hit US show Making The Band, but when Erik-Michael Estrada, Jacob Underwood, Trevor Penick, Dan Miller and Ashley Parker Angel first arrived for auditions in 1999, they had no idea they were taking part in a reality TV show.
Unknown to them, O-Town were about to become the very first band to find success as a music group via the medium of television, long before
The Voice
,
The X Factor
,
American Idol
and even
Pop Idol
.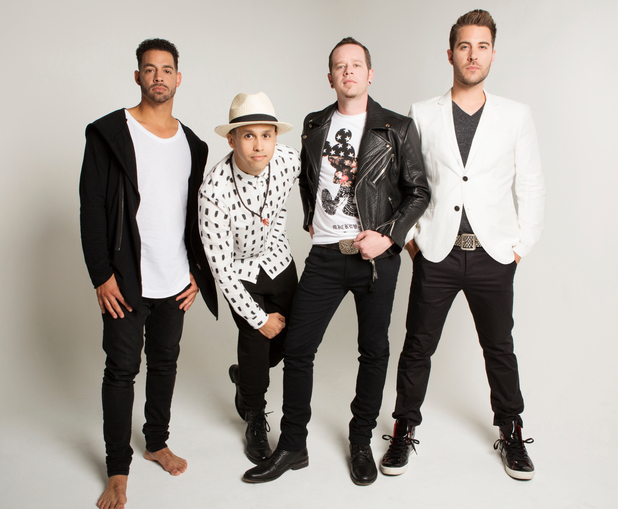 Spanning hits such as 'Liquid Dreams' and 'All Or Nothing', O-Town enjoyed considerable success, but bad fortune led to the demise of their group in 2004.
Fast forward 10 years, and
the boys – or more suitably men – are back with a brand new single
'Skydive' and forthcoming album,
Lines & Circles
. Now wiser and mature, O-Town are back on the scene, but they're without frontman Ashley.
We grabbed a chat with the pop sensations ahead of their London gig last week, where they opened up to
Reveal
about crazy antics in the band, living life away from the spotlight and why making a comeback without Ashley is bittersweet…
How does it feel to be back in London as a group after a decade?
Jacob: It's so awesome. We love this place and it's ten times better when it's sunny out here.
Dan: The first time when we came out here we didn't appreciate it. When you're young, you think that things go on forever and that you'll come back and visit these countries again. We're really appreciating it this time round.
Erik: The only thing we want to do is go to museums and go visit nice restaurants. The first time we came here, all we really wanted to do was party!
Is there a mixture of nerves or excitement ahead of your London concert?
Erik: I'm probably the most nervous. I haven't performed in 10 years and these guys have done other stuff since. For me, this is the first time in a long time, so I'm super nervous unfortunately. I wish I could say I wasn't.
Jacob: Right now he's making me nervous! Now my hands are sweaty, thanks Eric!
Dan: We're at a point right now that the people who are coming to see us are the people who are just really good fans. They haven't just randomly stumbled upon us. These fans have been with us since day one and have followed us and paid attention to us, even throughout our 10-year break. They'll be there and we're going to put on a good show no matter what.
You're reuniting without Ashley, why did he decide not to join O-Town?
Dan: It didn't feel right for Ashley and we totally respect that.
Erik: We always involved him when opportunities came up. We always reached out to him.
Jacob: He knew of the opportunities that were being placed to all five at once. There have been times when we couldn't do it as we were all at different stages in our lives. For this last one, everybody could do it expect for him. After 10 years, it's perfect timing, and we had to ask, 'Do we not do this at all or do we do it as four?'
Did you have doubts over whether you could make a comeback as a four?
Trevor: We weren't sure that we could do it as a four but people were telling us that we could.
Erik: The number one thing that took us over the edge was 'Skydive'. It was the first single that was submitted for the project. It was written in a higher key and we had to lower it. We did some recording and then Jacob reproduced the track to make it more epic and masculine. We recorded the song and heard it back, and that's when we convinced ourselves that we can do this as a four.
Jacob: We're not lacking anything musically. It was the biggest push that we needed to get us into this process.
Does it feel weird not having Ashley around to embark on O-Town's new journey?
Erik: In each step we have these weird moments when we think of him. So at first, singing without him was weird, but now it's not because we've been doing this already for quite some time.
Jacob: It's just like when we shot the music video too. Each thing we do, we remember that Ashley is not here with us. We're breaking the threshold by doing everything without him, so we have lots of those moments.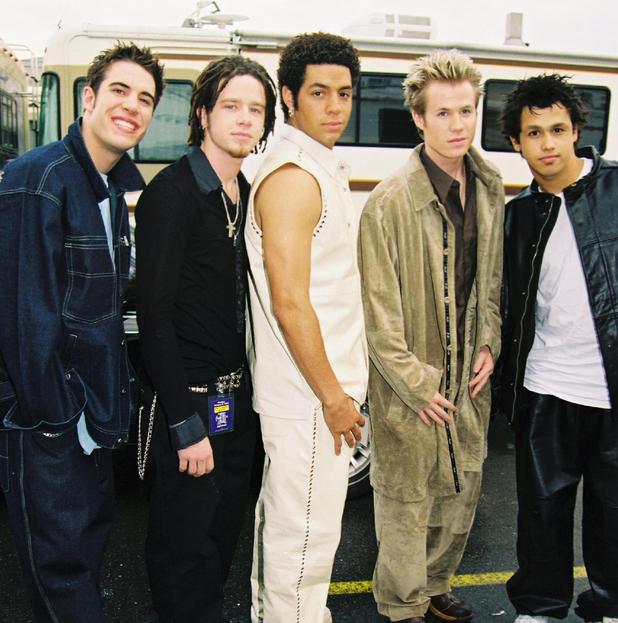 What was it like taking part in Making The Band?
Trevor: It was definitely a whirlwind. We were like 19 or 20 years old and we just went to along to an audition. It was the first of its kind. There was no
Pop Idol
or anything like that.
Erik: With competition shows now, everyone is prepared and knows what to expect - but we didn't know what to expect. None of us expected it to be a television show. We saw those cameras and we genuinely thought they were news cameras.
Jacob: It took a while for us to figure it out.
Erik: We never really realised what kind of effect it was going to have because it was the first time the medium was really used and utilised for media purposes. To see us actually formed, to see us raw and to see us develop in front of everyone means people saw us from the very beginning. Everyone got the chance to experience that with us and I think that's why the fans are still around 10 years later because they were connected during that time.
Dan: The fans really got to know us. I mean, Erik met his dad for the first time through the show, those are experiences that you don't get.
Trevor: It was these five strangers that have been put together and it's kind of like putting an all-star team together and hoping that they win.
Did you enjoy being in a boyband?
Jacob: I hated it! I absolutely hated it. Every bit of it.
Dan: But now, here we are 10 years later and Jacob's just as giddy as Trevor, which doesn't happen often! Trevor is like the giddiest person on just about every subject. Jacob's been battling him while we've been putting this whole thing together!
Jacob: This time round it's really different though.
Dan: The difference is the first time we had this big machine behind us. We had the TV show, the big label, Clive Davis and everything kind of ran for us. It's like the machine was pushing us along and led us to where we were going to go. Everything was moulded for us. Now we have this opportunity to create all that stuff. We have a say in what we look like and sound like.
Jacob: When we got signed, we had no freedom at all. You're in a group and you finally get to the level where you can be seen but you have no say in the art that you're doing. Literally there are songs that I didn't show up in the studio for. I don't like our record, I don't ever put it on and I don't advise people to put on the old records. With our new single, I put on the CD and I'm like, 'Look at this, check out what we did last week.' I can sit there with a grin and go, 'Yes, that's O-Town.' I'm proud of this because this is ours and we can be what we want to be now. Having freedom makes the world of difference.
Trevor: I never want us to not appreciate that we had two great records, and songs that allowed us to have this time period now, but we were a lot less experienced and I don't even know back then if we were capable of that responsibility.
Erik: Now everyone has honed in on who they are as individuals. When we come together, we can see that in each other and we respect that. Everyone's contribution is really welcomed and before it was never really discussed.
Tell us, what crazy stuff did you boys get up to in your heyday?
Trevor: We did the typical band stuff. We were 21 or 22 and we felt like we were on top of the world!
Dan: I was always in my hotel eating room service! The other boys may have been out partying the first time, but now they want to experience this and not sleep through the day.
Trevor: We were never really like rock stars though.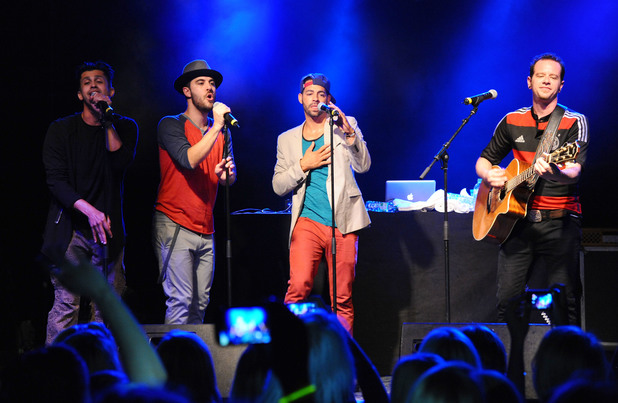 Did fame ever sink in?
Trevor: It's never sunk in. I don't even think it's sunk in now. It's weird, I don't know. Personally, I've never felt like that.
Erik: Fame set in really quickly for me when I was in the band, until the band was over, and then non-fame set in really quickly after that too. This time, I've really experienced the afterglow of fame. You just have this juxtaposition of life.
What was it like being away from the limelight after you disbanded?
Dan: I loved it. It's hard to explain. People were like, 'If you didn't like attention, why did you try out for a reality show? Why did you try to join this band?' It all sounded cool at the time, but once you're in it, it's a completely different thing. Afterwards, I was completely happy that nobody noticed me. I much prefer that people talk to me like a normal person. They treat you a lot differently when you're famous. I enjoy a regular conversation. There's this thing with fame where people treat you like your different and I'm not. It's weird.
We hear you had been working on a reunion for some time...
Dan: We've been working on the O-Town reunion for years and some things didn't work out but this seemed right. We can get back together and take what we've learnt from the past to build this band ourselves.
Erik: We're treating the band as a company and people are in charge of certain things. We're all held accountable for it. It's pretty cool.
Jacob: Although I was frustrated at the time, my past experience changed and shaped my personality for what we're doing now. The schooling that we got from learning with Clive Davis, and learning not what to do with Lou Pearlman, and all the different things we've done in our lives brought us to this point.
Trevor: Starting out in O-Town was like our school. It was our music business education. It was trial and error and a hands-on way of learning.
What is your new single 'Skydive' all about?
Erik: It's different for everyone. Personally, as much as it's an internal message to the guys in the band and the fans, its overall saying, let's take a leap of faith together. Let's do something that everyone thinks is so scary and fearful and take a chance. We have all the experience, we have songs and we have each other, so it's time to take that leap of faith and hopefully the fans can take that leap with us.
'Liquid Dreams' was released as your debut single back in 2001, do you still enjoy performing the song?
Trevor: It was our first single and it has those catchy melodies. I think it was bigger in the UK than back at home.
Dan: Is it my favourite song we've ever done? No, but that doesn't mean I don't like it. It's part of who we are and it kind of shaped where we are now, so it's important to give that back to the fans and let them have that.
What are your plans for the future?
Dan: Now we wait and see. We'll see where the ride takes us. We're going to take in every moment this time.
'Skydive' is due for release on 27 July and their album, Lines & Circles, is due for release on 3 August.
Watch the video for O-Town's 'Skydive' below: