Former TOWIE star, Joey Essex, made his name with his quirky ways and sayings on the hit ITV2 show, but now solo Joey has flown the TOWIE nest, he's set out to learn more about the world. Next stop, Brazil - 'what you saying'!
Joey is on a mission to get educated and his latest project
Educating Joey Essex
takes him all over the globe, to try and teach him a thing or two.
Last series, we saw him head to Africa to take on the wild and teach the locals his Essex lingo. Now off on his next adventure, Joey is heading to the heart of South America for a football fever special in light of the World Cup.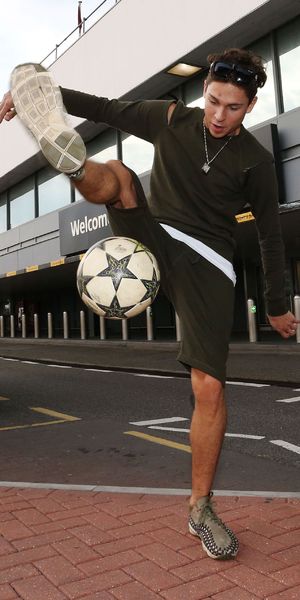 From Essex to Africa to Brazil. What's next in store for the 23-year-old?
Reveal
caught up with Joey to find out all about his Brazilian adventure and just how well he managed his hair in that humidity. Letting us in on what he got up to on his travels, the star also reveals how loved up life is treating him and girlfriend Sam Faiers, and why he's not ready for babies just yet!
So you've just come back from Brazil, how was it?
"Yeah good, an amazing experience. But it was hard though. I wasn't smiling the whole time."
Why's that?
"When I was out there I was finding it quite difficult. We had police and security the whole time out there, but when we went to a favela we weren't allowed any because the people in the favela would shoot the security. If they saw them, they'd just shoot straight away. That's the day I was really scared."
Sounds scary. What else did you get up to?
"I nearly had my hair relaxed out there, Brazilian blow dried, you can watch it on the show, it was a big hiccup. I couldn't handle it so I had to walk away."
How did your hair cope out there? It's so humid...
"It's humid, but it wasn't too bad. It was an alright heat. I would have liked to have got my hair done, but not done over there."
Last series, you were bitten by a monkey, any travelling mishaps this time round?
"Yeah, my hair! I nearly had my hair bleached off! I've heard stories before that someone had their hair bleached and all their hair fell out, that's what I was scared of. They could of done that for a joke, I don't know, they don't talk English out there."
God forbid. Not the hair.
So asides from being scared and your hair mishap, what did you most enjoy about Brazil?
"My most favourite moment was probably meeting this guy called Nelson. He's the biggest Brazilian fan in the whole world. He dedicates his life to Brazil, he only eats Brazilian colours. That's it. For the rest of his life. He's been doing it for 34 years, everything is Brazilian colours, his house, his floors, his watch..."
Crazy.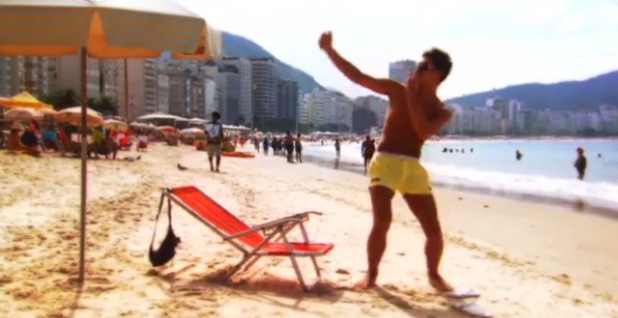 This time Educating Joey Essex is a football special, did you get to show off your footballing skills?
"I played quite a bit of football out there. I played with loads of young kids in the favela. Everyone is just in the streets playing, It's their life out there, it's almost like a religion."
Are you a big football fan?
"When I was a kid I used to love football, but as I grew up and started getting into going out with my mates I stopped watching it as much."
But do you know the offside rule?
"Basically it's when a player in a team passes the ball and they'll pass it too much in front of the other player. It's hard to explain, I can't even explain stories…"
Yeah, we'll give him that one.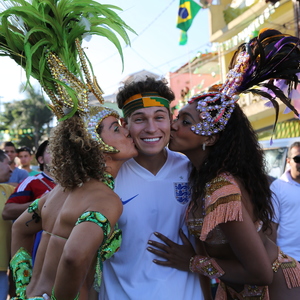 Did you teach Brazil any Joey Essex specials?
"Yeah! I taught Nelson to say 'what you sayin'. I told a geezer called Joao how to say reem. And they taught me how to say reem in Brazilian, well Portuguese, it's Legale."
Will you be adding that to your vocab list?
"Maybe, I've got it down."
So, being the jet setter that you are, what are your suitcase essentials?
"Always make sure I've got enough socks, sometimes my UGG boots because it could be cold, my hairdryer and my iPad."
As you were off in Brazil your old TOWIE pals were headed to Marbs, are you sad to be missing out this time round?
"I've been so busy filming, I haven't really had time to think about it. It's a great show though, I'll definitely be watching 100% - they're my mates. But it'll be nice to put my feet up, with a cup of tea and watch all the drama."
We don't blame you Jo!
Charlie and Ferne have seemed to have had a bit of a rough ride in Marbs, what do you make of their relationship?
"It's not for me to say. It's up to them, I don't really know. It's up to Charlie at the end of the day."
Would you ever consider going back to the show?
"Never say never."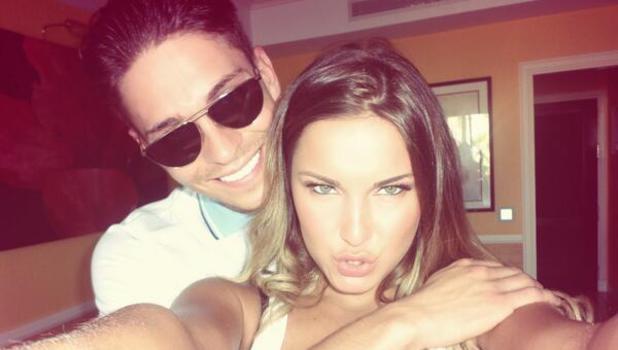 We were pleased to hear you and Sam are back together, how are things with you two
?
"Yeah we're really happy. It's going good."
Do you think this time it's the real deal?
"We're just happy, it's cool."
And obviously Sam's sister, Billie, is expecting. Do you think you will be a surrogate uncle to the baby?
"Yeah, I spose so!"
How are you with babies?
"I like babies, but obviously I'm a boy. As a kid I just played with Ninja Turtles and Power Rangers."
So it doesn't make you feel broody at all?
"No I'm busy aren't I? And I'm only 23!"
Catch Educating Joey Essex: Football Fever this Sunday (22 June) at 9pm on ITV2.
Watch a sneak preview of Joey in Brazil here: