Last night we saw break-ups, make-ups, a fistfight and Geordie Shore's Vicky and Ricci have it out for a final time, yes the finale of Ex On The Beach certainly didn't disappoint.
After last week's shock arrival saw Ricci surfacing from the sea, it wasn't long before
him and his former fiancée Vicky came to blows
. And as things still remained tense between the pair, in last night's ep we finally found out exactly why things are so frosty.
After trying to clear the air, a frustrated Ricci walked out on Vicky, refusing to talk things through.
"I didn't come here to argue with my ex-girlfriend, we split up ages ago. She is the biggest mistake of me life, she's absolutely deluded and crazy"
When Ricci was finally ready to talk again, Vicky revealed why she now has no time for her ex.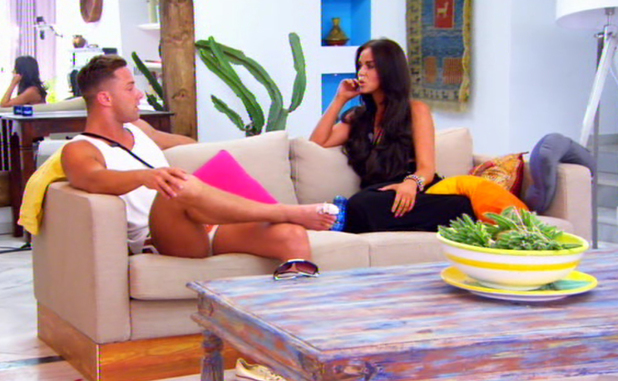 "One thing that will bother me forever if I don't ask it, is you sat in a restaurant with me in Newcastle and told us you still loved us knowing you'd already sold a story on me."
Interjecting that Vicky had already told lies about him in Australia, Ricci dodged the question later saying that all he knows is he did love Vicky and she knows he did.
But a less than impressed Vicky replied, "And you thought that telling our inner most secrets and relationship details was going to make me come running back?!"
Seeing the funny side, Ricci tried to lighten the mood, "I said you were alright in bed. I gave you five out of ten", but an annoyed Vicky didn't seem to see the funny side - "Oh wicked. Cheers mate."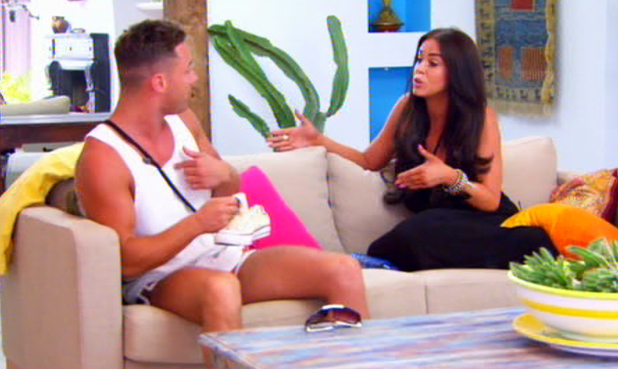 Although Ricci did apologise, Vicky accepted she was never going to get the apology she believes she deserves.
Speaking of her time on the show, the 26-year-old said: "The minute Ricci turned up here, my experience was over. I need to go home and forget he ever existed again."
And not to keen either on his holiday with his former flame, Ricci described his experience as hell – "It's been so f****** draining. If people want to believe her fake lies then that's fine."
Although slightly calmer than their first encounter, it looks like the couple are no better off than when they started.
Meanwhile, Liam Lewis continued his scheming to stir things up only to find himself at the end of a right hook from Ashley Cain.
Teasing Ash about his ex, Liam found himself in the middle of a fight as his inked up co-star didn't take to it lightly. Threatening to kill Liam, Ash soon found his time on
Ex On The Beach
had come to an abrupt end as he was asked to leave the villa immediately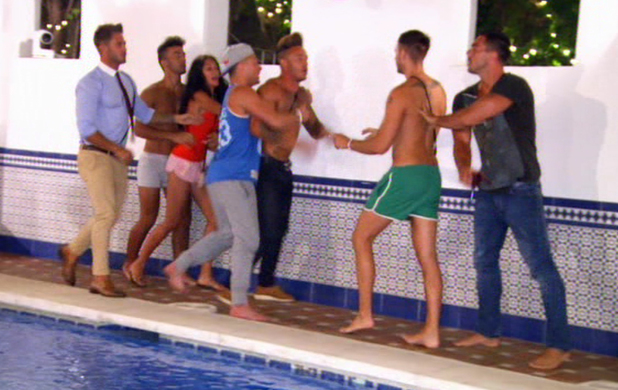 And despite the drama and constant fall-outs, some couples did get their happy ending.
As the episode wrapped up, hotheaded couple Ash and Talitha decided to give things another go, self-confessed ladies man Ross Worswick got together with Mario Falcone's former flame, Shelby Billingham and a smitten Vicky finally got her chance of happiness whisking Australian hunk Dan Conn back to Newcastle with her.
"Me and Dan are together and he's made us so happy. I don't want Dan to be another person that I don't want to remember, I want him to be a person I don't want to forget."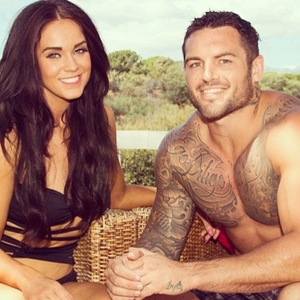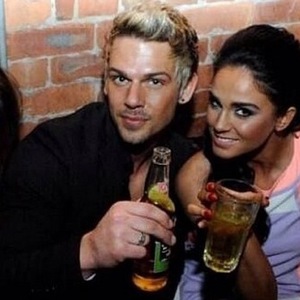 But did it last?
According to the show, since filming wrapped Ashley and Talitha have split yet again, womanizer Ross cheated on Shelby with her best friend and is
now dating TOWIE's Jasmin Walia
and Vicky and Dan unfortunately didn't work out.
But luckily for Vick she's moved on from her holiday romance and is now getting cosy with another of her
Ex On The Beach
co-stars, Joss Mooney.
We just can't keep up.
And until next time...
We can't help but wonder,
who's ex, is next?!
Watch Vicky and Ricci clash here (Warning - Strong Language):
COMING UP! Vicky reveals the truth behind why she despises Ricci so much...
Watch more clips here: Ex On The Beach