Your brand new REVEAL MAGAZINE is available in shops and to download now. And it's a good one!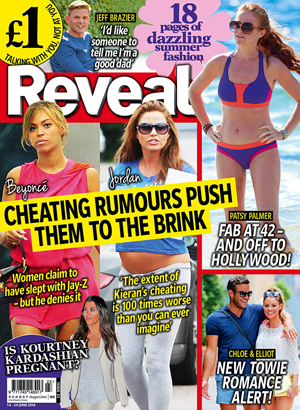 This week we have an exclusive interview with Katie Price who tells us: 'The divorce is ON!' We catch up with the pregnant model about how she's coping following Kieran Hayler's betrayal – and you'll never believe what she tells us…
We're also delving into the world of TOWIE romances, bringing you exclusive pictures of a brand new TOWIE couple! There's also a mystery man on the scene for another of our favourites, while a former TOWIE couple could be getting back together…. Intriguing!
Are cheating rumours pushing Beyonce to the brink? How is she coping in the wake of fresh headlines? And we round up the cheeky flesh-flashing celebrities who just can't stop getting naked! Ooh-er.
Elsewhere, we've jetted to THE hottest place in Ibiza - the Ocean Beach Club - to bring you the most glamorous fashion shoot you'll see all summer, while our real life features this week include the woman getting fat for love.
We've also got an exclusive interview with Jeff Brazier and exclusive pictures of a bikini-clad Patsy Kensit looking fabulous on the beach at 42.
GET YOUR COPY NOW!Download the Reveal Mag app today for iPad and iPhone, Kindle Fire and Google Play.
Download for iPad and iPhone here
Download for Kindle Fire here
Download for Google Play here