The Only Way Is Essex's Bobby Norris is preparing to take Marbella by storm - and this time he'll be joined by his boyfriend Harry Derbidge!
Bobby and Harry - aka Barry - have been dating for six months and for the first time ever are filming the new series of
TOWIE
together, which kicks off with a Marbs special later this month.
Just before the couple headed to the Spanish party resort,
Reveal
caught up with Bobby to chat about their relationship, his new clothing line and whether he is still longing for a gay-b son or daughter....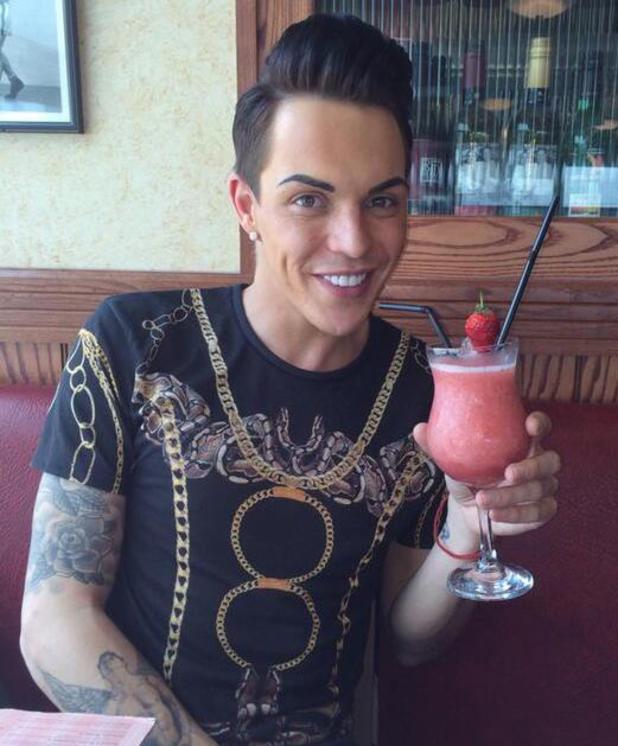 Hi Bobby! Are you looking forward to Marbs?!
Yes! It's the best - we have such a laugh. To all be together in the one place is great, but obviously only when there isn't drama going on and people throwing drinks in each other's faces! But hey ho, this is
TOWIE
and we wouldn't have it any other way!
Are you all packed?
Just about - and there's plenty of special outfits in there! I went to Ireland a couple of weeks ago and did 15kg of luggage for one overnight trip... I'm only allowed 20kg for Marbs, but I imagine it will be 30kg at least! Whether you're going for one night or 10 nights, you need a lot of the same stuff – your products, your hair gel, and I've got an obsession with Calvin Klein underwear. I'll take 15 pairs, even if I'm going away for two nights! It's an ODC thing, I won't wear any other underwear than Calvin. I've got ever colour, material, style going. Gotta love a good pair of boxers!
Will you be packing some of your new Sirus collection T-shirts?
Yes! I'm the Versace of Essex, so expect to see them on
TOWIE
! My range has been a long time coming but I wanted it to be right. I've got a real pash for fash and wanted to incorporate a charity edge alongside my love for animals, so I'm donating a proceed of every sale to the Hopefield Animal Sanctuary in Brentwood, Essex. Although I love what Battersea Dogs and Cats Home, the RSPCA and The Dogs' Trust, I decided to support an Essex charity. Essex has given so much to us
TOWIE
guys so it's nice to give back. I didn't realise that these charities don't get any funding from the Government – it has actually been a real eye-opener.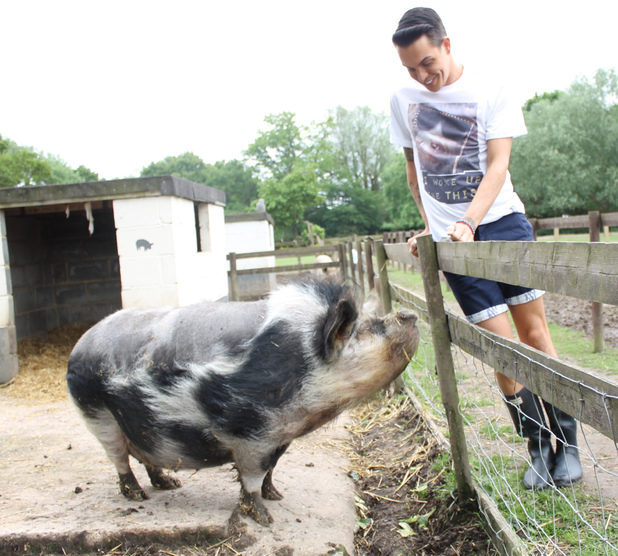 You're already dad to dog Beau Jangles, have you been tempted to adopt more from the Sanctuary?
I always want to come back with a house full each time I go, but sadly you can't physically help them all. I recently fell in love with a dog, whose mummy had bitten her foot off when she was a baby. Her back foot is deformed but she's the cutest dog. She hops around and it's clear she's loving life!
We're so pleased to see you and Harry looking so loved-up. How is your relationship going?
It's going really well. It's been six months now and we celebrated by going to see the Bodyguard in the West End. We've also had our first holiday together a couple of weeks ago and I'm looking forward to getting out to Marbs with Harry. I'm intrigued to see what it's like to film with him, as we've never been in
TOWIE
at the same time. It will be nice to film with him, but it's a bit weird as I've never had a boyfriend on the show before!
Are you worried that the drama of the show will put pressure on your relationship?
I am a little bit worried about the drama – I think it's kind of clear that
TOWIE
is cursed when it comes to relationships – but I'm hoping, praying and touching wood that the gays can beat the curse! It always goes belly-up, so I'm really hoping we're not going have the same fate. Because he's been on
TOWIE
before, Harry knows what is coming and we've been together for six months now. We're established in our relationship and we didn't meet on the show. I often wonder if that's where it goes wrong for other couples.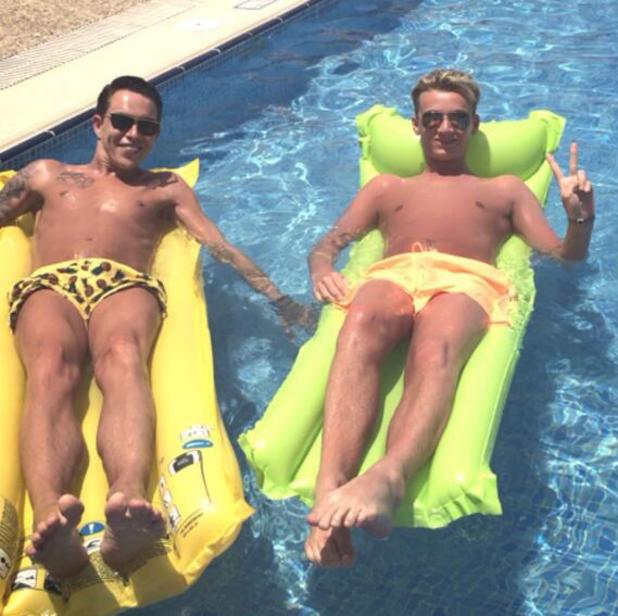 How did you and Harry actually get together?
We've know each other a long time as friends but then started flirting around each other for a while. I couldn't work out if he liked me or not in that way, but I then got a couple of texts which gave me the courage to ask him out for dinner and drinks. It started from a friendship and I think that's the best way, as you already know a person's positive and flaws.
Do you like our nickname for you - Barry?
I think it's hilarious, I love it! I really like it – if it's good enough for Brangelina, it's good enough for Barry!
You've spoken about wanting a baby but recently put your plans on hold after getting into a relationship with Harry. Are things still on pause?
I'm really happy at the moment and in such a good place that the baby is still very much on hold, but it's something I will one thousand per cent do. It's just about doing it at the right time – I hadn't envisaged getting in a relationship with Harry and there is a bit of an age difference between us. He isn't in a place to want one yet, but I'm a big believer in fate and I'll know when the time is right.
Are you still enjoying TOWIE?
I love
TOWIE
, I mean I
really
love it! I miss it so much when I'm not filming. Because you're used to being filmed 24/7, you pop into Waitrose once the series has finished to get some tiger rolls and think, 'where's production?' It's always nice to get away and get a tan that isn't out of a bottle when a series has finished, but then I'm ready to start filming again. At least it gives me time to get my eyebrows and Botox done though!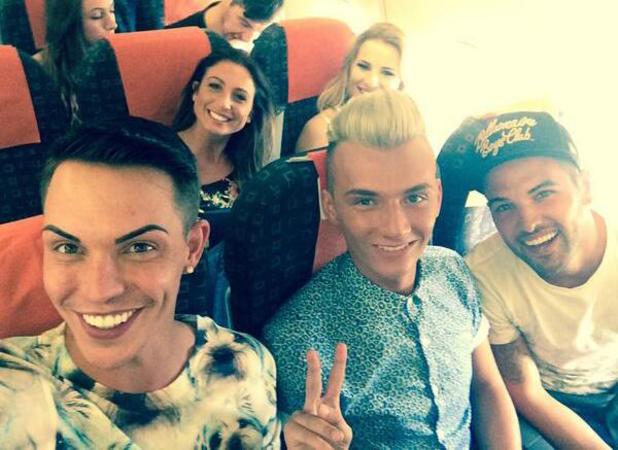 While we still had him, we asked Bobby some quick fire questions to get to know him better:
My fashion pet hate is…
fake UGGs – the jekylls - when they get to the stage where the backs are all worn down to a 90 degree angle. I can't bear it!
My favourite meal is…
an Italian. I love it.
My earliest memory is…
picking out a Barbie on holiday. I loved a Barbie me, shocker, I know! I used to put all their little shoes together and sort out their outfits. I mean, the signs were always there – it wasn't a shock when I came off of the Bobby Bus!
My biggest beauty disaster is…
was that fringe I had hanging down in front of my face when I first joined
TOWIE
. Urgh, it was awful. I hadn't had Botox at the time and an ex-partner had said some nasty things about one of my forehead lines. That's why I grew it. Thank God for Botox, that's all I can say!
My favourite onesie…
is one with American dollars printed all over it. I wore it to Las Vegas and looked like Mr T!
My best TOWIE friend - aside from Harry - is…
Gemma Collins. I'm looking forward to having some fun with her in Marbs.
My essential Marbs item is…
hairspray. I'm really OCD about hairspray and carry a can with me EVERYWHERE. I've got to have permentant protection for the quiff. I can't have it flopping forwards like in the early
TOWIE
days!
Bobby's Sirius Collection T-shirts can be bought from www.siriuscollection.co.uk for £25 each, with £1.50 from each top sold going to Hopefield Animal Sanctuary.