TV presenter Cherry Healey has admitted that she has struggled to lose her baby weight following the birth of her son six months ago.
Cherry, who is known for her BBC documentaries, has been furiously exercising and trying not to give into her guilty pleasure - crisps - and the hard work is definitely paying off, as she looks fab!
Here, 33-year-old mum-of-two Cherry chats to us about how she is shedding baby weight, why she called her son Bear and she also reveals why she gets "death stares" on aeroplanes!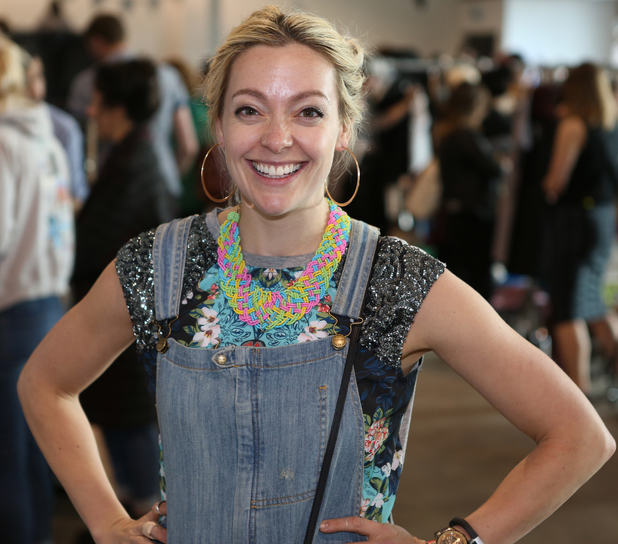 Congratulations, you've had a baby boy since the last time we spoke!
I have! I've had a little boy called Bear, his real name is Edward but I'm pushing the Bear nickname - and it's sticking!
How did you come up with such a cute name?
I'd been thinking about it for ages, as when you fall pregnant it's fun to play the game. You have a nice long nine months of swollen ankles and feeling sick to think about it!
Why are you having to "push" the Bear nickname? Have some people said they don't like it?!
When I say that he's called Bear, some people are like, "What?", so I feel I quite defensive about it. It's okay though, as he has a really sensible name as well. I call him Edward sometimes and, for a lot of people, Bear is a bit silly. But that's absolutely fine, I understand - it's fun name it might not suit him later in life. Bear is cute, but if he's a heart surgeon he may not want to go that route and I understand that!
Are you more chilled out this time around?
Oh much, much more chilled out without a doubt! I'm doing this thing called baby-led weaning. Basically, you put food in front of your child and let them get on with it. I gave Bear cheese the other day and his head practically exploded with excitement. With my daughter Coco, I was so terrified of her choking her that I pretty much I kept her on puree until the last moment. The old wives' tale says to follow a mother's instinct. Well, my instincts can be way off, my instincts are rubbish! I didn't do any reading when weaning my daughter, I didn't pick up a book, I didn't Google, I just thought my instincts would help because 'I am Mother Earth and I'll be fine'. No, I completely got it wrong.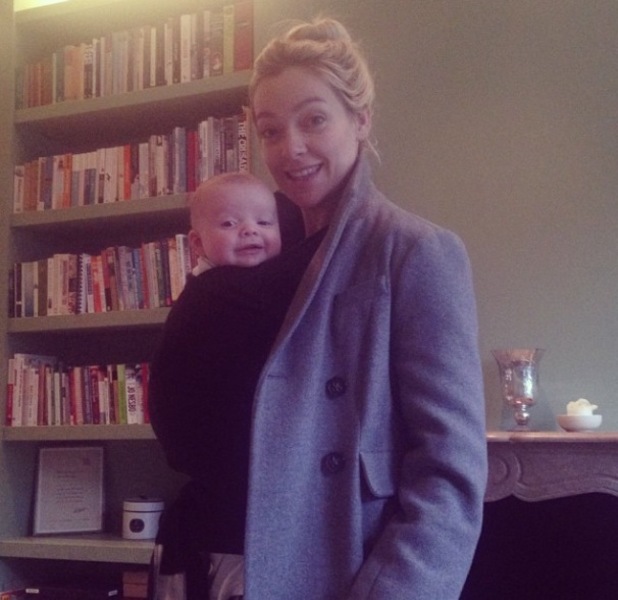 You're already back at work, you must be shattered?
I am, but I'm really happy. It's nothing I don't want. Every so often the balance shifts, but at the moment, the balance between work and being home feels good. What I miss is hanging out with my friends. I start getting supper ready at 5pm, turn out the lights for Coco at 7:45/8pm and then I open my laptop and start my work. I really, really miss going for dinner with my friends. I try and do it as much as possible, but I am so knackered at the end of the day the idea of putting nice clothes on and going out is not that appealing!
Are you able to take you children to work with you?
I do, as much as possible. The people I work with are always so amazing about it and my mum is a super gran! She comes with me and hangs out with the kids in the day. Bear's got more air miles than anyone I know - that baby is living the life, I tell you! Luckily, he's a nice quiet baby so is good on planes. I do get the death stares though. Other passengers vex me so much. To all of the people who give mothers death stares, just stop - it doesn't help anyone. With mums, we're damned if we do and we're damned if we don't. What do you want us to do? Women in 2014 work and have jobs, and some of those jobs are abroad. Deal with it!
Does Coco like having a little brother?
Umm, she's really not fussed! Every so often she will say, "I want to see Bear", and she will give him a big bear hug. And that's it. She's got her own thing going on. She's four-and-a-half, she has friends, a social life and TV shows and puzzles and colouring. Occasionally, she will poke him, but he's quite boring at the moment and just sits there and dribbles. I'm sure he will become more interesting, but right now he is less interesting than a toy or an iPad!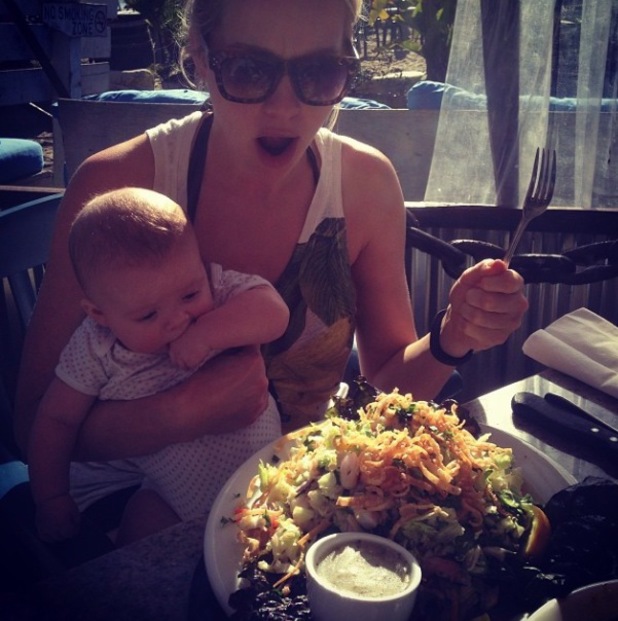 Is your family complete now you've got a boy and a girl?
Nope. I must be crazy because, honestly, on a Sunday night for an hour-and-a-half I do logistics. I send everyone an email - my mum, my husband and our nanny - and I say, "You've got to do 'da da da'". It's this juggling act, but I absolutely adore being a mum so much. If the time allows and if the money allows, I would love to have another one. But it won't be for a while, because I've enjoyed the gaps between Coco and Bear. There are more in the pipeline but just a massive question mark over when. I'd like a football team I think. I'd like to give Sarah Beeny a run for her money!
You're looking great. Have you already lost all your baby weight?
I'm not back in my old jeans, so I've still got a bit of away to go. That last half a stone is a b*gger. My body does not want to be slim! I work so hard for it - some people say don't bother, but I know how I feel. When I'm a comfortable size 12, I feel really happy. I don't want to be skin and bones, I just like to do my jeans up.
How have you slimmed down?
For some, slow and gentle works best but for me, I find hard and fast is better. It's less painful to do it quickly, so I've been exercising as much as I can. I love jogging, because I can jog to and from places. As a mum, it's really time efficient. I started doing Pilates, because my body is a bit skew-whiff from carrying two children but, to be honest, I'll do anything in my room while I'm watching box sets! I try and do an hour a day about three or four times a week.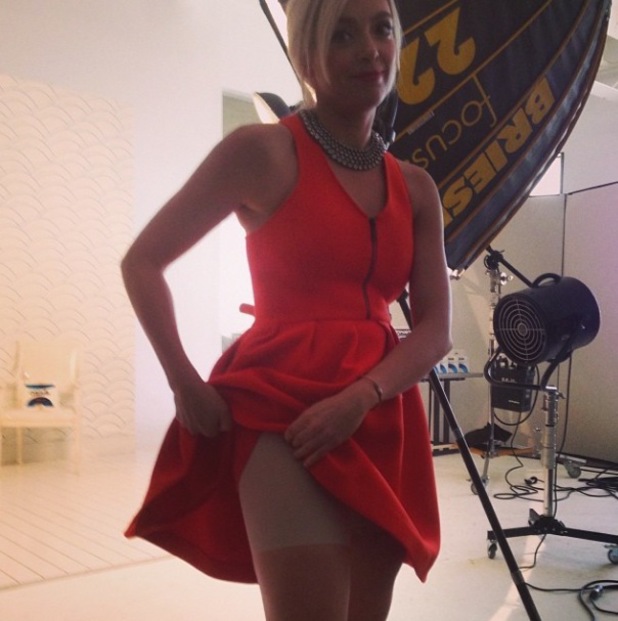 What is your diet like?
I'm just really careful with alcohol and pudding, and I try not to eat too many carbs. Although, I absolutely love crisps so that is a challenge! I save up my tokens by eating lightly during the day and then I'll have one really nice meal in the evening. I don't want all my meals to be salads, that is just too depressing, but I don't mind having fruit for breakfast, a salad for lunch and then a proper meal at supper. I don't want to be the girl ordering the garden salad and a fizzy water while out at dinner. I want a big glass of wine and a burger.
You're backing the campaign Look Beyond The Label, which encourages people to choose food and drinks packaged in glass. Are you conscious about where your food comes from?
Well, basically the campaign looks at how we package our foods and what the most reliable thing is to buy. As a mum, I do have questions. My small children look to me to protect them and, since becoming a mum, I have questions about whether all these things that are in my house are okay? They might be, but they might not be. What I do know is that glass is 100 per cent safe. I use plastic baby bottles for my child and didn't even know that I could've bought glass bottles. My daughter loves painting, so I put the paint pots in the dishwasher with the baby bottles and everything else. The bottles then came out the colour of the paint, so something's going on there! A lot of supermarkets say the consumers are choosing plastic, but are they? No one's ever asked me.
For more information, visit: friendsofglass.co.uk