Lee Ryan has been handed a £3,325 fine and banned from driving after he urinated and vomited on a police cell floor following a drunken arrest.
Blue singer Lee had been out celebrating bandmate Duncan James' birthday in London when he was pulled over by police after they spotted him driving erratically at 5.30am on 11 April.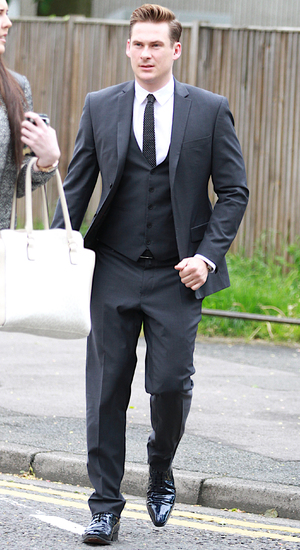 Magistrates in Ealing today heard that officers spotted an empty bottle in the drivers' door of Lee's Audi and noted that he had "slurred" speech, so took him to a police station in nearby Acton.
While there, Lee repeatedly swore at officers and refused to provide a breath sample to see if he was over the limit, the court was told.
Majit Mahal, prosecuting, said his language became so bad that officers decided to place Lee in a cell, where he urinated and was sick all over the floor.
When asked by the officer, "Do you do this at home?" Lee is said to have replied, "Yes I do. F*** off you ****".
The court heard that Lee was convinced his drink had been spiked, as he told officers he'd only had a vodka and tonic and a rum and Coke.
He also blamed his state on the antidepressant medication and antibiotics he was taking at the time, along with the backlash her received online following his
Celebrity Big Brother
appearance in January.
Earlier today, we told how
Lee arrived at court flanked by his Blue bandmates
before pleading guilty to failing to provide a speciemin and criminal damage.
Magistrates handed Lee a £3,325 fine and banned him from driving for two years.