Blue's Lee Ryan was pictured arriving at court this morning before pleading guilty to failing to provide a specimen and criminal damage.
Lee's bandmates - Duncan James, Simon Webbe and Antony Costa - accompanied Lee to the hearing at Ealing Magistrates Court in London.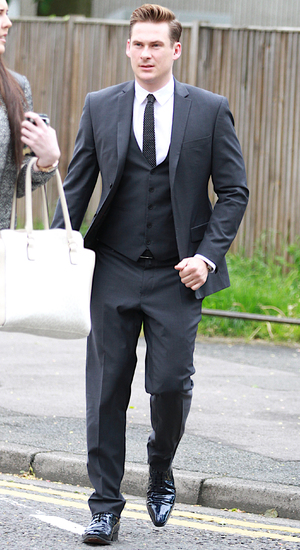 The singer and
Celebrity Big Brother
star was dressed smartly for his appearance in the dock, while the rest of Blue also chose to wear suits.
On 11 April,
Lee was arrested in Ealing at 5.30am after police officers saw him driving
erratically.
Lee, 30, was taken to a nearby police station and he refused to take a breath test. The court heard that he launched a foul-mouthed tirade on officers before urinating on the police cell floor.
The Kent-born star had spent the night before his arrest with Duncan James in London's West End, magistrates were told.
After Lee was released on bail, the dad-of-two's spokesman issued a statement saying: "I can confirm that Lee was arrested in the early hours of Friday morning. He was arrested on suspicion of drink driving and is awaiting a court date.
"He was charged with failure to provide a specimen and criminal damage. A controlled substance was found in his possession.
"This low point has caused considerable concern to Lee's family, loved ones, and of course the Blue boys... No excuses will be made on Lee's behalf, but he will be seeking professional help for those issues that he has been unable to overcome on his own."
More follows...