Most of Harry Styles' fans agree he is cute enough to eat - well now, they've got the proof.
For Harry, one of One Direction's stars, has been immortalised in this incredible new EDIBLE portrait which has been commissioned by Jacob's - the company famous for its cream crackers.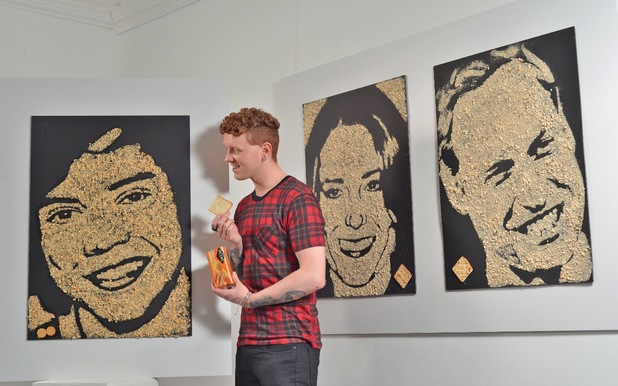 Cardiff-based artist Nathan Wyburn, 24, was asked to create portraits of some of the UK's most famous faces in edible Jacob's snacks as part of the company's new £10million campaign.
While fellow food artist Miss Cakehead, 34, from London, built UK national treasures such as Stonehenge, the London Eye and a Double Decker bus out of the snacks,
Nathan,
whom you may have seen on
Britain's Got Talent
, concentrated on famous faces.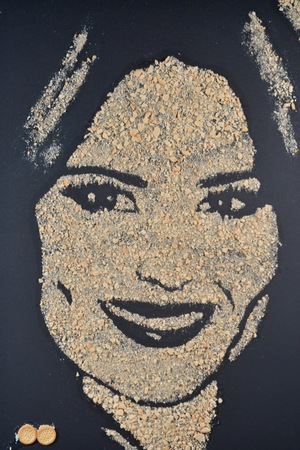 His inspired creations - made out of cream crackers and mini cheddars among other treats - include Cheryl 'Cheddars' Cole, Prince William (Duke of Creamcracker-bridge), Kate Middleton (Duchess of Creamcracker-bridge), Holly Willoughby (Holly Odditybooby) and, of course, Harry 'Minicheddar' Styles.
Over 12,000 Twiglets, 54kg of Cream Crackers and over 10kg of Mini Cheddars were used to make the artworks, which were unveiled last night at a London art gallery, along with details of the new campaign.
Artist Nathan, a semi-finalist in 2011's
BGT
, said of the project: 'We all know and love Mini Cheddars so to have the opportunity to create Cheryl Cole and
Harry Styles
out of them was so much fun.
' A few mouthfuls went missing as part of the creative process but I'm delighted with the end result.'
Ted Linehan, Director of Savoury at United Biscuits, added: 'I'm sure many people might have thought that this was an April Fool, but seeing The Duke and Duchess of Cambridge and Stonehenge recreated using our Cream Crackers is something I will never forget.'
Neither will we!
Find more details of the campaign - and more amazing portraits -
HERE
Got an iPad or iPhone? Reveal Mag is specially designed to fit!