American singer Austin Mahone hasn't even released his debut album yet and he's already got an insanely massive following – including a mammoth 5.6 million Twitter followers!
If you're unfamiliar with Austin (and we reckon you won't be for long!), here's a quick recap: He found fame after posting YouTube videos of him singing online back in 2010, was then signed to a record label, got chosen to support Taylor Swift on her huge 'Red Tour', and has won awards including MTV's Artist To Watch.
Not bad for a 17-year-old!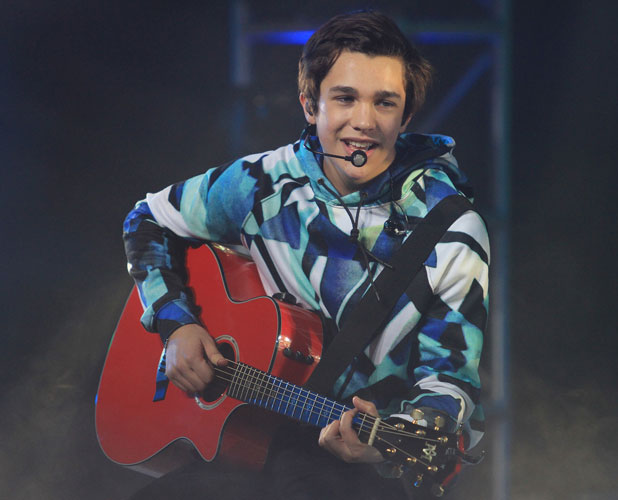 While Austin is busy working on his debut album right now, he recently took time out to film a guest appearance on Will Arnett's comedy series
The Millers
, playing the younger version of the character Adam in a flashback sequence.
We caught up with him to find out more…
How did your role in The Millers come about?
"My role in
The Millers
came about because they asked me to be on the show and I hadn't really done much acting, but I was excited about trying it because I like to act. Basically my role was one of the guys from the show sticking up for himself and I thought the character was real nerdy in a school bust-up and that was pretty interesting."
Were you nervous beforehand?
"No I wasn't nervous, I was more excited than anything because I love the opportunity and it seemed like a good one. It's definitely given me a little taste for acting, but I know there are a lot harder roles out there. If I have an opportunity to act I am going to take it."
You've got a very hectic schedule, did you get much rehearsal time beforehand?
"No not really, I literally just rehearsed it on my own and then walked up the day after and shot it. It was a pretty quick shoot, it was like an hour."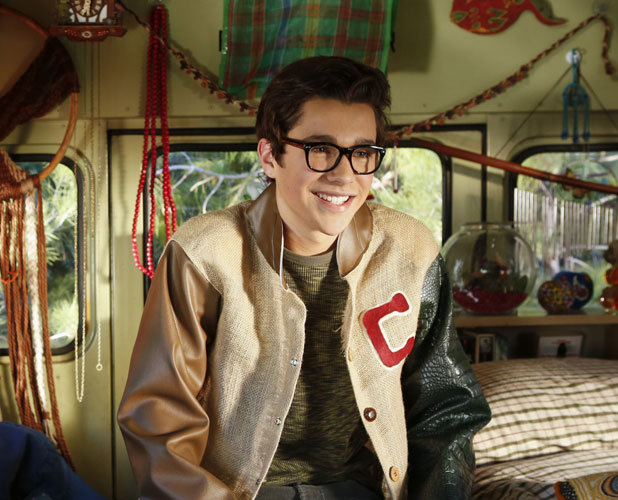 So your new album is coming out soon, can you sum up the sound for us?
"The album's not called
Junior Year
any more, that's what I came up with a few years ago, so we're going to come up with something new. But it's got a lot of major songs on there. It has urban sounds and quite a few collaborations, so it's pretty cool."
You recently supported Taylor Swift on tour. She started in the industry young too, did she give you any advice and if so, what was it?
"Yeah, she told me to keep my family and my friends real close because they're the ones who are always going to be there for me. I learnt a lot from her because, like you said, she started real young and now she's doing an arena tour. She's a real superhero."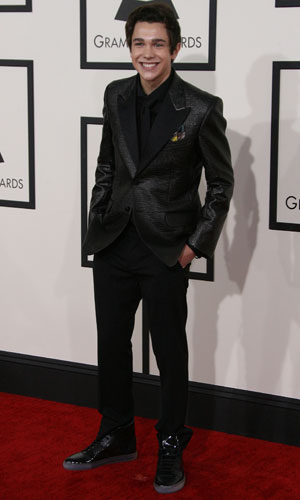 Did you have any shows you performed with her that particularly stick out? Any crowds in particular?
"Every show was pretty intense with 50,000 people, so every show was amazing!"
Your sold out tour was postponed last year – what do you have in the pipeline for 2014?
"Well, I have my album coming out and I'm back in Miami finishing that now. Then later in the year I'm going to do a lot more travelling, maybe go overseas some more and do a lot more shows. I'm excited, it'll be a good year."
Do you have any plans to visit the UK?
"Yeah when I get my album done I'm probably going to come over and do a little promotion stuff!"
Do you listen to many UK artists?
"I'm not that familiar with any UK artists apart from One Direction. I'm a big fan of them."
While we had Austin, we also decided to slip him some Getting To Know quickfire questions about guilty pleasures, heroes and celebrity dinner party guests...
My hero is...
my mum because she's been there for me from the start and has given up everything to help me pursue my dreams, so definitely my mum.
My guilty pleasure is...
buying lots of shoes! Mostly Nikes!
The scariest moment of my life was...
I would say when I had to postpone my tour last year because I got a sore throat and had a blood clot in my throat. They said I needed to take care of it and if I didn't I could possibly lose my voice, so that was very scary.
In 10 years time, I want to be..
on top of the world and I want to be a music icon!
The celebrities I'd invite to dinner are...
Rihanna, Will Ferrell and Mark Wahlberg.
My favourite way to chill out is...
hang out with friends and play basketball and video games.
My favourite thing about the UK is...
the accent!
If I could swap lives with someone else for a day it would be...
President Obama. I would make everyone have no school for the next week!
Austin appears in The Millers on Wednesday 26th March at 9.30pm on Comedy Central
Watch a clip of Austin in action on The Millers below:
Got an iPad or iPhone? Reveal Mag is specially designed to fit! Find out more here