TOWIE star Danielle Armstrong has admitted she's missing ex-boyfriend James Lock after dumping him following cheating allegations.
Blonde
Danielle broke off her relationship with James
on a recent episode of the Essex-based reality show after realising she couldn't move on from the allegations, which he'd denied.
She was also angry about a photo circulating Twitter showing a shirtless James posing next to a glamour model.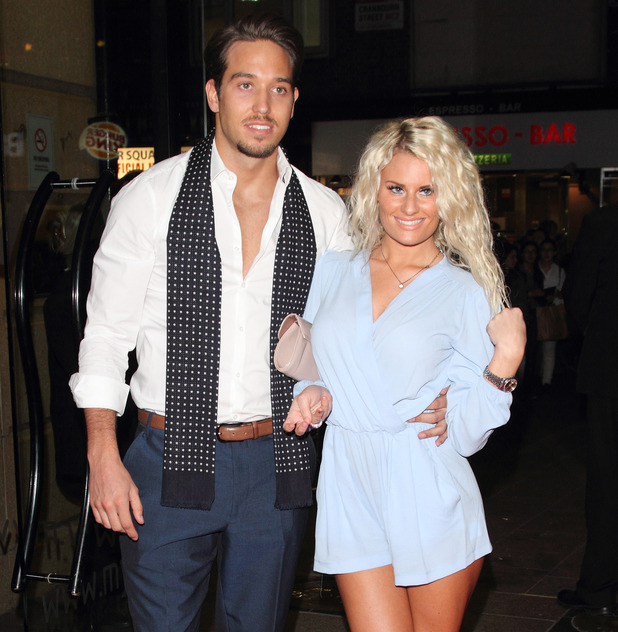 However, it seems she hasn't entirely ruled out the prospect of reconciliation, as Danielle revealed on last night's episode that she can't stop thinking about Lockie.
"James will never show his emotions but underneath all that he has a heart and he's a little softie," she said. "He's had a tough and hard upbringing. His family have brought him up to be hard… I'm not saying I want him to cry, write poems or sing me love songs – cringe me later – but I do need a little bit of emotion from him.
"I do miss him. I can't stop thinking about him."
And she'd also confessed to friend Jasmin Walia earlier in the day that although she was angry at Lockie, she was finding it hard coping with the split.
"The way I feel at the minute is obviously he's being a little sod and I have to come to terms with that. He's not being the angel or the boy I thought he was. I can't be with someone who disrespects me. I'm so embarrassed at the minute. I'm putting on a front but as soon as I get home I cry my eyes out."
However, she appeared to be feeling better while watching the episode, tweeting last night: "Hope everyone enjoyed tonight @OnlyWayIsEssex for once I didn't cry whop whoop staying strong (well trying to anyway) #towie #girlpower xx (sic)
Meanwhile, on the episode viewers saw Lockie admitting to Mario Falcone that he does struggle to show his emotion but it doesn't mean he doesn't care.
"I'm a man's man, I do find it hard to show my emotions. I've been a f**ker, I hold my hands up, but I realise what I've done and what she means to me and I want to make it up to her."
Lockie added that he's tried calling Danielle but she won't answer. Mario then advised him not to mess up like Mario himself had done in past relationships.
"Do whatever it takes," said Mario. "Don't do what I did. Learn the hard way and lose out. Learn and make it up to her, get her back and don't do silly s**t again."
Danielle and Lockie aren't alone: more stars who split in 2014 in pictures
Copyright: WENN Apega
Got an iPad or iPhone? Reveal Mag is specially designed to fit! Find out more here