Paddy McGuinness has just wrapped up the sixth series of hit ITV dating show, Take Me Out.
The 40-year-old comedian and now fully-fledged dating master has been at the helm of the show since its beginning in 2010. Paddy is known for injecting plenty of humour whether it's by saying his popular catchphrase 'No likey, no lighty', helping single girls find love (or a date at least), or role-playing with the male contestants.
Playing matchmaker once again, Paddy is now passing on some of his dating expertise in a new campaign with Cadbury Crème Egg this Easter, where he's created a fun and flirty guide, entitled
A Fling in Spring
.
We grab a quick chat with the dad-of-two, who talks to
Reveal
about blackouts, men in white suits and why
Take Me Out
is successful at playing cupid.
Do you think the success rate of people finding love on Take Me Out is high?
We've had two weddings, currently four engagements and we've had two babies born from the show, so it's pretty good going. It's not too bad. We've just done the sixth series, and after it's all wrapped up the boys and girls from each series set up a Facebook page, where they keep in touch and meet up to go out. It's worked out for the greater good really.
Your catchphrases have become quite popular too...
I never intended on having catchphrases. Even when I came up with the 'Isle of Fernandos', it just kind of happened. But now when I sit down and write, I try to think of something new that I haven't said before.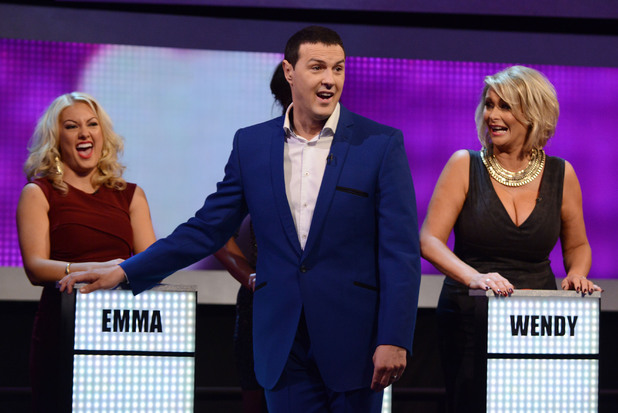 Are you ever surprised by the comments made by the girls?
As a man, what surprises me is what the girls are thinking! I think they're thinking one thing, then they come out with a totally different answer. One girl said she didn't like a a boy's ankles and another said she didn't like the bend in a lad's knee! How the hell would you notice that?!
That's the difference between men and women really, and that's why it works best with 30 girls as opposed to 30 lads.
Can you usually tell straight away whether a pair will have a successful date?
It's still amazes me because sometimes I'll hook someone up in the studio and they off to the Isle of Fernando, and I think it's definitely going to last. But I don't see the footage of them in Fernandos until two months later when I'm doing the voiceovers, so for some I'm shocked to find out that they didn't even get along on the date! Then there's others who I think won't last, but it works. That's the beauty of it really.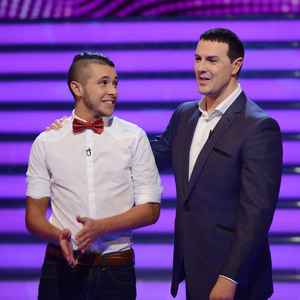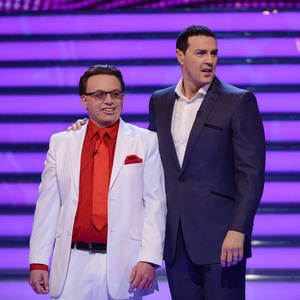 Do you feel bad for the single men who get a blackout?
When the lads come on the show, they know exactly what they're coming on to. The lads who have been blacked out have their own Facebook page too and they kind of revel in it a little. They're always good natured and when I see them after the show, they're fine.
Take Me Out
is a fun Saturday night show and I don't think they take it much to heart really.
What do you think seems to be the main turn-off for girls?
Well across the entire six series, we've had three or four lads who have come out in white suits. I've always thought, 'Is that the way forward?,' and funnily enough, they've all got blacked out! I do love it when they do that because it shows that they don't take themselves too seriously, but it's never a good look. Unless you're
John Travolta
.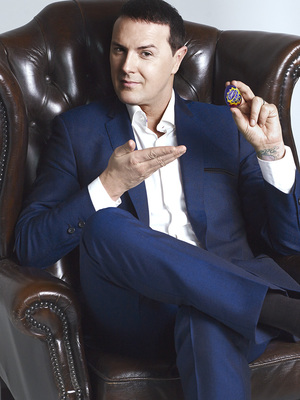 Do you ever watch the show back?
I always watch stuff that I've done because that's the only way you improve as a performer. It's like if you're a footballer, you always watch your game back to see how you have performed. It keeps me on my toes.
Tell us more about this campaign?
I got to be involved quite creatively with this project and came up with the fling manual, which is more about what to do on your fling, so the courteous and the fun things. A fling is that intense and passionate time where you can just have a bit of fun and enjoy yourself – but flings don't last forever.
To be honest, I was just glad to get a box of chocolates. We're full on chocoholics in this house!
Paddy McGuinness is encouraging the public to have a 'Fling in Spring' with a Cadbury Creme Egg. It's no yolk, have a crack and visit www.cadbury.co.uk/fling for more information.Got an iPad or iPhone? Reveal Mag has been especially designed to fit!