Katy Perry has premiered the fantastical Egyptian-themed music video for her brand new song.
To sum it up: colourful, bizarre and very Katy!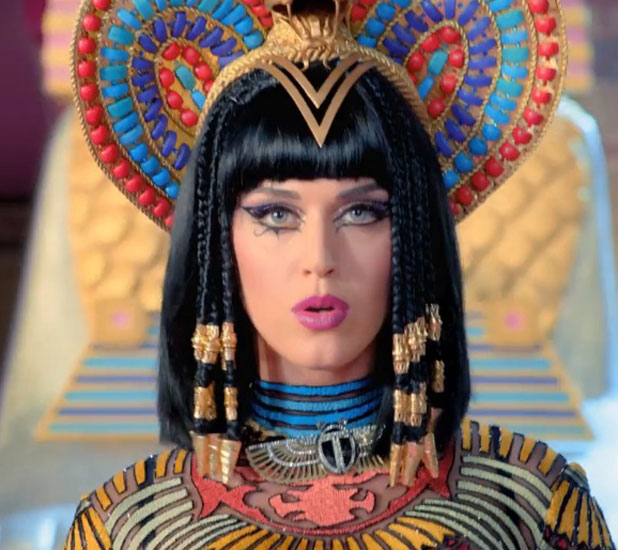 'Dark Horse' is the third track to be released from Katy's current album
Prism
and pretty much warns any potential suitors to be rather careful about falling for her then crossing her…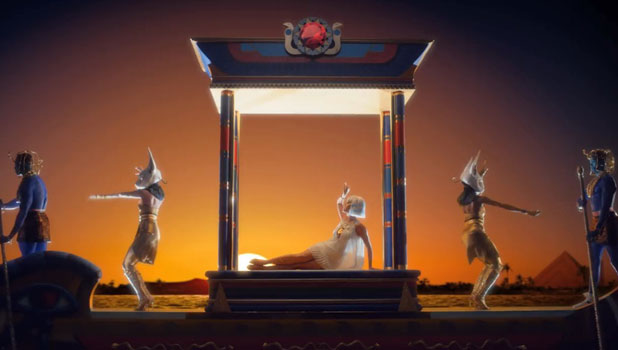 In the video – which looks like no expense was spared – Katy plays a mystical Egyptian Queen in the land of "Memphis, Egypt, a crazy long time ago."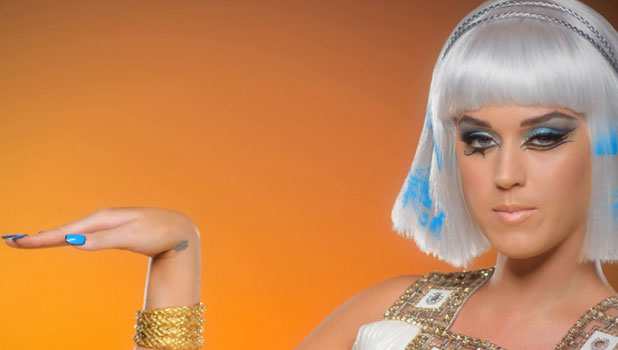 She seems to have a rather awesome life, lounging around on a boat surrounded by hunky men, or sitting on her palace throne in the sunshine as various suitors bring her treats from jewellery to snack food, hoping to win her affections (and maybe a royal title?)
But. Don't. Mess. With. Queen. Katy.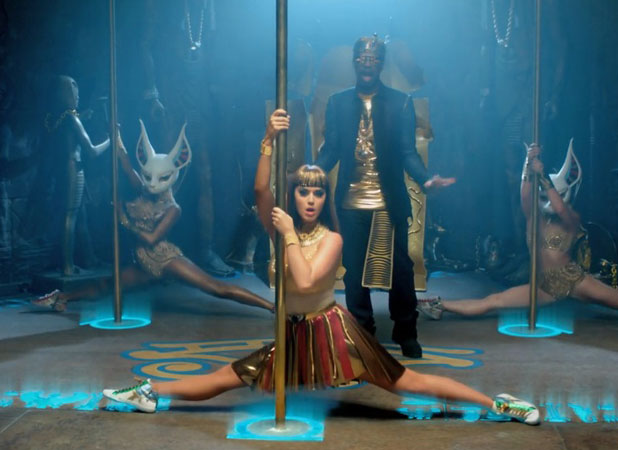 In the words of Shania Twain, the various gifts don't impress Katy much. The poor jewellery guy gets turned to a pile of sany and Katy nicks his jewels to make herself a nifty grill. The one bearing Hot Cheetos has a similar fate…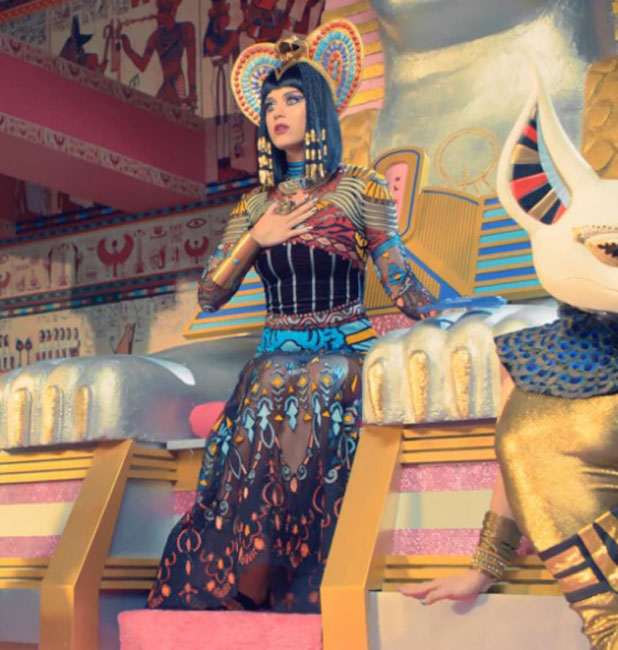 Someone else brings in a huge pyramid thing that has some sort of special power. Is it the key to Katy ruling the kingdom? We're not sure but it does allow Katy to look all kinds of gorgeous standing on top of it and belting out her song.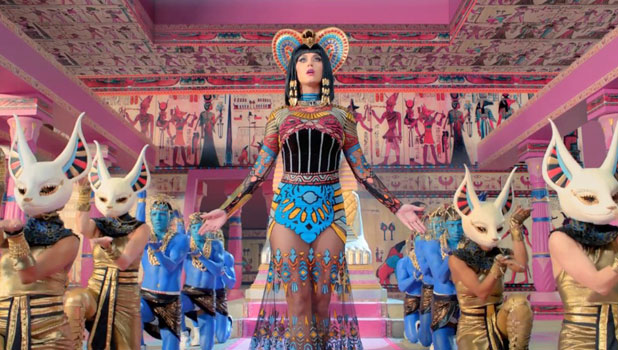 Actually, Katy looks typical beautiful the whole way through the video in her various coloured wigs and costumes including, at one point, a very skimpy one as she clings to a wall and sings to a snake. Really.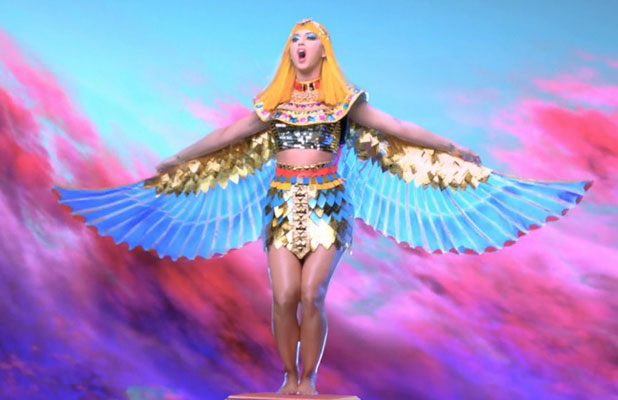 You can just tell she had tons of fun filming this, can't you?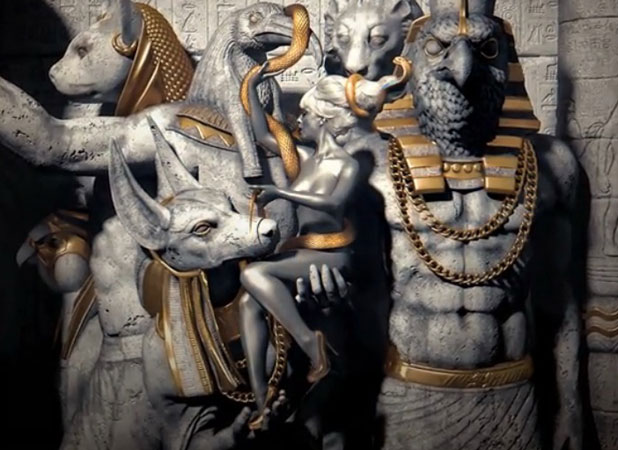 For cute animal fans, there's a treat as well, as the very adorable Jiff the Pomeranian pops up to do some tricks – and presumably impress Katy too?! Thankfully he doesn't seem to suffer the same dusty fate as the others, although we're not quite sure what's going on with him at the end of the video…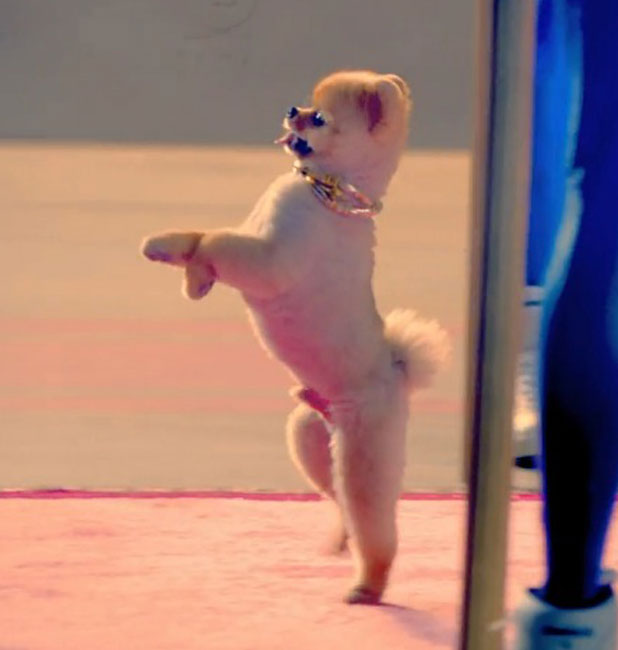 Oh, and Juicy J also pops up from a sarcophagus half-way through and Katy joins him for some pole dancing. Who knew they did that in ancient Egypt?!
Watch the video for yourself here:
Popstar
Katy performed 'Dark Horse' at the Brit Awards 2014
earlier this week, where she was also nominated for 'Best International Female'. Unfortunately, she lost out to New Zealand teenager Lorde, but didn't let that spoil her night of fun as she was later seen hanging out with Ellie Goulding at a glitzy after party.
'Dark Horse' follows
Katy's other Prism album tracks 'Roar'
and 'Unconditionally'.
She'll bring her 'Prismatic World Tour' to the UK in May.