Kim Kardashian couldn't hide how loved up she is with fiancé Kanye West this week, as they celebrated the 10th anniversary of his debut album The College Dropout.
The curvaceous reality TV star and her rapper beau marked the ten year milestone on Monday (10 February) and candid photos from their intimate party at Nobu restaurant in Miami have now been shared by Kim on her blog.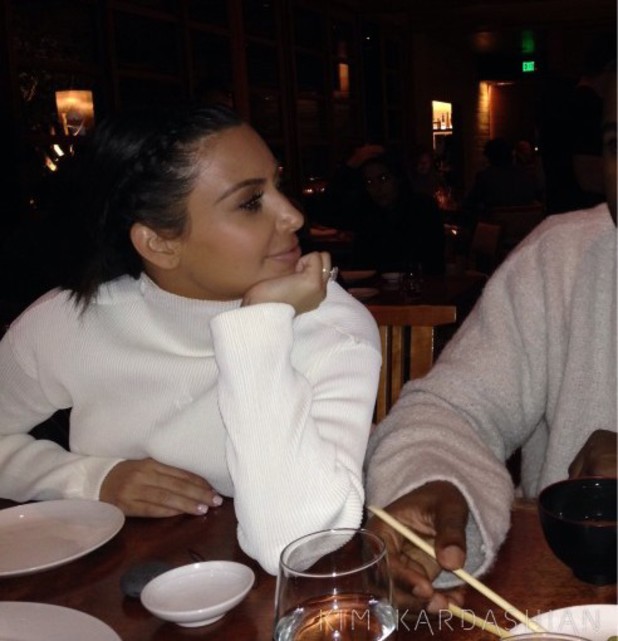 In one of the stand-out snaps, we can't help but notice how in love the 33-year-old looks, as she is caught gazing at Kanye across the table. Very cute!
Kim is seen wearing a a white, long-sleeved top and propping her chin on her hand, while staring adoringly at her man, who is sat next to her.
The Kardashian sister also showed Kanye how head-over-heels she is by surprising him with a lavish cake on the evening, which was decorated with the
College Dropout
album cover artwork.
Meanwhile, 36-year-old
Kanye - who proposed to Kim last October
- also wore a white top for the occasion and was seen giving a sly smile to the camera in one photo surrounded by his closest friends.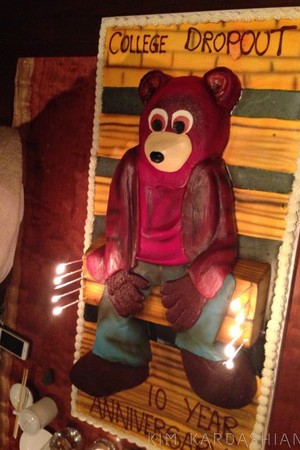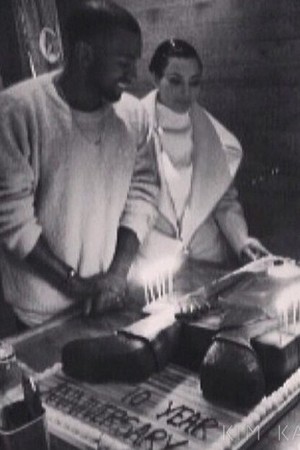 The hit-making rapper opened up about how much his debut LP meant to him on Twitter on Monday and also thanked his fans for their support over the last ten years.
He wrote: "Ten years ago today we finally released what had been my life's work up to that point:
The College Dropout
. I say "finally" because it was a long road, a constant struggle, and a true labour of love to not only convince my peers and the public that I could be an artist, but to actually get that art out for the world to hear.
"I am extremely grateful to each and every person along that road who helped, lent an ear, lent their voice, gave of their heart to that project, and to all the projects that followed, and are to come. I am honoured and humbled by my fans, for the unwavering support and love over the past ten years. I wake up every day trying to give something back to you that you can rock to and be proud of."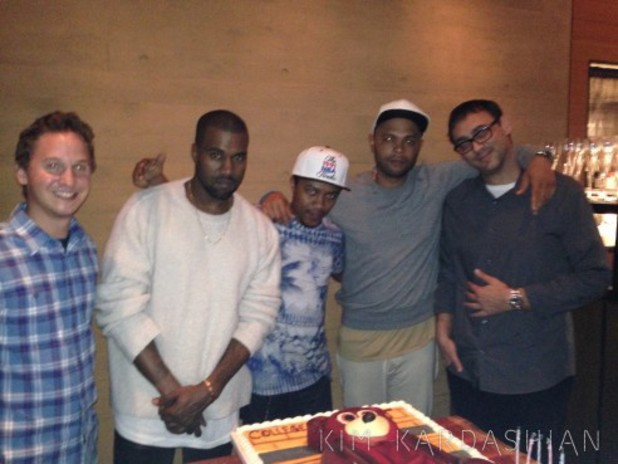 He added: "Ten years later I am still the same kid from Chicago, still dreaming out loud, still banging on the door. The doors may be heavier, but I promise you WE WILL BREAK THEM."
Kim also showed her love for the album in a special message posted to Instagram and insisted that the project had "changed hip-hop".
She wrote: "10 years ago today Kanye released his 1st album
The College Dropout
! This was a game changer! Could only imagine what you were thinking and feeling today 10 years ago! Happy anniversary to the best producer/artist over the past decade!!!! Can't wait for the next 10 years! Gonna be listening to this album all day. #TheCollegeDropout #ChangedHipHop."
What do you think of these cool pictures from the party? Let us know below, as the best comment from across the website each week wins £50!
£2.49/month – that's all is costs for 4 issues of the REVEAL early edition. Gossip too good to wait for! Subscribe today!