Matt Damon and George Clooney are two of our biggest Hollywood stars, so they could maybe be excused for being difficult or secretive during interviews.
But, when Reveal caught up with them last week (what a fab Valentine's treat!) we were pleased that they came across as well as they always do on the big screen.
George, 52, and Matt, 43, were in London promoting their new movie,
The Monuments Men
, a real-life story about an unlikely World War II platoon tasked by the Allies with going into Germany to rescue artistic masterpieces from Nazi thieves, and returning them to their rightful owners.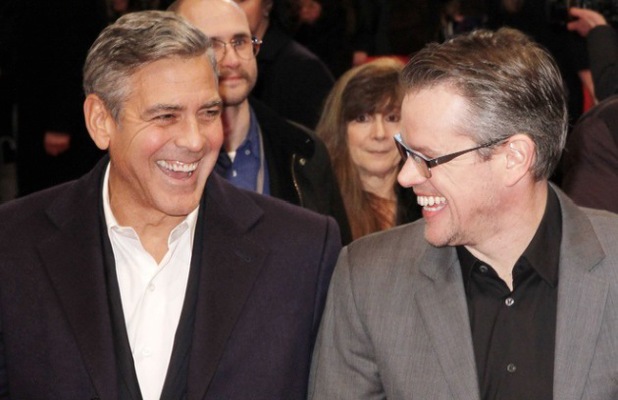 The film - with an all-star cast including Bill Murray, John Goodman, Hugh Bonneville and Cate Blanchett - captures team spirit, which clearly continues between the actors off screen, too.
"We're all really good friends and we had a wonderful time filming together," George tells us.
In fact, film producer, Grant Heslov, has claimed it was difficult to get the boys to work, as they were "playing around" too much.
Matt jokes: "George had to work. He wrote the script and he was directing and starring in it, while the rest of us are used to just headlining movies where you only have to work for two days a week, so it becomes really fun.
"We just laughed a lot, basically."
Without turning to look at his co-star, George responds, dead-pan, with: "Matt was the only one working two days a week." The megastar pals start chuckling… and that's how their conversation continues for the next half an hour, both bouncing off one another.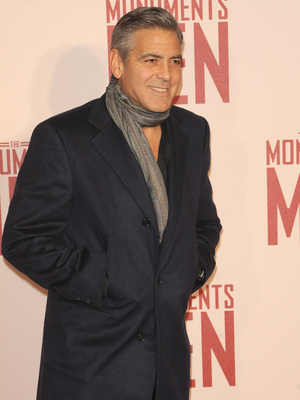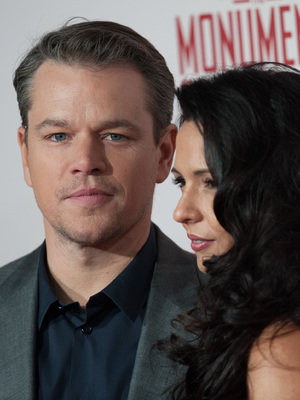 Letting us in on some on-set secrets, George tells us that, while filming
The Monuments Men
, Matt confided in him that he wanted to lose weight.
So, what did George do to reassure his long-term friend?
"Over a period of about a month and a half, Matt would be on set and then he would go back to LA for a couple of weeks so, every time he went away, I would have the wardrobe girl take in his uniform half an inch," he says.
"He was eating, like, just a grape, yet his pants were getting tighter! I never actually mentioned it, until only a few days ago!"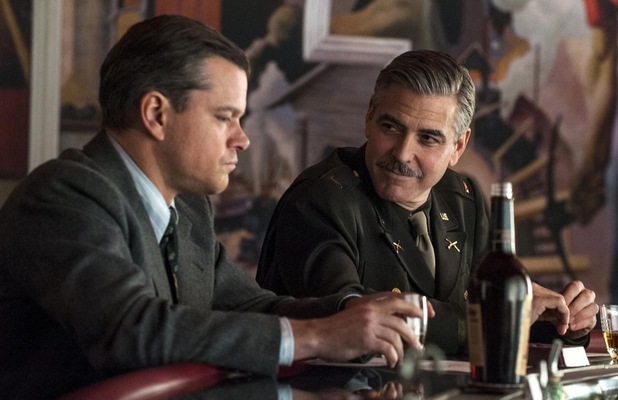 George is known in the industry for his love of practical jokes, and Matt – who gives off the same warmth and friendly vibe as he does on film - isn't the only one to fall for one of his pranks.
Matt tells us: "George's father, Nick, is in the final shot of the film. He plays George as an old man and he walks off into the light in this beautiful scene, so George gave him a private viewing of the film and, at the end, with the shot of his dad walking away, writing came up on screen saying, 'In Loving Memory of Nick Clooney.'"
"Nick was like, 'What the Hell!' And George said, 'Well dad, it doesn't come out for another six months!'"
George and Matt have been friends for a long time, both onscreen and off, and have starred in
Oceans 11
,
Oceans 13
, and
Syriana
, together.
So, how does dad-of-three Matt enjoy being told what to do by his pal?
"It's actually much easier, because you cut out all the diplomacy," says Matt, who is dressed causally in a jumper and wearing specs.
"There's a whole way you're supposed to speak to each other on film sets and its all about protecting their feelings and egos but, when you're with friends, you can say, 'That sucks!'
"There's a line of trust and you solve the problems a lot quicker, and then carry on having a good time."
READ THE FULL INTERVIEW IN THIS WEEK'S REVEAL MAGAZINEThe Monuments Men, in cinemas now.