Kelly Osbourne has joined her mum Sharon and her pet dog Mr Chips for a gorgeous group photo shoot.
X Factor
judge Sharon and daughter Kelly teamed up to support Multiple Sclerosis charity Race To Erase MS and each donned matching campaign T-shirts for the pictures.
The cause is very close to the ladies' hearts, as Sharon's son and Kelly's brother Jack has the neurological disease.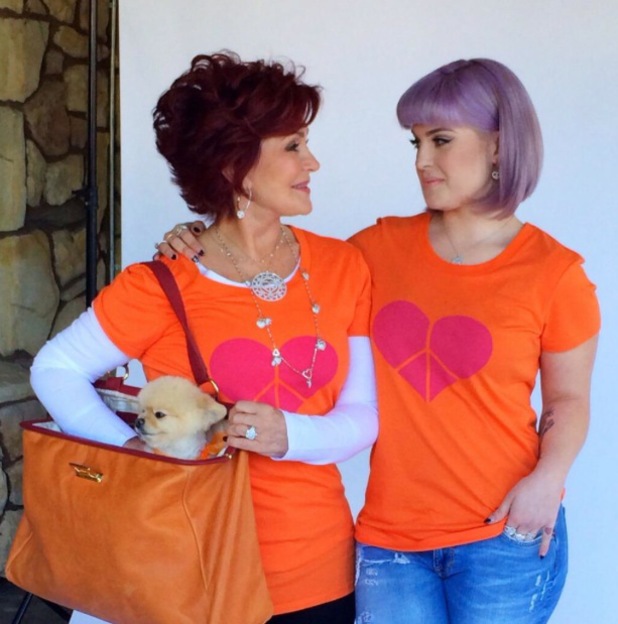 Jack revealed he has MS in July 2012 and the family have spoken openly about his diagnosis in order to raise awareness, as so far there is no cure.
Kelly had her iconic purple hair dyed darker for the shoot, while Sharon popped her adorable dog Mr Chips into her handbag to complete the lineup.
It is Kelly's second year fronting the charity, who raise money for vital MS research, but this is the first time Sharon has taken part in a campaign.
Sharing one of the pictures on Instagram, Kelly commented: "Had so much fun shooting the campaign for the second year in a row for @racetoerasems!
"This year was way better because I got to do it with my mum @sharonosbourne! @Racetoerasems T-shirt shoot for great cause www.erasems.org #erasems."
Following their shoot, Race To Erase MS tweeted: "A big thank you for a wonderful T-shirt shoot with @MrsSOsbourne and @KellyOsbourne! #erasems #fighton."