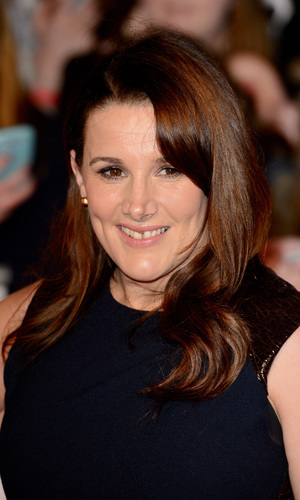 Sam Bailey won the hearts of the nation when she appeared on The X Factor last year. After impressing the judges with her powerhouse vocals at the auditions, Sam stormed through to each week of the live shows with judge Sharon Osbourne as her mentor.
Then in the live final on 15 December,
host Dermot O'Leary announced Sam as the winner
. It was at this point that Sam's life changed forever.
With a Christmas number one single under her belt and a firm friendship with US singer Michael Bolton, Sam is preparing to release her debut album
The Power of Love
next month. We grabbed a chat with the 'Skyscraper' singer who spoke to
Reveal
about her rise to fame, calling Michael Bolton 'The Bolt Master' and how winning the show helped put the spark back in her marriage.
How have your kids, Brooke and Tommy, reacted to you being famous?
Tommy doesn't really understand it. He still thinks that I'm doing
The X Factor
now. He misses me but I'm genuinely doing it for them. I want to put money in the bank so that my kids have got some savings. These sacrifices are being made now so that we can better our lives. It's to build a future for our family.
Has your relationship with your husband Craig changed in any way?
It's definitely brought Craig and I a lot closer together because I'm starting to appreciate him a little bit more and vice versa. When you're in a relationship and you're both working, you just get stuck in a rut. You get home and you're like ships that pass in the night. You sit and watch telly, fall asleep on the sofa when the kids have gone bed and then go to bed and that's it; you do the same things everyday. Now, every bit of time we get we appreciate much more.
We're either going to the cinema or going football. We used to go to football matches anyway but it's more exciting now because we're hanging about with the players in the players' lounge. It's more of an excitement and it's almost brought back that spark because you can lose it, and it can dip a bit in the relationship because you get so complacent. We just had our tenth wedding anniversary and he brought me a very expensive ring and it's great. I brought him a BMW 5 Series Sport car and he's called it Miss Keegan after Michelle Keegan. I got myself a Mini Cooper and so I called my car Mr Cooper after Bradley Cooper!
Did you ever think you had a chance of winning?
I tried to drown all that out. I used the same mentality as footballers when they say 'one game at a time' but mine was 'one week at a time'. I never looked that far ahead. I'm more of a realist in any situation. I look at the present. I was genuinely shocked when my name was called out.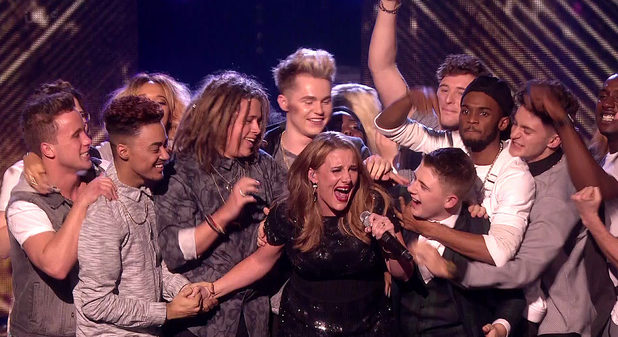 Describe the moment Dermot O' Leary called out your name?
When he called my name I just looked over at Sharon and she was on the floor. I was just so pleased for her because it was the first time that she had won. I wanted her to be the winner. It was just so overwhelming and I still have a lot of 'pinch me' moments. My life is never going to be the same.
There was an after party following the final and there was a section sealed off with red rope just for me. I felt so silly sitting there on my own so I invited everyone in, and took photos and signed autographs. I don't drink and I knew I had to be up at 5am for my chat on
Daybreak
, so there was a counter at the party with loads of cakes on it and they had coconut macaroons - I'm partial to a coconut macaroon! So I took a box, went in a car back to my hotel and sat on my bed and celebrated with a macaroon and a cup of tea. If that ain't rock 'n' roll then I don't know what is!
So tell us, how was it performing with Michael Bolton at the National Television Awards last month?
I fulfilled a dream, an absolute dream of a lifetime. Weirdly enough, I wasn't nervous because I was on stage with 30 kids who were nervous, so I felt that I needed to be on form for them. Michael's such a calming guy to be around. I was in his dressing room on the day of the show and we were just chatting about the business and it was so nice. He's really witty so it was nice to open the show with him and I felt that he was my guardian angel making sure I was alright.
We've heard that Michael wants you on his tour too - will you be joining him?
I'm very excited about it. I've already told him that I want to sing with him again so that's the plan. Watch this space. This is like my male vocal idol and he wants me on his tour? Two days ago I was shopping in ASDA!
You also have a song with Michael on your album The Power of Love. How was it recording in the studio with him?
He turned up while I was singing in the booth. I was nervous but he was standing in the control bit and he was so blown away at my vocals. Then he came in and we sung together. I was totally blown away with everything. He's so easy to work with and he knows so much about the business, he's just a gentlemen, so I'm very lucky to have had that opportunity with him.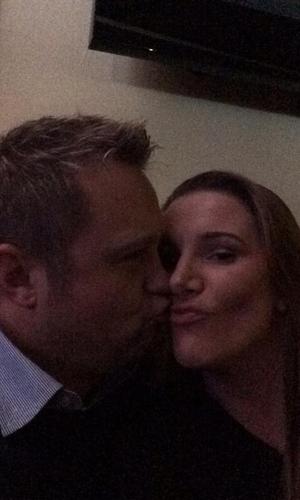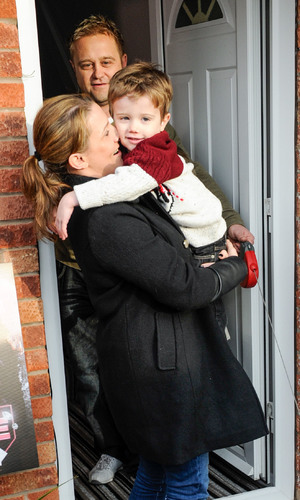 You seem to have struck up a good friendship with Michael...
Yes I have. We went out on Friday night because he was jetting back to Los Angeles on the Saturday. We had a spot of dinner and I already sort of checked it with the hubby just in case. I told him, 'If I get papped babe and you see me coming out of a restaurant with Michael Bolton, I just want to tell you, there's nothing in it!'
Tell us more about your album The Power of Love?
It's part brand new, part covers and part duet. I can't tell you who else I'm duetting with but it's going to be amazing. I'm very excited.
Who would you like to collaborate with in the future?
I'd love to work with Sam Smith, and vocally I'd like to work with Gary Barlow.
Are you still in contact with your X Factor mentor Sharon Osbourne?
Yes, she texted me the other day. I keep getting in trouble because I get the time zones wrong and keep ringing her at like 4am! She asked how I was doing. She's doing well, I should text her more really. She's put me onto some really good people and I trust her.
How much communication have you had with Simon Cowell?
He phoned me on the week that I won and that's about as far as it's got. I'm still yet to meet him. I'm still very nervous, only because I know what I'm like and I won't call him Simon, I'll call him Simone! I know I will. I genuinely won't be able to hold it in and then he'll sack me not long after that! I can't help it, I always have to give males a female name. If it's Mark, it's Markina...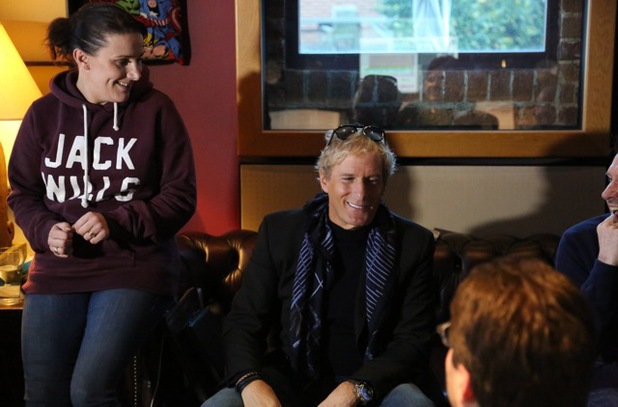 So what do you call Michael Bolton then?
I call him 'The Bolt Master'!
How are you feeling about supporting Beyoncé on tour?
I'm so excited about it. I won't twerk, that's not going to happen but I think the running man needs to come back. I've requested that I have some hot semi-naked dancers. It's only fair because she gets them!
Last month Miss Dynamix announced their decision to split. Were you surprised by their news?
They did have different personalities. When bands are put together it's so difficult when there is not that initial bond. They're all strong, independent and young women. When they did the sing-off they came together, so I genuinely thought they'd be alright because it took until then for them to actually gel together. They've all got fabulous voices and if they go solo, then fair play to them. This whole experience has been a stepping stone.
Where would you like to see yourself in five years time?
In an ideal world, I'd like to be on my second or third album, still going strong, still working with amazing people and still being grateful for everything.
Sam's debut album, The Power of Love, will be released on 24 March.
Watch Sam's video for 'Skyscraper' below: