Miley Cyrus has teamed up with Madonna for her MTV Unplugged special in Hollywood.
Fresh from her Grammy performance over the weekend, Madonna stepped back on stage to perform an iconic mash-up of her hit song 'Don't Tell Me' with Miley's 'We Can't Stop'.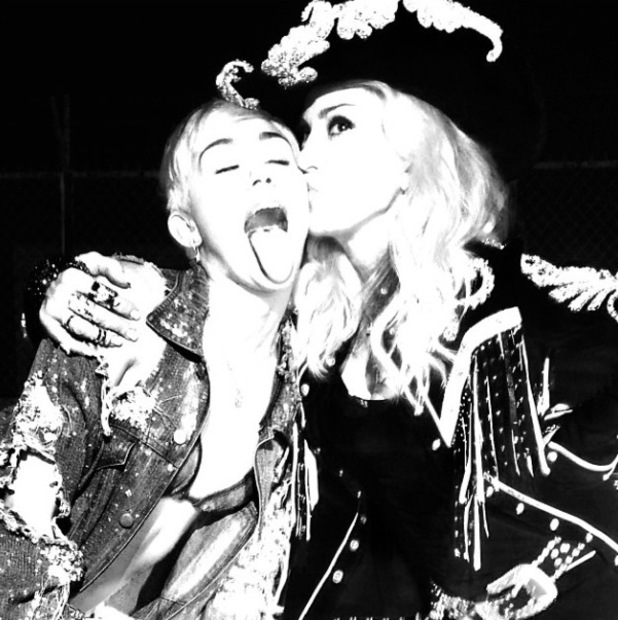 Miley, who will kick off her 'Bangerz' tour in February, delivered a hell-raising performance with Madonna at the pre-recorded taping last night, as
MTV
reports that the pair "grinded" on each other before turning "line dancing into dirty dancing"!
Miley was honoured to perform with the Queen of pop, telling the crowds afterwards: "That was pretty f***ing cool you guys. It was one of those days that was pretty easy to get out of bed.
"I get to perform with Madonna in bedazzled cowboy boots. I can't really complain about anything."
Madonna also shared a photo of herself and Miley backstage last night. In the black and white snap, Madonna kisses Miley on the cheek, while the 21-year-old sticks out her tongue at the camera. Captioning the photo, Madonna said: "M &M! Don"t ever Tell us We Can't STOP! #revolutionoflove."
Rumours of the pair's duet emerged earlier this week after they were spotted rehearsing in Los Angeles, although both remained tight-lipped about the performance.
Miley's MTV
Unplugged
special will air in the US tonight (29 January). it is expected to air in the UK at a later date.
Watch Miley's music video for 'Wrecking Ball' below: