Jessie J sent a heartfelt message to her fans this weekend, after a bikini picture of her prompted lots of comments about the size of her body.
Yesterday (18 January), Jessie shared a bikini selfie from sunny LA, but soon after explained to her fans that she is actually trying to gain weight.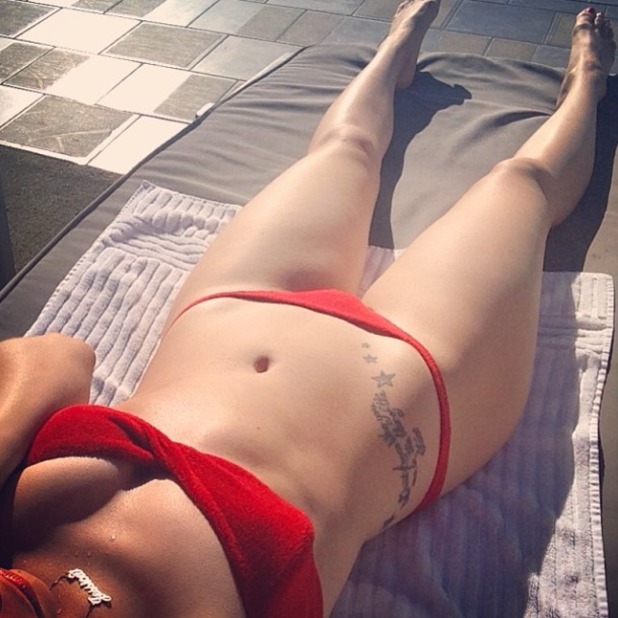 In the photo, Jessie looks slim in a red two-piece where her distinctive tattoo can be seen on her hip.
The 'Price Tag' singer, 25, captioned the shot: "LA makes you do it [...] working hard to see my body Change this year. Weight gain and strength! #bikinipost."
But, after receiving mixed comments, Jessie returned to social media once again to share an important message with her young fans.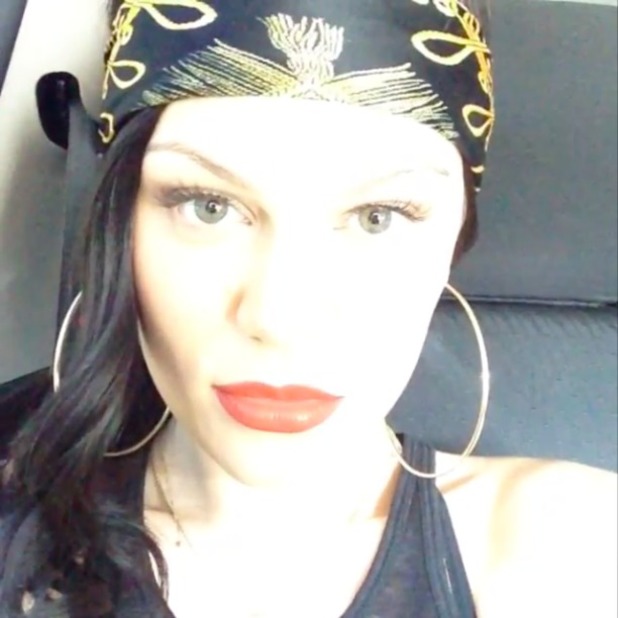 She wrote: "To all the YOUNG girls commenting on my bikini picture. I am constantly trying to GAIN weight. And as a naturally slim woman At 5ft9 I am trying to be an example to any young girl similar to me that being stick thin is NOT good nor hot!
"I eat what I want in moderation! Too much fruit is not good beleeee that! I am not skinny I am slim. I have meat on my bones and I want more! I have never dieted but been healthy and aware that being fit it for life not for Instagram or looks!"
She added: "I work hard to be fit and it's not easy but it's IMPORTANT! For my career and for me! But everyBODY is different. What I have to do is different to what someone else would have to do to be HEALTHY! Let your aim to be strong and not a stick. To be happy and not skinny. And be healthy and BE YOU!"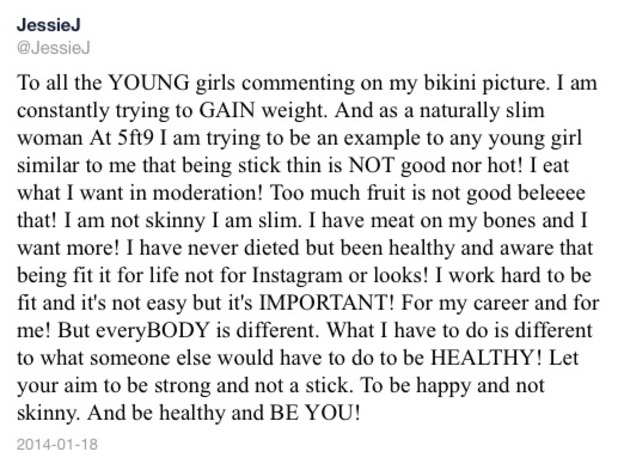 Jessie has also posted pictures of gruelling gym work outs and sessions in the pool as she attempts to bulk up.
She is currently in LA working on the US version of her album, Alive.
What do you think of Jessie J's message to her fans? Tell us below!
Watch the video for Jessie's single 'Thunder':