With the first heat of diving show Splash! over and done with, television presenter Anna Williamson is now gearing herself up to take the plunge this week. And she's covered in bruises!
Anna, 32, has been training with Olympic diver
Tom Daley
and his team of experts since early December, alongside celebs including
TOWIE
's Gemma Collins, Diversity dancer Perri Kiely and The Saturdays singer Una Foden.
But although she is having fun, the experience has been a painful one.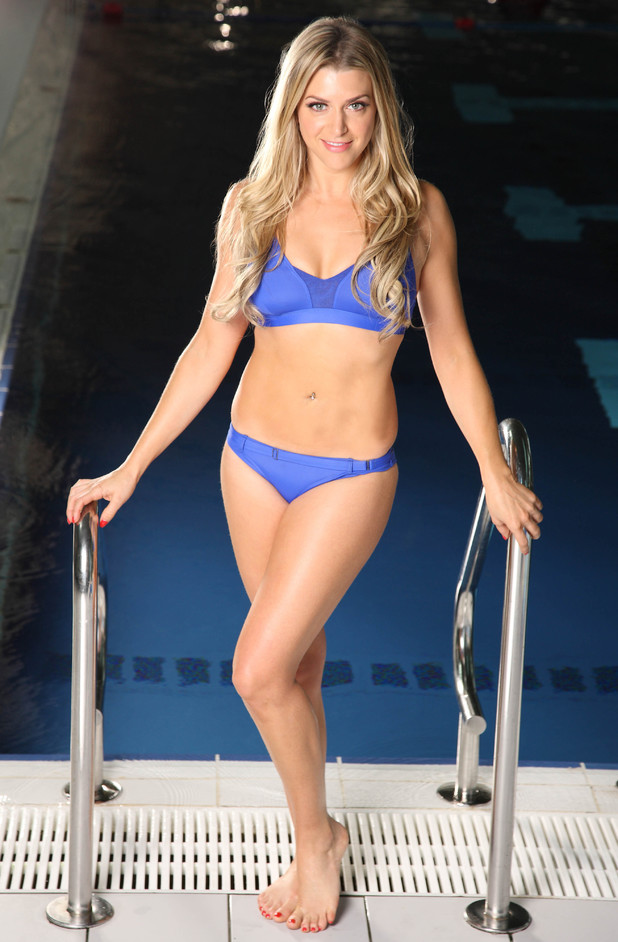 "We are learning a sport – and a dangerous one at that," Anna told
Reveal
. "I am enjoying myself but the pain and wear and tear your body goes through with the training is something that I don't think anyone expected.
"I'm covered in bruises, I've had whiplash, my shoulders have gone, everything hurts. But it is quite good to push yourself and stray from your comfort zone."
She added: "I've got bruises on the back of my legs and if you hit the water wrong, being a girl, you do hit your boobs first. And it does really hurt. The way I describe it is like someone whacking you with a really stiff tray – it's that kind of feeling.
"It's a good job it's winter so I can cover my bruises with tights!"
The
Daybreak
reporter will be appearing in the second heat of the show this Saturday night (11 January), as she and her fellow contestants take to the diving board and confront their fears on live television, while trying to remember all of the techniques and tricky skills Tom has taught them over the last month.
That being said, Anna hopes viewers at home won't take the show too seriously.
"I think people need to remember what the show is about too," she continued. "It's an entertainment show with people prancing about in lycra and sequins on a Saturday night. This isn't the Olympic games and it is a bit tongue in cheek."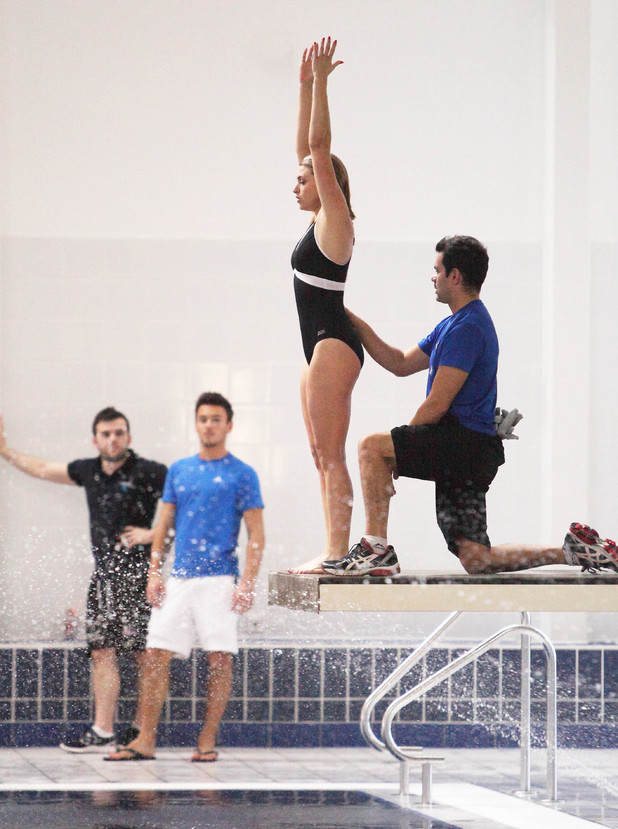 Reveal
caught up with the bubbly blonde to find out more on the unglamorous side of training, what it's like to hang out with bronze medallist Tom and whether she's feeling body conscious.
So what made you sign up to do Splash!?
"It's a very unnatural situation to be in - I know it sounds obvious, but the board is very high and the pool is very deep – and I just thought 'When else am I ever going to get an opportunity to do something like this?' So I told myself to give it a go and embrace the challenge.
"I'll be honest, the biggest challenge is going to be wearing a swimming costume on live TV and the dance you have to do before you dive – it's petrifying! There's a lot to be worried about but I spent 10 years as a kids TV presenter, so I've pretty much done it all and lost my dignity along the way."
Did you have to train over the Christmas period?
"We've only been training since the beginning of December, but it hasn't been that intense because they are trying to alleviate our injuries. So I've been training once or twice a week. I didn't actually get a break over Christmas because I was doing panto too, so I've been working flat out. But that's fine because I've really enjoyed it."
What have you found most surprising about the training sessions?
"It's surprised me how much I've enjoyed training with everyone else in my heat. I am very much a team player and I do latch on to people quite quickly. With this show you don't have the luxury of a professional partner that can support you through it every step of the way, so you're kind of on your own and it's been nice that there is such a sense of camaraderie within the group.
"We've bonded and I'm really fond of everyone in my heat. Everyone is in the same boat after all, we have all opened ourselves up for public ridicule and we're just getting on with it."
So it's not been too competitive between you guys?
"I think there has to be an element of that, although I did forget it was a competition until this week because I've been more focused on how I am progressing within myself and reaching my personal goals. But at the end of it, it is a competition so I think I'm going to have to get my competitive edge to kick in!"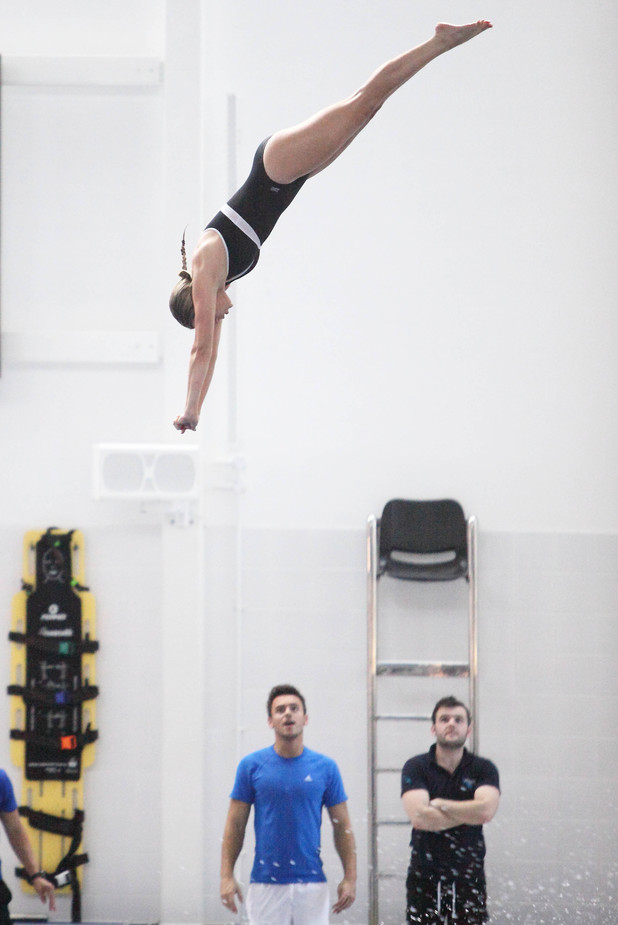 Who are you particularly close to on the show?
"Toyah Willcox is in my heat and she's fab. We're the only two girls in our heat, so we've bonded and she's incredible – she looks fantastic for a 55-year-old! She can do a mean dive too. She's really inspirational.
"And we've bonded over the condition of our hair because that's one of the downsides to diving so much. We've both bleached the absolute cr*p out of our hair and we've been sharing hair masks and tips to rehydrate our hair. All the girls have!"
We saw Gemma Collins wearing a very glam costume last week, will you be getting glammed up for Saturday?
"The make-up team can trowel on as much as they can as far as I'm concerned. When you're training though, you're left to your own devices and it's extremely unglamorous. You just stick your swimming costume on and it's two hours of being battered. So you're sodden through, with no make-up and bruises all over you.
"But I'm looking forward to going through the glam squad on Saturday night and getting some fake tan whacked on, some false lashes and hoping I don't come out of the water with panda eyes."
False lashes?!
"If they can stay on then why not?!"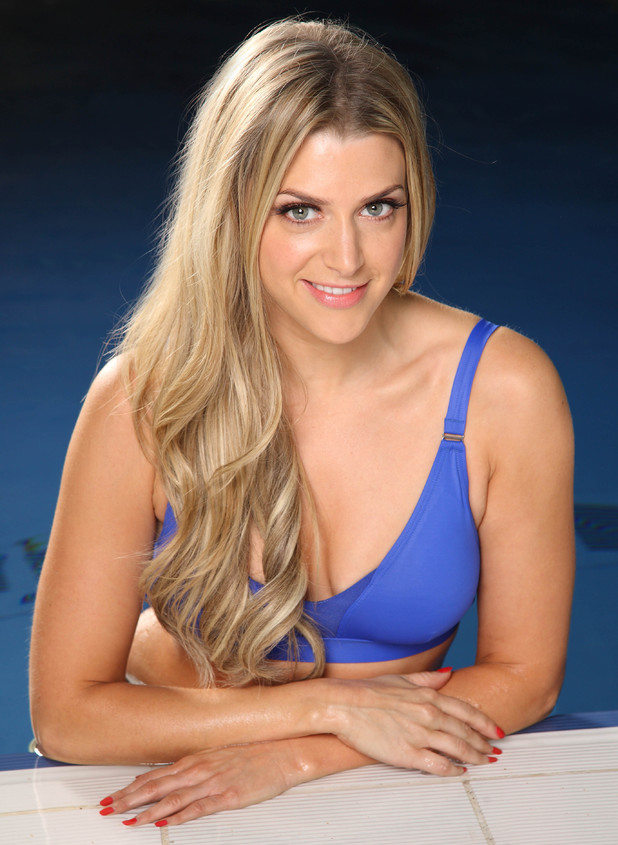 Have you been more body conscious in the run up to the show?
"I don't like the word diet, but I have been behaving myself shall I say. I haven't been going too crazy over the Christmas period. Having said that, I'm a real woman, I'm 32 years old and I'm fairly normal when it comes to looking after my health and my body.
"I did actually go on a nutrition plan last summer to have a nutrition overhaul and I started training a few times a week, but that was for me because I'd let myself get out of shape. It was more about my day-to-day wellbeing. I was feeling tired and sluggish, my diet was all over the place, I was eating too many biscuits and I didn't have any discipline. And it's been brilliant because I now have a lot more energy, I'm more toned and I've dropped a dress size. So that was handy!
"The way I see it with
Splash!
is that you're in a swimming costume on TV and if someone wants to have a pop at me about the way I look, then go for it, they can go up there and do it themselves. I'm kind of used to swanning around in my bikini on telly anyway through presenting the holiday competitions for
Daybreak
, so I'm not worried. If people want to have a go about my body, then that is up to them."
What has it been like working with Tom over the last few weeks?
"Tom is amazing. He's a fantastic guy, a great inspiration and an incredibly good coach. Obviously he is a great diver, but what people don't know is that he as good at coaching as he is at diving. The way he explains things is really easy to understand and he helps you apply what you learn to your own body.
"The thing with Tom is that he's very real. He admits that getting up on the 10 metre board when he was learning how to dive was petrifying and he apparently still finds it quite daunting even now!"
Who is your biggest competition do you think?
"Perri is brilliant. He's progressed up to the high board really quickly and he's such a sweet guy. Obviously, he has the dance and acrobatic background too which helps. I think he and Austin Healey will be ones to watch. And there are a couple of people who haven't been announced on the show yet that may surprise viewers too. They're inspirational. You ain't seen nothing yet!"
Splash! returns Saturday, 11 January on ITV.
Are you a fan of Splash!? Let us know below, as the best comment from across the website each week wins £50!
Got an iPad or iPhone? Reveal Mag has been especially designed to fit!