Katie Price has given fans a rare glimpse at her baby son Jett in a sweet picture uploaded to Twitter.
The model, 35, seldom shares images of her fourth child, preferring to keep him away from the limelight, but couldn't resist uploading this cute snap on 4 January to show followers how big Jett is getting.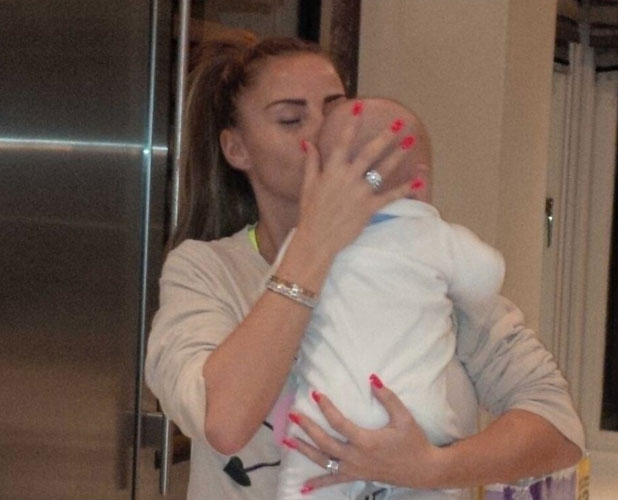 In the picture, Katie is seen kissing her youngest child's head, while his face is turned away from the camera. Very Beyoncé!
Jett arrived in the world over the summer in dramatic fashion after Katie was taken to hospital with complications while on holiday in Europe with husband Kieran Hayler.
Katie required urgent medical treatment abroad after her amniotic sac tore, leaving her unborn child susceptible to infection.
Jett was born eight weeks early by emergency Caesarean, weighing 5lbs 2oz. He had to remain in hospital for a while as he was experiencing difficulties breathing, but in early September was finally allowed to come home to the UK with his relieved parents.
And he seems to be going from strength to strength as Katie told fans today "Jett such good baby sleeps all night just fed him and his asleep again bless, to all you new parents the dream feed soo works (sic)."
Katie - who is also mum to sons Harvey, eleven, Junior, eight, and daughter Princess, six - is preparing to celebrate her first wedding anniversary to husband Kieran Hayler later this month.
The couple married in The Bahamas in January 2013 following a whirlwind romance and Christmas proposal.
Meanwhile, it's not been the easiest start to the year for Katie as she spent time in hospital over the festive season after coming down with a mystery illness. She was given an MRI scan and placed on a drip before being discharged. However, she was back at hospital after Christmas, where she
posted a photo of her teeny waist while lying in a bed
, to demonstrate her weight loss because of the condition.
So far she hasn't revealed the nature of her illness.