Nigella Lawson has broken her silence on the trial involving her two former assistants, saying it was "mortifying" having aspects of her private life made public but now she's looking to the future.
Appearing on US breakfast show
Good Morning America
today (2 January), which marked her first TV appearance since the trial, the celebrity chef said: "I have to be honest, to have not only your private live, but distortions of your private life put on display is mortifying.
"But there are people going through an awful lot worse and to dwell on it would be self pity. I don't like to do that."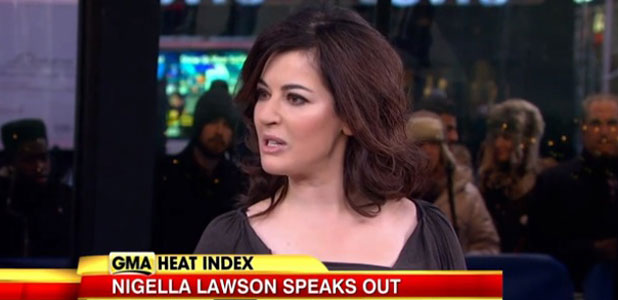 Nigella was called as a witness at the trial of the two sisters, who were accused of spending money on credit cards owned by Nigella and her ex-husband, Charles Saatchi.
The sisters were cleared of fraud in December.
Nigella, 53, was questioned about several aspects of her private life when she was called to the witness stand, including drug use. She admitted to taking drugs in the past but denied she was a habitual user.
She said her main priority during the trial was the welfare of her children.
"My only desire really was to protect my children as much as possible which I wasn't alas, actually… I couldn't do."
The star, however, appeared to be taking a positive approach to 2014, saying: "Since then, I've eaten a lot of chocolate, had a very good Christmas and I'm into the New Year."
Nigella was appearing on
GMA
to promote her new cooking series
The Taste
, which returns to screens this month.