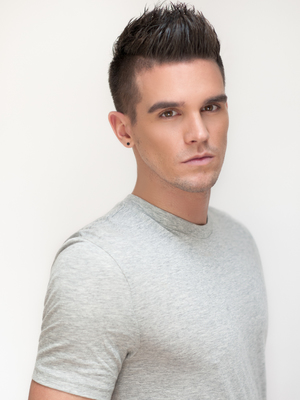 Geordie Shore's Gaz Beadle may be the star of the Newcastle-based reality show, but the original cast member has also set his sights on new business ventures.
The self confessed ladies' man and resident party boy talks exclusively to
Reveal
about his new single, buying a nightclub in Zante and his party plans with the
TOWIE
and
Made In Chelsea
boys!
Tell us more about your new single, 'Party Like A Rockstar (Up Your Game)'? Are you hoping to bag a Christmas number one?
I don't know about a Christmas number one. It's never realistically going to chart that high. It was something that I did on the side. I was sitting in the studio for a couple of months mixing R&B tracks. Then once we put the track together, we needed someone to sing it. We would have probably chosen someone like JLS, but we ended up with The Risk - only joking!
I met The Risk last year and they're all amazing. They were on the
X Factor
and I thought it was a good idea to get them in the studio to see if their voices matched the track. There's a couple of high harmonies that are difficult, but I'm pleased with the end result.
Why have you chosen to unleash your musical talents now?
This is the first single but I've been approached to do stuff like this before. It was really cheesy though so I said no. I'm not going to stand in a studio and release some cheesy club banger. Now, with my production and The Risk on vocals, I think we've got it right. I thought we might as well give it a bash and see what happens!
So can you sing?
I can't sing at all. I think people got a shock when they heard about my single. Everyone tells me that I can't sing and I keep telling them, 'I know I can't sing! I'm not saying that I can sing - I just produced a track and got some people to sing on it!' Producing is the direction that I'll have to go down because I'm not going to stand there and use autotune and pretend to sing, when I can't.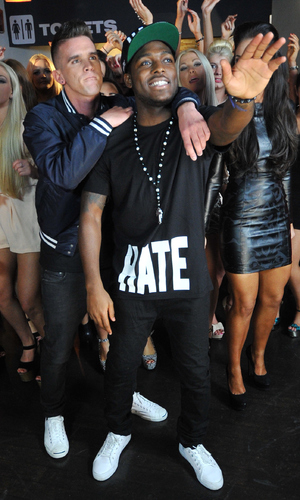 What do your Geordie Shore co-stars make of your new single? Have you been in touch with them?
Everyone gets so busy after filming and this time around, we've got such a big gap. The last time we filmed was like in May or June, and we won't be filming again till March, so everyone is cracking on with other stuff and working on different projects.
For example, Charlotte Crosby was on
Celebrity Big Brother
and James Tindale is doing his health and fitness stuff. Vicky Pattison got in touch though, and I dragged her to shoot the video with me!
How did the video shoot go?
I felt like an awkward potato during filming! I'm not used to dancing sober in nightclubs. Do you know how hard it is to dance sober?! I honestly felt like an idiot. When I was up at the DJ decks, that was fine, that bit was easy. Having to dance and look at the camera was backwards for me, I didn't know where to look.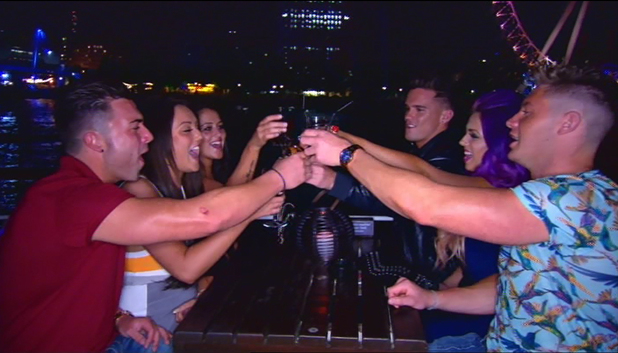 You seem to have a lot of projects going on outside of the show, would you ever leave Geordie Shore?
For me, I feel lucky enough to be on
Geordie Shore
. It's not a scripted programme and it's not too much effort - we go to different places and party. Until MTV say to me that the show is ending, or tell me that I'm sacked, then I'll be there until the end. It's an easy ride and I love doing it.
Tell us more about your new nightclub...
I've just bought a beach club in Zante. I've partied everywhere and I've got a men's clothing shop in Newcastle, but I've always dreamed of owning a nightclub. I never thought it would happen. I was booked to do a few personal appearances in Zante this year and the nightlife was unbelievable, but during the day there was nothing to do. In Magaluf and Ayia Napa, there's pool parties but Zante didn't have it.
So I teamed up with Sean Linekar, who is the son of former
TOWIE
cast member Wayne Linekar. We're building the club now and it's going to be called Pure Beach Club. It's going to be one massive pool party everyday! I think people assume that on
Geordie Shore
we're all thick! I've got an electrical company as well and when I tell people that I have three companies, they're always shocked. I'm not that thick, I do have a brain!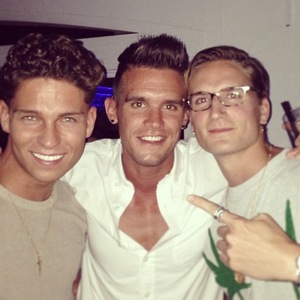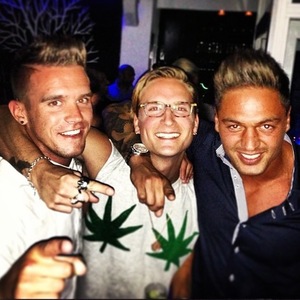 You're good friends with the TOWIE and Made In Chelsea boys, will you be giving them an exclusive invite?
Yes, definitely. James 'Arg' Argent, Joey Essex, Jamie Laing and the rest will all be invited. The club will open in May so I'll invite them over for a long weekend - they'll all be there. I can't wait, I might even get The Risk over to sing a few songs!
On Twitter, your tweets are sometimes controversial. Do you ever get any backlash?
I love Twitter. A lot of people will say things and I'll just reply with something funny. It's banter - I'm a lads lad. I feel like I've been lucky on Twitter, it doesn't bother me in the slightest.
Gaz's single, 'Party Like A Rockstar (Up Your Game)', is out now.
Watch the music video for 'Party Like A Rockstar (Up Your Game)' below: