JLS singer Oritsé Williams and girlfriend AJ Azari are planning to make their Christmas all about family this year.
The couple - who began dating after being friends for years - will be throwing a big Christmas dinner at their newly decorated house in London this month and they can't wait to enjoy all the festivities - and the food!
Reveal
caught up with Oritsé and AJ as they were getting into the holiday spirit by recreating their favourite Christmas films at a fun photo shoot.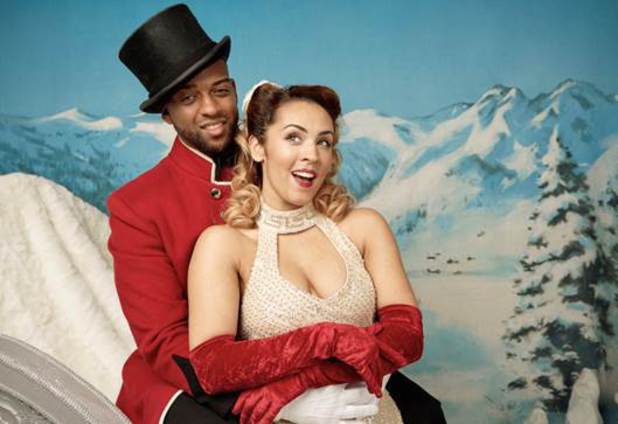 Read on to find out what they pair will be cooking, whether they have any New Year's resolutions and if Oritsé plans to meet up with his JLS bandmates too...
What are you getting up to on Christmas Day?
AJ: "My family are from Manchester, so we're bringing them to us and we're all going to have it together. It's going to be lovely to have a family day. My mum will be doing the cooking, with a little help from me – even though she always tells me to get out the kitchen!"
Oritsé: "My little brother does the breakfast too. Our Christmas Day is very much West Indian food, so Temi makes ackee and saltfish, dumplings and fried fish and then AJ's mum will make the traditional dinner. So we have a mixture of English and Caribbean."
Will the JLS boys be joining you guys?
Oritsé: "We're having a pre-Christmas get together with JB at his house because he lives 15 minutes from us. But my Christmas period this year is just going to be me, AJ and our families."
What are some of your favourite Christmas films?
Oritse: "Last night we all watched
Home Alone
. That's definitely one of our favourite ones.
Elf
is cool as well. We just love Christmas."
AJ: "I really like
Who Framed Roger Rabbit
. If we'd recreated that in the photo shoot, I would have been Jessica Rabbit, of course."
Oritsé: "And I would have been checking her out in that red dress!"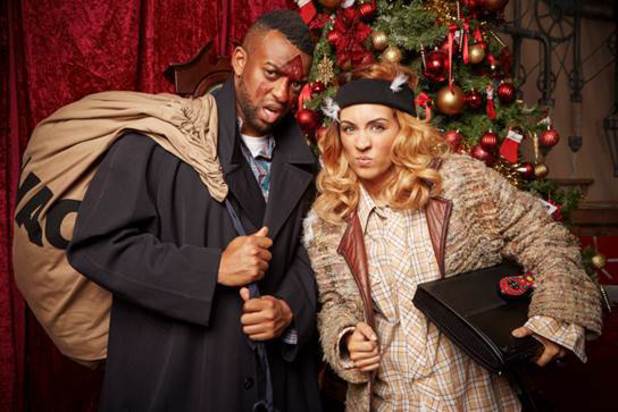 Have you bought your presents for each other yet?
AJ: "Not yet. I try to be organised, but I end up doing it on Christmas eve and running around frantically."
Are you getting the JLS boys anything?
Oritsé: "We do Secret Santa usually, but I haven't bought the presents yet. The boys can wait, I want to get AJ's present first."
AJ: "He'll probably ask me to get his Secret Santa present for him!"
What would your dream present be, if you could pick anything?
AJ: "I'm just happy this year because our house is finally coming together and we've decorated it now. It's going to be nice to spend Christmas in the house with our family - that's all I want."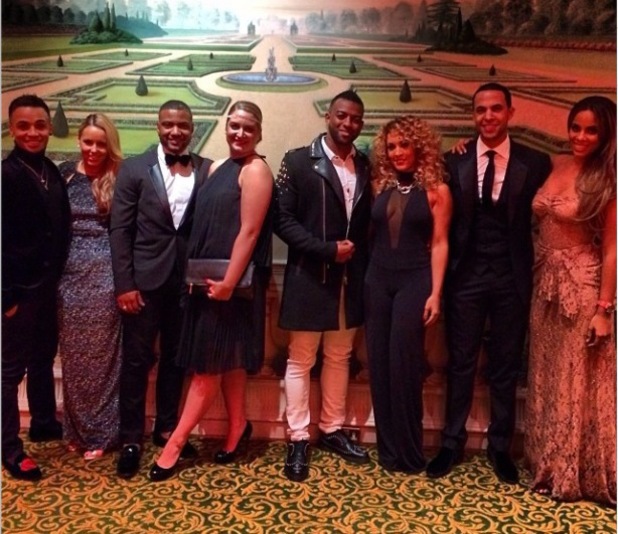 So there are no plans to buy a ring this year, Oritsé?
Oritsé: "If AJ wants to get me a ring that's completely fine!"
Has your diary been full of Christmas parties and nights out this month?
Oritsé: "We've been to a lot of parties this month, but me and AJ are very passionate about supporting charities - especially at this time of year – so we've been going to a lot of those events. We try and give back as much as we can around this time of year to people that are less fortunate.
"At the moment, myself and AJ are working on putting some stuff together to send to kids in Uganda who aren't so fortunate. Me and the boys went out there for Comic Relief last year and were really touched by what we saw."
Will you feel sad this Christmas because your time as JLS will be over?
Oritsé: "I'm just enjoying every day that I'm with the boys and every show. I'm not looking at it from a negative perspective. I'm so proud of all our achievements and I'm happy that our fans can be left with a final tour, a final DVD and a final experience.
"Next year is a new chapter for me and I'm excited in the same way as when I put JLS together. I'm back in that same frame of mind where I'm thinking that anything is possible. Whatever I put my mind to, I'm going to achieve. The world is my oyster."
Have you made any plans for New Year's Eve yet?
Oritsé: "We don't know yet. It'll either be at home or at a restaurant in Camden."
AJ: "We usually leave New Year's Eve until the last minute and then everywhere is booked and we end up doing something at home!"
Oritsé: "I definitely think New Year's Eve is a time when you should be with your family, when you can reflect together about what you're all planning to do in the coming year."
What about any New Year's resolutions?
AJ: "Well, healthy eating and getting in the gym is always one - like most people. After the Christmas feast it's good to start again!"
Oritsé: "Usually during the JLS tours I diet, but this tour I've decided because it's the last one I'm just going to enjoy myself. I might get a bit of a belly, but I'll lose it in the new year."
Oritsé and AJ are celebrating Christmas with Virgin Media this year by recreating scenes from some of their favourite Christmas films - Elf, Home Alone and White Christmas.
What do you think of AJ and Oritsé's Christmas themed photo shoot? Let us know below, as the best comment from across the website each week wins £50!