Glee actress Lea Michele has given her first television interview since the death of boyfriend and co-star Cory Monteith earlier this year.
The brunette spoke openly about her loss during an appearance on
The Ellen DeGeneres Show
, saying it had been a "tough year" but she was thankful to be surrounded by great people and family.
Lea told Ellen of her time with Cory: "I literally lived every day of my life feeling like the luckiest girl in the whole world. l thought he was the greatest man."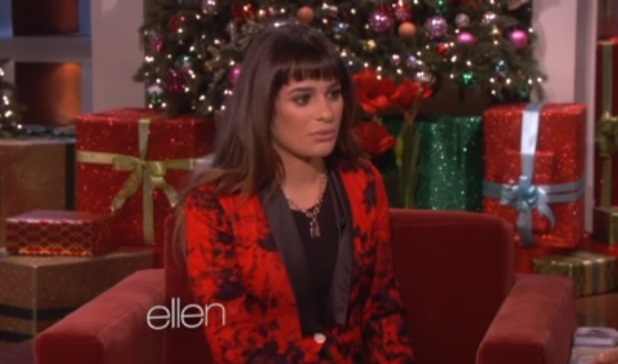 The actress met Cory on the set of
Glee
, where they played Rachel and Finn. Romance developed off screen but they kept their relationship largely out of the spotlight.
Cory was 31 years old when he was found dead
in a Vancouver hotel room in July following an overdose.
Lea admitted that dealing with paparazzi while grieving had been difficult, explaining: "If you smile they say, 'Oh, she's so happy', if you look sad they say, 'She is terrible'. It's hard because there are so many different emotions and people watching you every step of the day."
The star sought refuge in close friend Kate Hudson's home, where she was able to escape the intensity of the spotlight and mourn in private before
returning to work on Glee
.
"People don't understand that going to work is no harder than being at home, opening a closet, seeing a pair of shoes. Grief goes with you everyday whatever you are doing, when there are great moments and hard moments. I'd rather be at work with people I love that are going through the same thing. It obviously has its own triggers but at the end of the day I feel safe there. They are my family."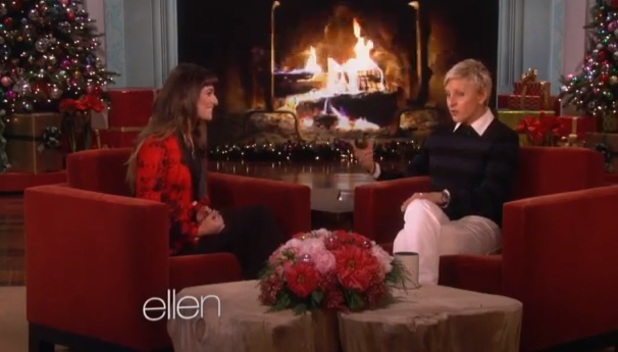 Lea added that it's only been a few months since her loss and she is still dealing with her emotions and continuing on as Cory would have wanted.
"[My mum] told me at one point there is an empowerment that comes with grief. At some point you find it. It's hard but you'll find it. I think at a certain point you can choose to fall from this or choose to rise. I'm trying to do my best for him as I know that's what he would have wanted."
She recently told
American ELLE
: "I never thought I would be in this position in my whole life. Now that I am in this position, you can choose to rise, and that's what I'm going to try to do.
"I know that Cory would want nothing more than for me to take this situation and use it to help people."
Watch Lea's emotional interview with Ellen about Cory below:
Lea paid tribute to Cory at the Teen Choice Awards earlier this year, using her 'Best Comedy Actress' acceptance speech to thank fans for their support.
"I just wanted to be here today to personally thank all of you and tell everyone out there how much all of your love and support has mean to me over these past difficult few weeks. Not that I had any doubts before but you guys are most certainly the greatest fans in the world and I wanted to dedicate this ward to Cory.
Lea continued: "For all of you out there who loved and admired Cory as much as I did, I promise with your love we'll get through this together. He was very special to me and also to the world. We were very lucky to witness his incredible talent, his handsome smile and his beautiful, beautiful heart.
"Whether you knew him personally or as Finn, Cory reached out and became a part of our hearts and that's where he'll remain forever."