Demi Lovato has opened up about her drug use in a frank new interview, admitting she was so hooked on cocaine she couldn't go thirty minutes to one hour without taking it.
The 21-year-old found worldwide fame as a Disney child star in programmes like
Camp Rock
but her life spiralled out of control a few years ago and she ended up in rehab to treat her substance abuse problems and tackle an eating disorder.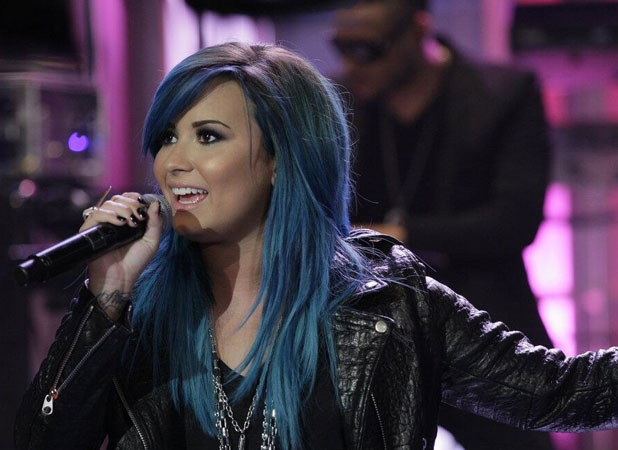 Since leaving rehab in 2010, she's turned her life around, enjoying huge success with her music career and landing a judging spot on US
X Factor
alongside Simon Cowell. She's also used her own experiences to help others who may find themselves in a similar situation and need help.
Reflecting on the rock bottom period of her life, she told
Access Hollywood
in a new interview: "I couldn't go without 30 minutes to an hour without cocaine and I would bring it on airplanes.
"I would smuggle it basically and just wait until everyone in first class would go to sleep and I would do it right there. I'd sneak to the bathroom and I'd do it. That's how difficult it got and that was even with somebody [with me], I had a sober companion, somebody who was watching me 24/7 and living with me [and] I was able to hide it from them as well."
She also recounted how she'd smuggle vodka to the airport in a soda bottle at 9am.
"I think at 19 years old, I had a moment where I was like, 'Oh my God… that is alcoholic behaviour," she added to Kit Hoover. "[It's] no longer, I'm young and rebellious and out having fun, it was, wow, I'm one of those people…I gotta get my s**t together.'"
Demi previously revealed how
going to rehab had allowed her to realise her true friends, telling Company magazine
: "A couple of months before I went to rehab, I had a birthday party and there were a couple of hundred people there. It was full of people who I considered my closest friends.
"When I turned my phone on after being in rehab for three months, I expected lots of text messages and phone calls. I had four texts. That was a wake-up call. I have severe trust issues but I try not be jaded."
"I don't have loads of friends. I used to, but then I realised, do any of them actually care? Now I have people who, if I break my leg in the middle of the night, they'll come to the hospital with me. Or they'll answer the phone at 4am if I need them."
Earlier this year Demi released a book called
Staying Strong: 365 Days A Year
, which has become a New York Times Bestseller. It features Demi's most powerful, honest, and hopeful insights with a quote, personal reflection and goal for every day of the year.
Taking to Twitter last night, Demi said: "I've been through hell and back, but my story isn't over yet... I can't wait to talk about the people who have never taken ANY credit for being a huge part of saving my life, and why I'm alive today...."