It's been a crazy few weeks for Ronan Keating. He returned from the Australian X Factor and went straight into rehearsals for Boyzone's 20th anniversary tour with band mates Keith Duffy, Shane Lynch, and Mikey Graham. And now, a week into the tour, things are going really well - even if they are a bit hectic!Here, we catch up with Ronan, 36, and find out all the backstage goss...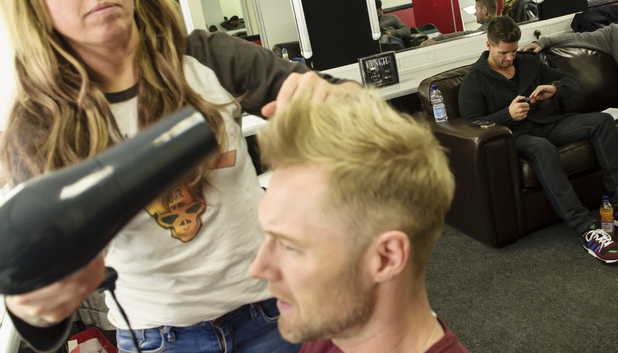 How is the tour going so far?
It's been brilliant. Absolutely brilliant. To be honest, the rehearsal period was a bit rushed, especially with the album coming out. And then we had the extra pressure because our first night was in Dublin, our home town. But it's been great and we're on a roll now.
What did you do to prepare for the tour?
Well I came straight from Australia after finishing
The X Factor
out there. The day I landed, we rehearsed for the Boyzone ITV special and the next day we were in rehearsals for the tour. It's been crazy. We're working with the band, we're working with the songs, we're in dance rehearsals, we're with the stage production. Every day is another song to learn or another routine to learn. But it's been a great experience. And it's great being back with the boys. Everyone's committed and working very hard.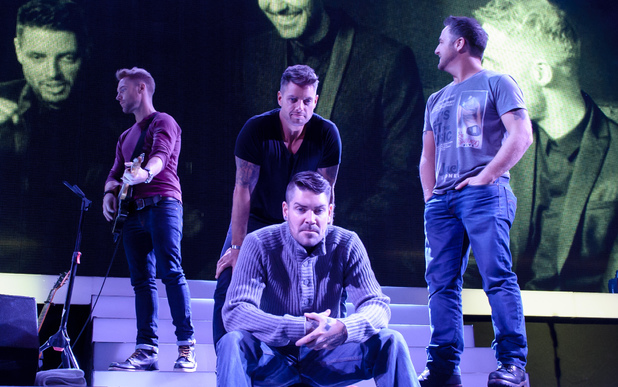 Who takes the longest to get ready out of the band?
I say Keith. I would say he definitely takes longer than all of us!
And who is the most particular about their hair?
Probably me. I'm quite particular. Or Keith. Blokes are funny when it comes to hair. It's just you put the wax in, some days it sits right, some days it doesn't. it's just the way men's hair is, it's annoying.
What do you do to chill out when you're on tour?
I love to play golf, but the weather's not great at the minute, and because we're so busy we haven't had time to chill out. I'm looking forward to things calming down before Christmas.
Talk us through a typical afternoon in the build-up to a show.
We get to the venue at around 4pm, do a sound check and then a few hours of press interviews. Then we do a meet and greet around 6.30pm and after that we eat. We all eat together in catering. And from there we go to our dressing room and prep for an hour. It's just the four of us, we close the door and spend that time getting ready, warming up our voices, and just generally getting into the headspace for our show. We then say a little prayer together and head to the stage.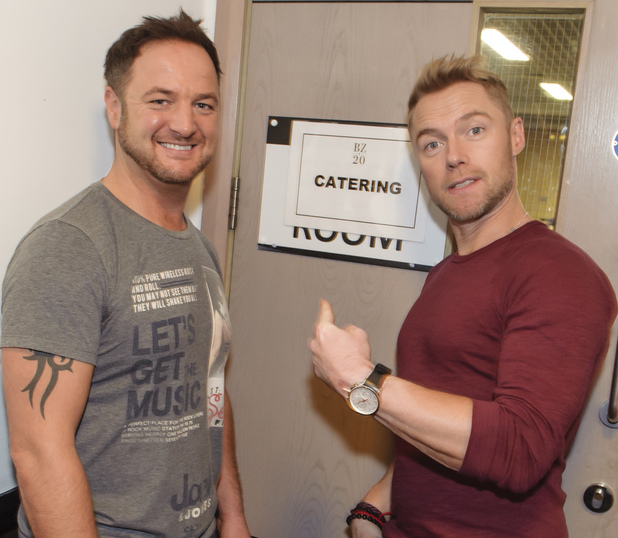 Who is the prankster of the band?
[Keith "Duster" Duffy] Duster's always up to something, having a laugh. I'd say Keith.
What do you do once the show's over?
It depends on where we are and what we're doing. If we have something early the next day we change into our tracksuit, jump straight in the car and head straight back to wherever we need to be. Otherwise, we go straight to the hotel, shower and change, come down, have a glass of wine together in the hotel and wind down. It's funny, it takes a while to wind down after the show.
Do you enjoy partying after a show?
I can't really be partying because of my voice. I can lose my voice very quickly and I'm quite particular about that, so I try not to talk too much after a show. I'll have a glass of wine and get an early-ish night.
Do you decide what you wear on stage?
Yes, we have a big say. There have been some funny things over the year that I've said no to. But when everyone else agrees, there's not a lot you can do. Our stylist Shelina is brilliant and she's been with us for years. I'd say I'm probably the most fussy about what I wear - although fussy's the wrong word. I know what looks good and how it should fit me, so I'm quite involved with picking what we wear.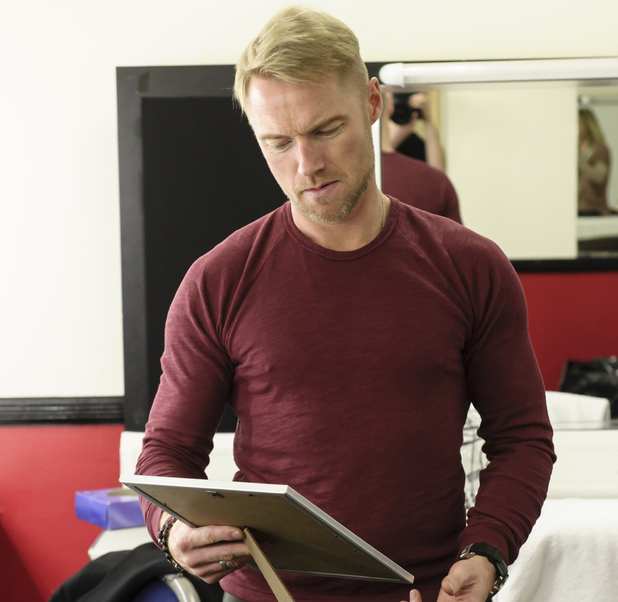 You've been together for 20 years - what's the secret behind your success?
I think one thing that really allowed us to remain together now, is that we took that time off. We had six years apart and discovered who we were as individuals. It was very important. It was a tough time and it could have been a disaster. It allowed us to realise we were individuals and allowed us to come back together and realise how much we needed each other and wanted to be in each other's lives.
You seem very grounded. How have you managed to remain down-to-earth?
We don't allow egos to come into the room. We show people the same respect as we want to be treated and we're the first to turn around and have a word with someone if we feel they're treating somebody badly. That's really important to all of us.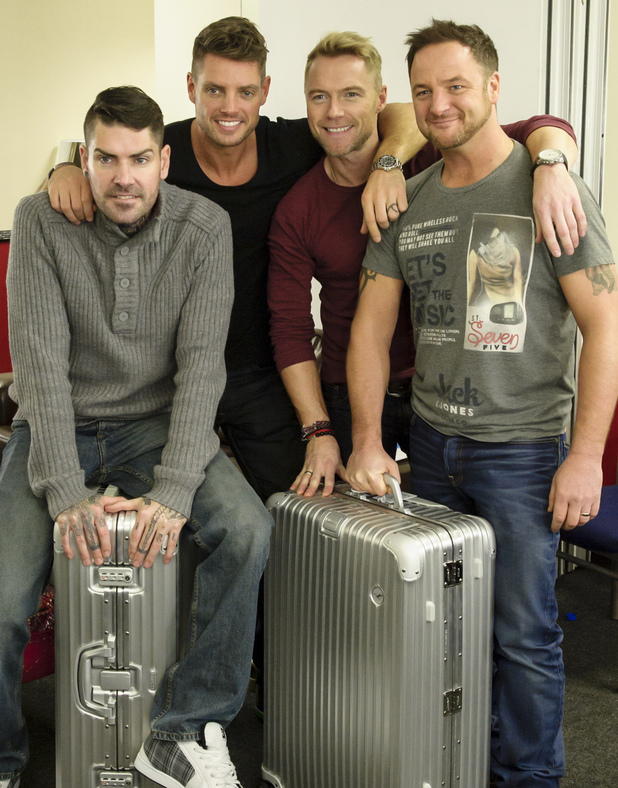 And 20 years on, you're still sex symbols!
[Laughs] We don't think of that too much. At our age you have to look after yourself a little bit more. You have to pay a bit more attention, train harder and eat better. We're not kids any more and the metabolism isn't as fast as it used to be. But we're lucky. We have each other and that's the good thing about being in a band, you do push each other.
What do you have planned for Christmas?
I'm just planning to take Christmas off and spending it with the kids and my girlfriend Storm. We can't wait. It's my favourite time of the year and it's all about the kids.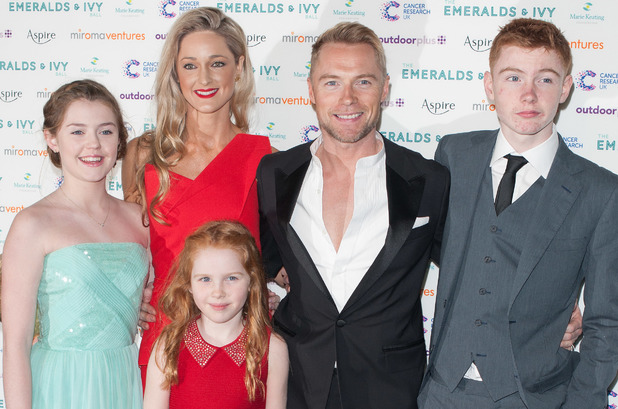 Have you done your Christmas shopping yet?
I haven't, no! Storm's doing it at the moment. But I haven't bought her present yet. I know what I'm getting her, I just haven't found it yet!
Boyzone's album BZ20 is out now and they will be touring the UK until 22 December. For more information visit www.boyzonenetwork.com