Amber Rose has dissed 'unrealistic' post pregnancy bodies in a new Instagram photo, which documents her own weight loss journey after giving birth to son Sebastian this year.
The curvaceous model and her rapper husband, Wiz Khalifa,
welcomed their first child Sebastian "Bash" Taylor into the world in February
and Amber has since been steadily shifting her pregnancy pounds in a bid to naturally return to her former figure.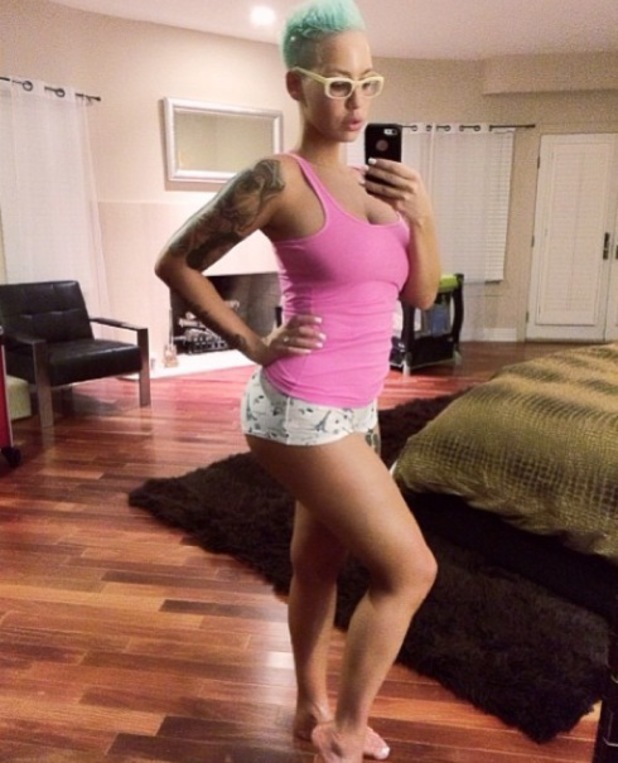 Amber has posted a picture on Instagram showcasing her trim shape and explaining her method of getting back to her "goal weight".
In the snap, Amber is seen posing in a cute pink pyjama set and with a new head of turquoise coloured hair.
The 30-year-old is also wearing a pair of thick rimmed yellow glasses and is flaunting her various new tattoos, which include
large portraits of her pet dogs, Pauly and Franky
.
However, it was the photo caption that grabbed attention the most, as Amber went on to talk about how unhealthy it can be for women to try and lose their baby weight too quickly.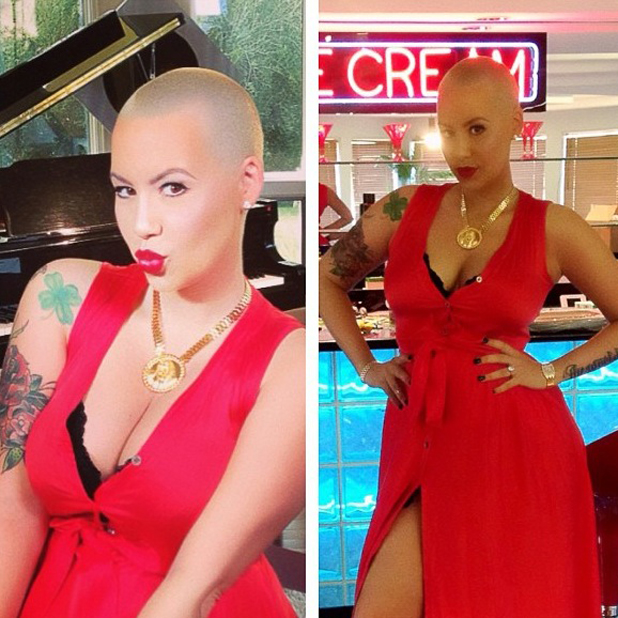 She wrote: "I'm almost at my goal weight. Just 7 pounds to go! Absolutely no surgery just diet & exercise. Most celebs give you false hope when u have a baby ( My son was 9lbs) and in 3 months ur supposed to be skinny again..... It's not realistic in most cases. It takes 6 weeks to heal before u could even workout."
Amber also urged other new mums not to "risk" their lives by going under the knife or feel pressured to shift their baby weight in a short space of time.
"Anyway, the moral of the story is losing baby weight the natural way takes longer but it's much healthier for ur body and helps u stay strong to carry another baby. So don't put ur life at risk for societies standards of when ur suppose to lose ur pregnancy weight. Take ur time & don't take the easy way out - Muva".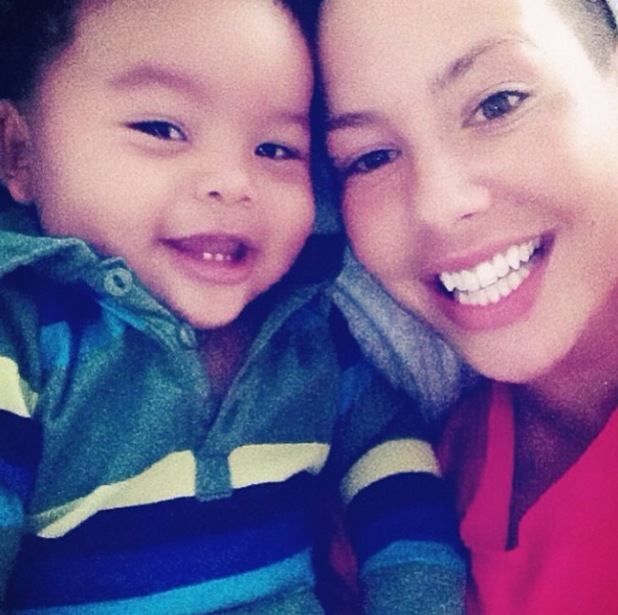 Meanwhile, fellow first-time mother
Kim Kardashian echoed Amber's sentiments on Twitter
last month, after rumours began circulating that she had resorted to surgery to regain her pre-pregnancy figure.
Kim, 33, hit back at the reports and insisted that she had shed her baby weight naturally, writing: "I am very frustrated today seeing reports that I got surgery to lose my baby weight! This is FALSE.
"I worked so hard to train myself to eat right & healthy, I work out so hard & this was such a challenge for me but I did it!!! I'm so proud of my accomplishment & NO ONE will take this away from me with fake reports!"
£2.49/month – that's all is costs for 4 issues of the REVEAL early edition. Gossip too good to wait for! Subscribe today!