Amy Childs first hit our TV screens way back in 2011 when she starred in TOWIE, bringing the words "vajazzle" and "totes" into our everyday vocabulary.
Since then, the Essex redhead has gone on to launch her own clothing and beauty range, appeared on
Celebrity Big Brother
and even had her own TV show,
It's All About Amy
.
The glam girl's latest venture is collaborating with iconic sportwear brand, Lonsdale. We caught up with her to chat about the collection, meeting Eva Longoria and what she really wants for Christmas…
You've designed your own sportwear range for Lonsdale, do you have a favourite from the collection?
I love every piece, it depends what mood I'm in really. What I love about the underwear is that it's comfortable and it's lovely. I think you've got to be comfortable when you work out. I had to bring out a red piece; I love my red hair and it's nice to have a bit of red.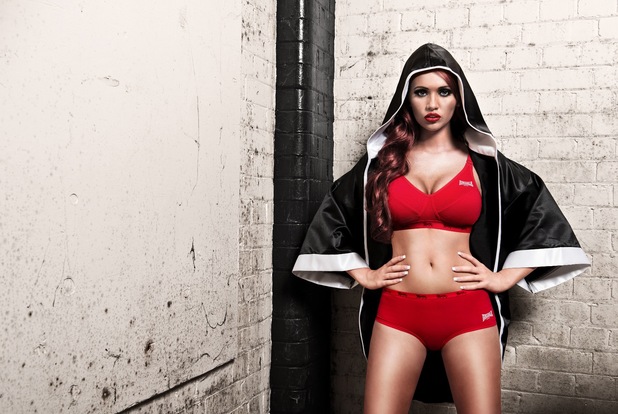 Is there a dream person you would like to work out with?
I don't want to work out with anybody. When I go to the gym with my personal trainer, we do it together and I'd rather just do the hour workout and then I'm done. Then maybe go out after for like a salad or something.
Do you still look glam when you go to the gym?
Definitely. When I go to the gym, I put a little bit of bronzer on, some mascara and Vaseline on my lips. I don't really put on lipgloss, but I do think it's important to go to the gym looking good - you never know who you're going to meet!
What tips would you give for people wanting to lose a few pounds?
I love a spin class, it really gets you going and motivates you. I do lunges, and press ups and really enjoy it. Oh, and yoga is brilliant for your posture. I'm quite unbalanced, so yoga really helps me out and it's really relaxing, but keeps you fit too.
You recently attended a charity dinner and met Eva Longoria. How was she?
I did, she was lovely. She said, "Oh my God, I love your dress" - it was a lovely evening. She was really beautiful, really tiny and elegant. It was lovely to meet her.
Do you still keep in touch with any of the TOWIE cast?
I saw Sam Faiers the other day at Rylan Clark's birthday party, Rylan and I are really close. And I saw Gemma Collins yesterday, as we were both on a photo shoot for our collections. I met Jasmin Walia the other day and she said she loved my clothes; she's coming down to the salon.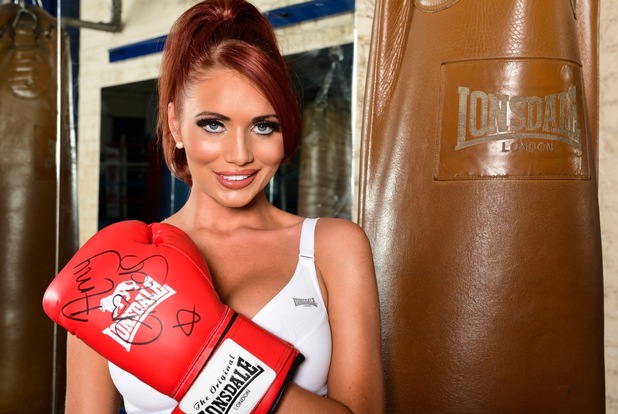 Lucy Mecklenburgh recently said she was sick of your negative comments about TOWIE. What do you think of this?
I am not negative about
TOWIE
, I think that everyone is entitled to their own opinion and I always say, if you haven't got anything nice to say, don't say anything at all.
Do you still watch TOWIE?
I'll still catch up on it, I've got it on my Sky Plus. It's just getting the time really, it's so hard to get the time to chill out and watch telly.
Would you ever return to it?
I've always said never say never, but I'm enjoying what I'm doing and that's the main thing. I still love the show,
TOWIE
made me; I'd never say anything bad about it.
Party season is coming up, what are your tips for looking glam?
Just a bit of sparkle, everyone's got to have a bit of sparkle in their life. People get the big eyelashes out too, I always have a few sparkles on the end of my lashes.
I always like to have a bit of body bling. At the moment I'm using
Daniel Sandler's Billion Dollar Body Shimmer
, it's honestly absolutely amazing. And obviously you've got to go for a red lip, I use
CID's new one
, it's brilliant.
What are your plans for Christmas?
I'll be going to Harry's house, have a nice Christmas dinner and go from there. Me and Harry will probably do some shots, have a good drink and get emotional like every Christmas – it's just one of them days. We play money games too and I always win. I'm quite a lucky person.
What's on your Christmas list this year?
'Cause I'm learning to cook at the minute, I want a slow cooker. So I can literally cook in the morning, leave it all day and come back.
Do you have a favourite Christmas memory?
I'm usually drunk by 1pm! I'd say just in general getting together with all my family. We go to midnight mass every year – all my friends go Sugar Hut and there's me going to church. That's probably a good memory for me.
With 2014 around the corner, do you have any New Year's resolutions?
Probably not to brush my teeth so much, I brush my teeth seven times a day. It's not good for them, so I'm going to try and do it two to three times a day.
Amy Childs is an ambassador for Lonsdale. For more information follow @lonsdale1960 or visit here.
Subscribe to Reveal Mag for Android & Apple devices just £2.49 for 4 issues!
Check out how fab it is in the promo below!