Stacey Solomon rose to fame on the sixth series of The X Factor in 2009 where she captured the hearts of the nation with her singing voice and down to earth nature.
Landing a string of presenting gigs, Stacey became a familiar face on our TV screens and was crowned Queen Of The Jungle in
I'm A Celebrity... Get Me Out Of Here!
in 2010.
Now, the 24-year-old, who is launching a new Christmas campaign with Holiday Inn, speaks exclusively to
Reveal
about making music, being a mum and why she might elope with fiancé Aaron Barnham...
We hear you're gearing up to release an album?
Yes! I'm so excited about it. I've worked really, really hard and I've done all the things I wanted to do on it, so we're just waiting for the best time to release it. I've got all the songs ready for the album, so now we're just recording just for fun. I'm enjoying it and I love being in the studio. It's one of those places where I can really relax and just be myself.
Do you have a theme for the album?
I don't have a theme, it's just me really. I've got songs that mean something to me on the album, and I've really enjoyed the writing process. There's some uptempo songs and a few ballads on there too. It's just a fun, happy, nice album.
Have you been watching The X Factor?
Yes, but I find it really hard to watch. I think it's because I've been through it. I honestly watch it and cry. It's so hard on these kids and it's so emotional. it's such a big deal and a huge change to their lives. I think when it gets to the final three, I can enjoy the show more because you know they've reached the end.
What do you think about this year's talent?
They're really good but I don't have a favourite. I've been there before where you hear that one singer likes an act better than the other, and it's a horrible feeling. A lot of the acts on this show are quite young too and this is their big opportunity, so good luck to them all.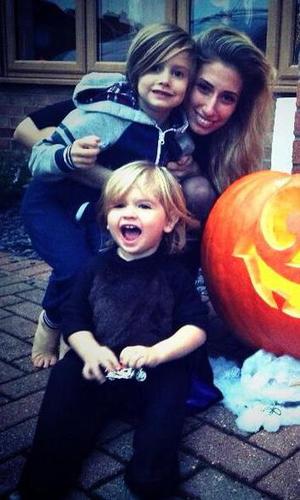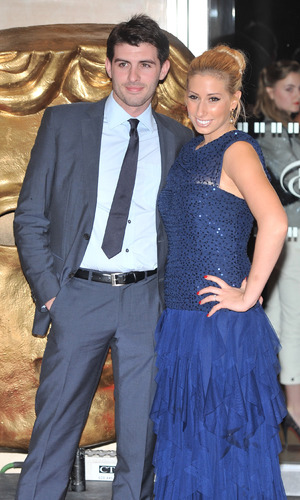 Do you think you need to win the show to have a successful career?
I don't think you necessarily need to win it, but just enjoy it. You don't know how long it's going to last for and you don't know what's going to come out of it. For me, it was such a massive opportunity and the best thing I did was enjoy it, otherwise it just flies by and it's all over and finished in no time at all.
You also won I'm A Celebrity... Get Me Out Of Here! in 2010, so you know how this year's celebrities are coping in the jungle! How hard is it in that environment?
It's really hard. My one big advice is to watch it before you go in. I can't stand it when the celebs say they didn't know it would be like this! Watch it and know what you've signed yourself up for. And there's no clock off either. People seem to think that you're going to go in there, do a little bit of filming, and then the crew will say 'cut' and the trees will just magically disappear and you'll go into a five star hotel or something. That's not the case! I faced so many of my fears in there and I honestly don't know how I got through any of the trials, but I did.
You're mum to two beautiful boys, Zachary and Leighton. What's the best thing about being a mother?
Everything! It's the best thing that's ever happened to me. They're both unbelievable. Everyday they wake up and say something - they make me laugh and they make me angry too! They're just the best thing and everything I do is for them. There's nothing better in life than children and family, it's really important.
You got engaged to Aaron in 2011, have you got any nearer to setting a wedding date yet?
No, I haven't. It's always the last thing on my list and that sounds really bad but it's only because I feel like there's so many other things that come first, like the kids and work. It always gets pushed to the back. I think what will happen is that me and Aaron will just flee somewhere one day and go 'lets get married!' Trying to plan something is impossible, just absolutely impossible.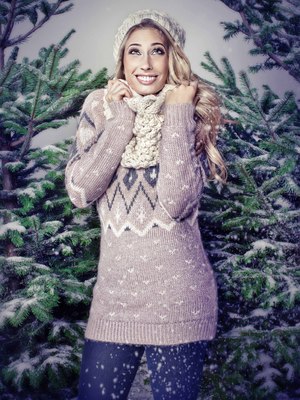 You're gearing up to play Tinker Bell in Peter Pan –The Never Ending Story World Arena Tour next month. Do you enjoy acting more than singing or presenting?
I love it all. I'm so lucky that I've had the opportunity to do all these different things. There's not many people that come out of a show like
The X Factor
that get to do presenting and musical theatre. I'm just really privileged. I'm excited about getting out in the arena and singing to loads of people. I'm playing a part that is every girl's dream really.
Peter Pan
is such a lovely story, it really is the best Disney film isn't it? I don't want to grow up! No one does!
Tell us more about your latest project?
I'm fronting the Holiday Inn Family Rock Out to tie in with the countdown to Christmas. It's so cool because when I think of Christmas I think of being with my family and having fun. Basically, you can go to all these different places, jump in a giant snow globe and sing your favourite Christmas songs. When I was doing the photo shoot for this campaign, I was singing 'Jingle Bells', but all along I was thinking, 'Oh I need my kids and Aaron to sing with me too!'
Look out for the Family Rock Out live tour at shopping centres in Glasgow, Sheffield, Birmingham and Lakeside until 1 December. Visit the Holiday Inn Facebook page to find out more.