Rihanna looks pleased as punch to be working alongside Eminem again in a new picture uploaded from the set of their 'The Monster' video shoot.
Rapper Eminem shared the photo via Instagram on Wednesday night (20 November) adding the very succinct caption: "On set."
While Eminem looks rather moody in the snap, gorgeous
Rihanna
is beaming for the camera as she wraps her arm around Eminem's neck.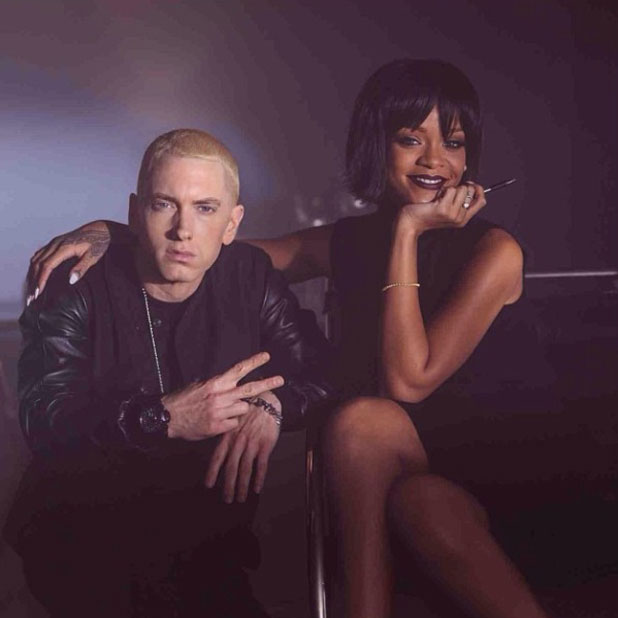 Well, we'd probably feel pretty happy if we'd just collaborated on a single that had shot to the top of the charts all over the world!
Rihanna joined Eminem in his native Detroit to film 'The Monster' promo although there's no word yet on what the theme is. The pair previously worked together on smash single 'Love The Way You Lie', which was accompanied by a glossy, dramatic video starring Megan Fox and Dominic Monaghan.
Bajan singer
Rihanna will be sporting yet another new look in the video having recently dyed her hair jet black and chopped it into a bob
(or invested in a new wig).
Eminem recently told
MTV News
that Rihanna was the first person he thought of when creating the track.
"As soon as I got the beat I just heard her on it," he said. "I wanted to make sure that I had it finished first to be able to present to her, but once I had the rhymes done, I sent it to her... She laid the hook, sent it back. She smashed it like she does always. It's pretty incredible."
Listen to Eminem and Rihanna's 'The Monster' below: