Kourtney Kardashian decided to ditch her glam outfits yesterday, as she pulled on a pair of boyfriend jeans and a simple top to grab some coffee in LA.
Whether she is running errands or looking after her two young children, Kourtney never misses a chance to wear sky high heels and figure hugging frocks.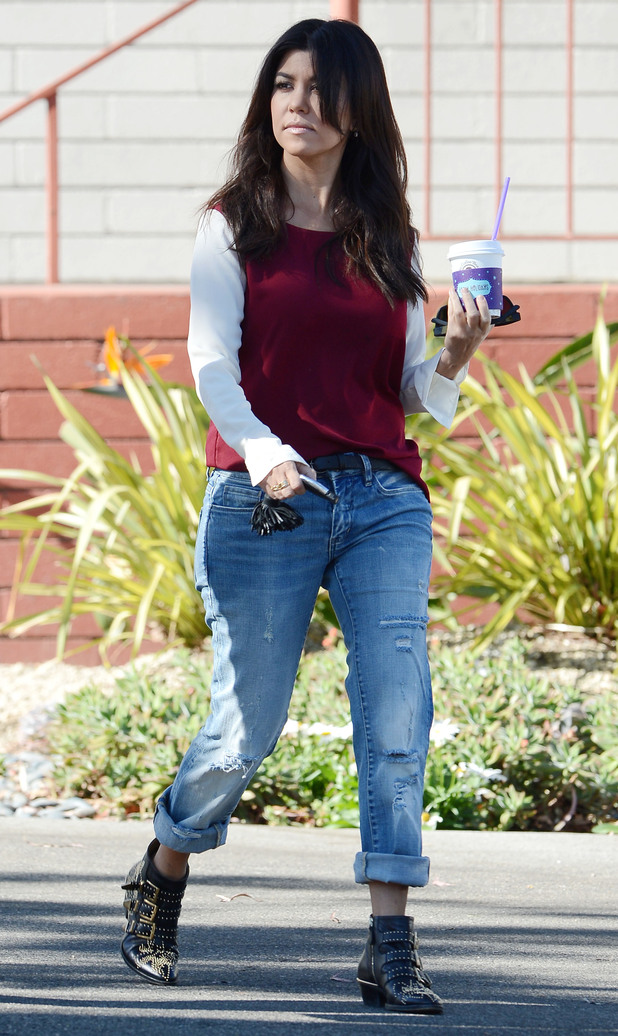 But on Wednesday afternoon (13 November) she opted for something a bit more comfy and casual.
The reality TV star was pictured getting coffee in the Los Angeles area wearing a low-key ensemble of baggy, light denim jeans, a red and white long-sleeved top and a pair of studded black ankle boots.
She appeared to be wearing minimal make-up too and her brunette locks (which are usually coiffed to perfection in slick up 'dos) were left down and in natural waves.
Kourtney's off-duty fashion is becoming more of a regular occurrence it seems, as she was also seen
sporting a rather casual get-up in New York earlier this month
.
While the mum-of-two attended a business meeting and got her coffee fix yesterday, her boyfriend Scott Disick was spotted out shopping with Kanye West.
Scott and the superstar rapper looked laid back as they made a quick purchase at a Maxfield store in LA and then hopped into Scott's white Rolls Royce.
The pair even appeared to be wearing similar grey T-shirts, with Scott layering a check shirt over the top of his and Kanye teaming his T-shirt with yet another pair of leather trousers.
Since Kanye has been dating Kim Kardashian, he has
been spending more and more time with Scott
and the two men seem to have formed a close friendship.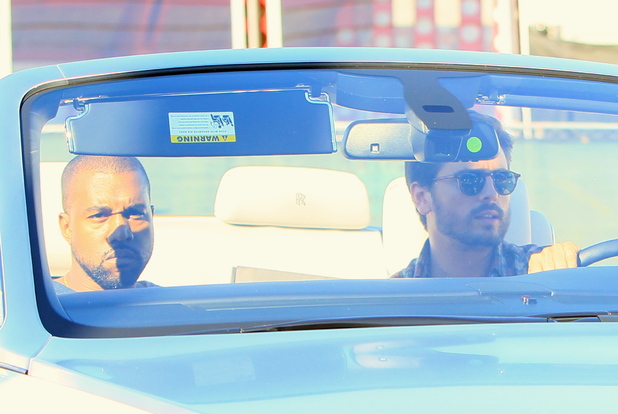 And given that they are both linked to high profile Kardashian sisters and prefer the finer things in life (whether that be clothes or cars), we aren't surprised that they've become BFFs already!
What do you think of Kourtney's casual outfit? Do you prefer this look on her? Let us know below!