It may be Halloween but Lady Gaga went against a spooky outfit this afternoon, choosing to channel a vintage Japanese geisha doll instead!
The popstar made sure all eyes were on her as she walked out of a London hotel with a gigantic seashell umbrella in tow!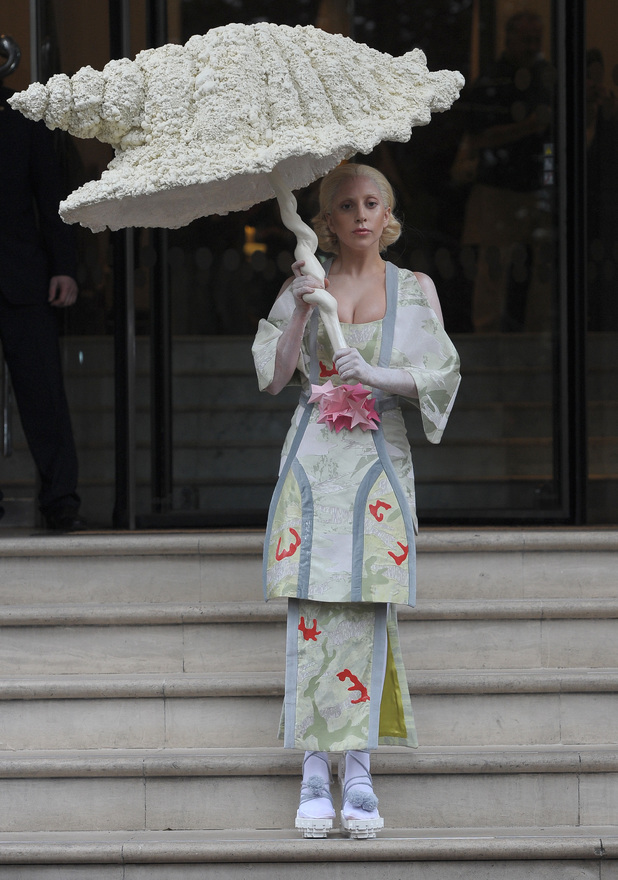 The 27-year-old played dress up (yet again!) and showed off her latest extravagant costume as she greeted fans outside her hotel.
Gaga, who has debuted an eccentric array of costumes in London since arriving over the weekend, bared her cleavage in a kimono style dress.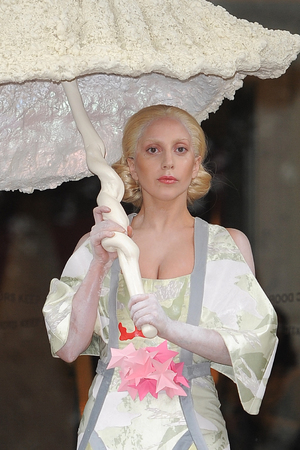 Her outfit, which featured cut-out detail to the shoulders, was decorated with white and red designs on top of a mint green silk material. There was also an array of pink stars bundled together and attached to her waist.
Gaga's look was in
stark contrast to the black outfit she wore yesterday, as she mourned the death of her puppy.
Gaga, who is currently in the capital to promote her new album
ARTPOP
, appeared serious with her poses and kept a tight grip of the large parasol as she went down the stairs.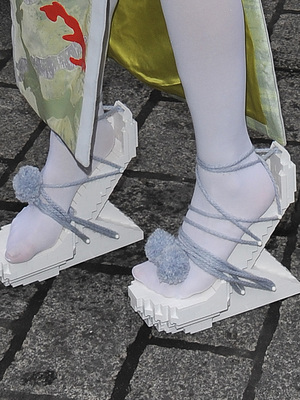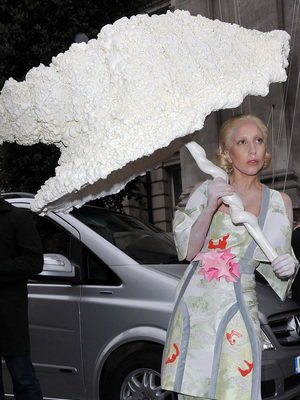 Keeping her make-up relatively simple, the 'Bad Romance' hitmaker wore pink lipstick and bronzer on her face. She hid her brunette hair, wearing a blonde wig with tousled locks, but she did cover her arms with white powder.
Gaga's choice of footwear was interesting too, as she chose to wear socks with block platform heels, which were loosely tied up with wool and accessorised with grey pom poms! Gaga certainly knows how to turn heads!
Listen to
Lady Gaga
's 'Venus' song below:
Check out more of Gaga's most outrageous outfits below:
Copyright: Rex Features