The Jonas Brothers appeared on US television this morning to offer an explanation about their recent shock split.
Nick, Kevin and
Joe Jonas
stunned fans this month by
abruptly cancelling a planned tour a few days before its start date
then
announcing they had disbanded
.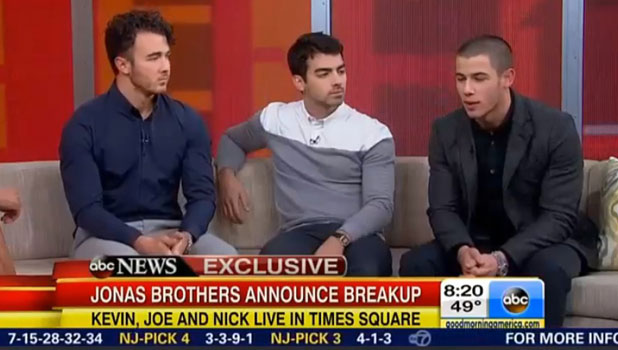 During an interview on
Good Morning America
on Wednesday (30 October), youngest band member Nick admitted he was the one who initiated the conversation about parting ways.
"We're family first and that's always been our main priority and honesty within that and what we do as a group is important. I came to the table with the guys before we were prepping for tour and I shared my heart with them," he said.
"In a nutshell, I said I felt we'd had some complications in the group for a while without addressing them and the train will fall off the tracks without addressing some of the concerns and limitations we may feel as a group."
He added: "It was a tough conversation."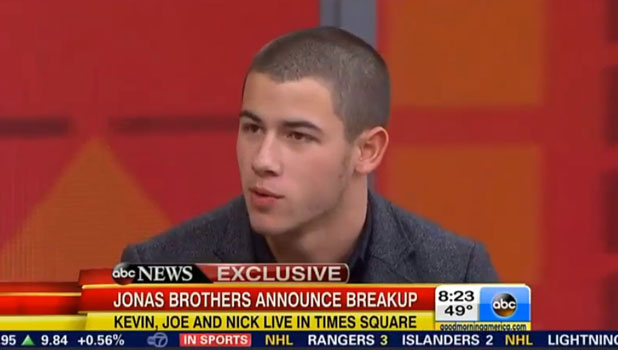 Joe remained relatively tight-lipped when pressed on what the "complications" had been, but suggested it was partly due to the music becoming "stale" and niggles within the group over issues like where to shoot a music video or what personal opportunities to take.
Unfortunately for Jo Bro fans, Kevin said they won't be releasing the album they'd been working on before their split, although they plan to make four previously unheard tracks available. They will also gift fan club members with a record of live tour music, which they just finished working on.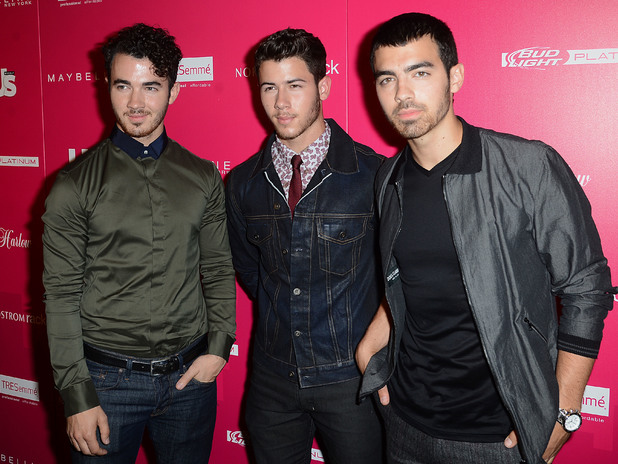 There is a glimmer of hope for fans, however, as the group said they wouldn't rule out a future reunion. "I think it's impossible to say forever about anything but I feel we're playing it one step at a time right now," said Nick. "We're rebuilding as brothers first."
As for their plans going forward, Nick and Joe both want to focus on their solo music and possible acting work, while Kevin is gearing up to
welcome his first child with wife Danielle
and hoping to become more involved in the business side of the industry.
Watch the band's music video for 'SOS' below: